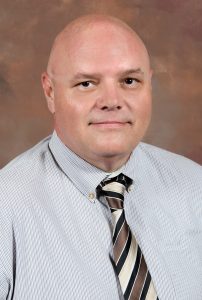 Augusta University's Dr. Darrell Thompson was elected vice president of the Georgia Board of Nursing in January after being appointed to the board by the governor last year. Board members elected him to fill the position after the previous vice president resigned.
Thompson is the only nurse practitioner on the board and is a member of the Georgia Nurses Association, the American Association of Nurse Practitioners and the Georgia Association for Nurse Educators.
The Georgia Board of Nursing focuses on education programs and it works to propose new laws that enhance the field of nursing in the state. It also allows nurses to most effectively fulfill their critical role advancing the health care of Georgians. Thompson represents nursing education on the board and handles most advanced practice issues.
Thompson is director of Georgia's first Doctor of Nursing Practice program in the College of Nursing at Augusta University. He earned both a bachelor's and master's in nursing from Georgia College and State University and completed his doctoral degree in nursing practice at the Medical College of Georgia.
Additionally, Thompson is a member of the National Council of State Boards of Nursing Advanced Practice Nurse Round Table, a workgroup that addresses issues affecting advanced practice nurses.
He is also the principal investigator for a Health Resources and Services Administration (HRSA) Behavioral Health Workforce Education Grant, an interprofessional grant that includes psychiatric mental health nurse practitioner students from the College of Nursing, and graduate mental health counseling students and psychiatric residents from the Medical College of Georgia. The purpose is to prepare students to provide mental health care in the primary care setting to both rural and medically underserved areas.
For more information on the College of Nursing or the Georgia Board of Nursing, contact the Office of the Dean or call 706-721-3771.