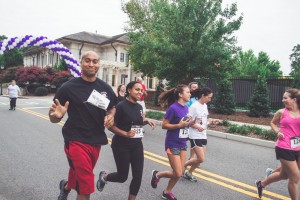 If there were ever doubts about GRU students' ability to lead, a group of nursing students put them to rest on Day of Service by hosting the university's first student-led event – a 5k run for Alzheimer's research titled "Jog Your Memory."
But in addition to being the first student-led event in GRU Day of Service history, the 5k was also historic for another reason: those students attend classes at the College of Nursing's campus in Athens.
Coincidentally, that's also where the run was held.
Elizabeth Gay, the president of the Student Government Association at Athens, said the event was a truly communal effort.
"Ansley and I wanted to do something that both of our student groups could work together on," said Gay, referring to Ansley Akin, president of the Georgia Regents Association of Nursing Students at the Athens campus. "We wanted to include the Athens community and raise money for an organization we all loved."
Their solution? Fundraising for the Alzheimer's Association of America.
"We chose the Alzheimer's Association of America partly because we had recently studied geriatrics," said Gay. "But we also chose it because [Alzheimer's] has affected many loved ones in many peoples' lives."
Akin, who worked previously in an Alzheimer's care facility, said the choice was a much more personal one for her.
"My grandmother has dementia," she said. "I just knew it was the organization I wanted to raise awareness for."
After getting their event approved, Akin said the planning for "Jog Your Memory" took a great deal of time. Their first order of business, however, was something very straightforward: settling on the route.
"We chose to use the University of Georgia 5k route, because it was very well-known and safe and provided us with a police escort," said Gay. "It also helped us incorporate the Athens community."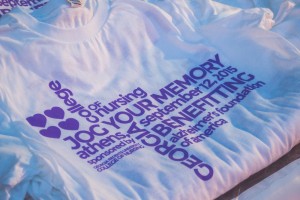 After establishing their route, Akin said her team worked tirelessly throughout the month of February to design T-shirts and write letters to sponsors.
With the basics out of the way, Gay said the team moved on to settling the finer details. Over the summer, they picked up sponsors, planned water stations, filled goodie bags and hammered out how their registration would work. They made a website for early registration and reached out to students, faculty and community members alike about participating.
Led by Gay and Akin, the SGA and GRANS student executive board ran the registration, water and gift tables on the day of the event. They also documented each participant's running time and awarded prizes to the first six participants to finish.
The reward for their efforts was an impressive turnout: 50 participants in total, who together raised almost $1250.
Dr. Julie Behr, assistant dean for the Athens campus, said the CONAT students' exceptional accomplishment was "not surprising."
"This is a very active, very dedicated group of students," she said. "They work very hard to champion GRU's mission statement and to give back to their community here in Athens."
In response to a question about students hosting the first student-led event at a satellite campus, she joked that the term "satellite" was subjective.
"You know the original Department of Nursing was actually founded here in 1943," she said. "It didn't move to Augusta until 1956, so we joke that the campus there is really the satellite."
All joking aside, though, she said she would encourage faculty at either campus to push their students to find something that "speaks to their heart," and to pursue that as a future Day of Service opportunity. That, she said, was the key to Gay and Akin's success.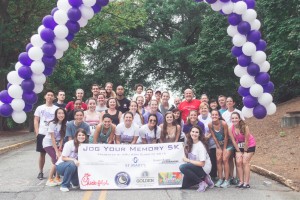 In the wake of that success, Gay said she and Akin are proud of their event's participation and are very excited to leave a legacy that they hope will continue at the Athens campus. She also said she'd like to see students at other campuses take the same initiative.
"I would definitely encourage my classmates to lead their own day of service events," she said. "It took a lot of planning and time, but watching people cross our finish line and seeing how much we were able to give back filled my heart with so much pride and joy."
To all of their classmates and event participants in Athens, Gay and Akin would like to say thank you.
But they also have a special message for all of her GRU classmates.
"Our students are capable of achieving so many things," Gay said. "I think it's important for u