Campers at the GenCyber Camp and Cyber Patriot Camp hosted at the Georgia Cyber Center received a special visitor as Lt. Gen. Maria B. Barrett, commanding general of the U.S. Army Cyber Command (ARCYBER), visited the center for the first time since taking command.
Barrett, the fifth commander of ARCYBER since its inception in 2010 and its first woman leader, assumed command May 3.
"The Georgia Cyber Center is an absolutely invaluable resource not only for Army Cyber Command, but the whole of the cybersecurity community," Barrett said. "The tools and expertise that the GCC offers, via unparalleled military, industry and academic partnerships, enable our Army and joint forces to maintain their advantage in the highly complex information dimension today, and to continually ensure we stay on the leading edge of technology and thought leadership."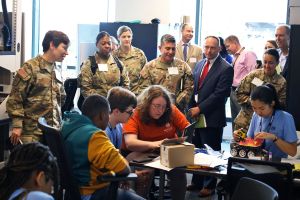 Barrett's visit June 24 began with a tour of the GenCyber Camp guided by
Steve Weldon
, director of the
Cyber Institute
and instructor within the
School of Computer and Cyber Sciences
at Augusta University. Barrett interacted with campers about what they had been working on during the week and listened to a presentation on their final project's goals and methods.
Barrett then took a walking tour of the GCC with Weldon, Executive Director Eric Toler and others. During her tour of the various floors and departments, she heard presentations from section leaders, civilians and soldiers alike.
The GCC is a unique public/private collaboration among academia, government and the private sector. It is designed to meet the growing need for cybersecurity talent by addressing the cybersecurity workforce shortage with creative training solutions while shaping a culture of innovation.
"The Georgia Cyber Center team was honored to host Lt. Gen. Maria Barrett for her first official visit to the center," Toler said. "We were also extremely grateful that she took the time to address the students at our two ongoing summer camps, Cyber Patriot and GenCyber. I firmly believe that our partnership with Army Cyber Command is not only vital to a thriving local community, but also to our national security."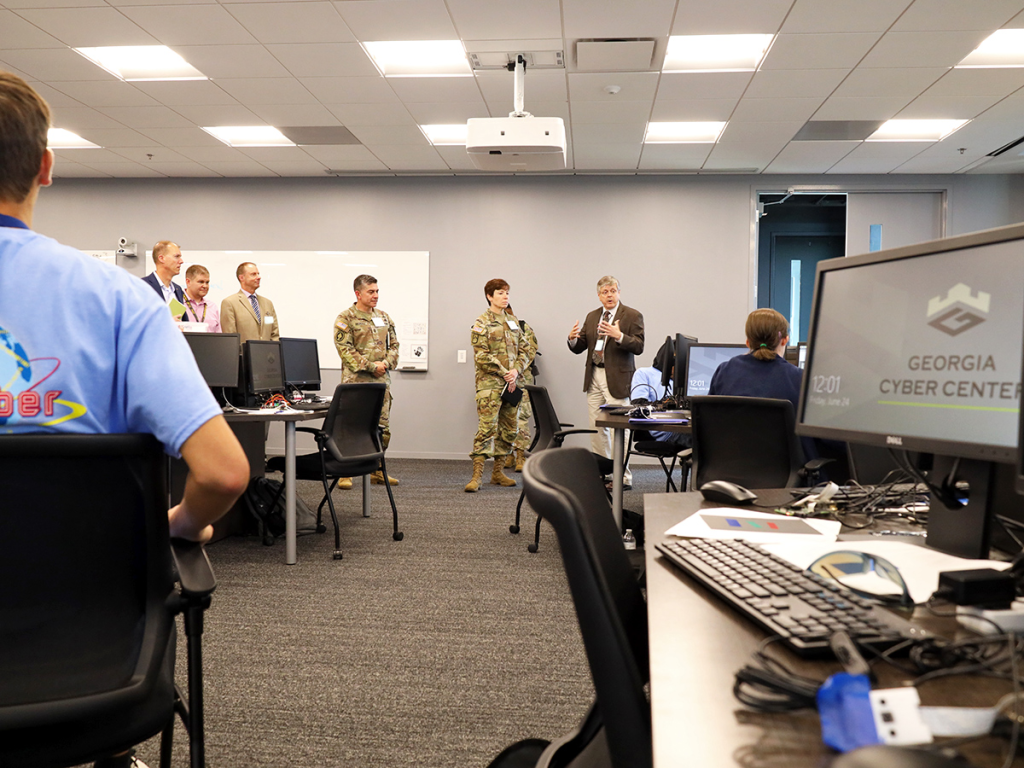 Barrett's visit concluded at the awards ceremony for the Cyber Patriot Camp, where she presented each camper with a certificate of completion along with special awards for the top three campers.
"The young men and women who participate in the Cyber Patriot and GenCyber programs never cease to impress and amaze me," said Barrett.
"Their focus and dedication in applying problem-solving skills to complex challenges with critical thinking and creativity is truly inspiring. Looking at these students, it is easy to see their passion for pursuing STEM and computer science careers and know that the future of our nation is in excellent hands."
About Lt. Gen. Maria B. Barrett
Barrett was named as the fifth commanding general of U.S. Army Cyber Command, succeeding Stephen Fogarty. Previously Barrett was the head of the Army's Network Enterprise Technology Command (NETCOM), a subordinate unit to Army Cyber Command.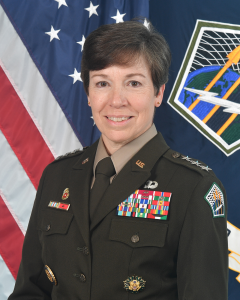 NETCOM, headquartered at Fort Huachuca in Arizona, operates and defends the service's portion of the massive Defense Department Information Network (DODIN) which is targeted millions of times daily by foreign adversaries trying to gain unauthorized access to military systems.
Before taking over NETCOM, Barrett served as deputy of operations at Cyber Command. Prior to that, she was the deputy commanding general at Cyber Command's Joint Force Headquarters-Cyber, an organization that provides intelligence, planning and digital capabilities to DoD combatant commands around the globe, and deputy commander for operations for the command's Cyber National Mission Force, which conducts offensive operations to defend the U.S.
Barrett also served as U.S. Southern Command's chief information officer and the director of operations for the White House Communications Agency, a military support unit that assists the president, vice president and the Secret Service by providing them with secure communications.
She has served in Army assignments in the United States, Kuwait, the Republic of Korea, Germany and Saudi Arabia. Barrett is a veteran of Operations New Dawn/Enduring Freedom and Operations Desert Shield/Desert Storm.
Barrett holds a Master of Science in National Resource Strategy from the Industrial College of the Armed Forces and a Master of Arts in Telecommunications Management from Webster University.