After nearly a year of facing the COVID-19 pandemic, Drs. Carol Hunter and Vincent Pair believe teaching the public health nursing course at Augusta University is more important than ever before.
Opportunities for hands-on learning also come with the course, which is being taught on both the Augusta and Athens campuses. Both campuses are working with the Department of Public Health in administering COVID-19 vaccines. Hunter said many students are not aware of the importance of public health, but these kinds of opportunities bring public health nursing to the forefront.
"Often students find it a little difficult to get excited about this part of nursing," said Hunter, who is an assistant professor of nursing in Augusta. "They come to nursing school because they want to work in the emergency room, deliver babies, or take care of acutely ill patients. … I think after this year, everyone is more aware.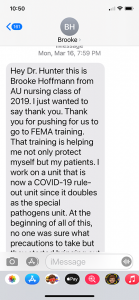 "The pandemic presents a new dimension to teaching the course, but the students were being prepared for this time in history long before 2020," Hunter added. "Each year, as part of this course, I take students to the Center for Domestic Preparedness to learn about responding to situations just like this – the disasters or health crises we prepare for, but hope we never encounter."
Pair, who is an assistant professor for the Department of Biobehavioral Nursing in Athens, believes the pandemic has also helped increased the students' interest.
"Some of our students are from rural counties and during the initial stages of the pandemic, some often wondered if COVID was a real thing," Pair said. "I was sent by the Army Reserve to Manhattan to work in the Javits Center as a family nurse practitioner/hospitalist and saw the impacts of COVID there. It was definitely an eye opener, and as it has progressed in Georgia, the students have expressed their willingness to care for COVID patients and help reduce the COVID burden."
Dr. Tanya Sudia, dean of the College of Nursing, has volunteered to assist the Department of Public Health several times this year and finds the opportunity to help gratifying.
"I enjoy volunteering as well as supervising our pre-licensure students in vaccine administration. As dean, my workweek schedule is full; however, I am able to dedicate most Saturdays to engage with our students and our public health colleagues."
Sudia also knows the importance of the opportunities the Bachelor of Science in Nursing students are receiving and is confident the knowledge will help them down the road in their careers.
"This is a unique opportunity for our students to utilize their clinical skills to benefit members of our communities both here in Augusta and in Athens," Sudia said. "All of the BSN students that have helped out with the Department of Public Health have helped with all three phases of the drive-up vaccination clinics, from recording the patient's information to administering shots to monitoring the patients during the 15- to 30-minute cool down."
Nicholas Trussell, a fourth-year student, said he was excited to participate in the course and was looking forward to learning more about caring for patients outside of the hospital as well as being able to serve the community. He also said the chance to be on the frontlines is a once-in-a-lifetime experience.
"Just the fact that the timing worked out to where I was a nursing student at the time, it's a good experience to get to just learn from and participate in because this is something that the world has really never seen before," Trussell said.
Morgan Rose Carson, also a fourth-year student, has high praise for these kinds of hands-on opportunities.
"I think it's extremely important for every single nursing student … I know some of my colleagues haven't even administered flu shots, let alone this new COVID vaccine," said Carson, who administered Sudia's second vaccine dose. "I think our class is the front line in this big pandemic. We're new grads and going right out into this, so I think it's especially important that they get experience like this to kind of know what they're doing with vaccines."
Carson also noted that her perspective of public health nurses has changed after this experience.
"I really respect their duties because it's a lot of hours standing on your feet, dealing with the general public, not just a certain type of patient population like on a cardiac floor … this is everybody's general wellness," she said. "It's hard work and I admire what they do."
Courtney Brahm, another fourth-year student, has enjoyed the public health nursing course "probably because it's the first big thing we've gotten to do so far because of COVID but … because it's a different atmosphere than hospital nursing." She also acknowledges participating in a pivotal part of history and being able to help out the community.
"It's been very beneficial to see all the different parts that go into the vaccine administration because they're all equally as important," Brahm said of helping with the Department of Public Health. "It's been very beneficial to see how important all the different areas of the clinic play together."
Hunter and Pair both believe giving senior BSN students these kinds of opportunities, such as assisting at the Department of Public Health, are essential for their development and their exposure to community and public health nursing.
"Our students typically have the opportunity to work with a specific population in the community as part of their clinical experience in the community and public health nursing courses. These experiences have ranged from working with the local homeless population or underserved populations in rural counties to staffing evacuation shelters during hurricane season," Hunter said. "The COVID pandemic has offered a unique opportunity for students to see, first hand, the importance of public health, specifically public health nurses, in our national response to the pandemic. They don't have to read about a pandemic in their textbook; they get to work side-by-side with the nurses who are getting the vaccine into the arms of our nation."
Hunter said most of her discussions with her students have been part of their daily de-briefing sessions. She said all of the students are thankful and excited to be part of the work they've been doing.
"The students are just beginning to learn about public health this semester, but they're observing and thinking about what they're seeing and doing … This makes for robust discussion," Hunter said.
Through Pair's experience, he said students have been excited to be a part of history and to make an impact on reducing the burden of COVID-19.
"Some have even expressed a desire to pursue public health nursing. … I am happy that we have such a group of positive and community engaged seniors," he said.