Through the middle of 2019, Lucy Marion, PhD, was preparing to retire from Augusta University and reflecting on her career.
She noted that every opportunity she had went toward supporting her education, whether through working in academe, publishing work in journals or trying out innovative nursing roles.
"I have been a nurse for 52 years, and I have been in academe for 51 years. While I did stop for a little bit to have babies, I have kept my hand in nursing. … Even when I went back to school, I'd teach to support my education."
Marion, who was dean for Augusta University's College of Nursing, passed away on April 13 after battling cancer. She retired as the longest serving dean in the college's 80-year history, serving as dean for 15 years. She dedicated her career to advancing nursing education in Georgia and across the country.
"Dr. Marion's commitment to and compassion for her students and patients for more than 50 years as a nurse and educator, including 15 years as the dean of the College of Nursing, set an example for everyone at Augusta University," said Brooks A. Keel, PhD, president of Augusta University. "Not only did she oversee the merger of two schools of nursing, but she also always embraced innovation, both in the hospital setting, as well as in the classroom, and she worked tirelessly to ensure that her students and patients received the best education and care possible.
"Her numerous accomplishments, awards and recognitions speak to her significant professional achievements, but her true legacy will be the numerous nurses she helped train and worked alongside. She will be greatly missed, and I extend my deepest condolences to her family, friends and all who were touched by her life."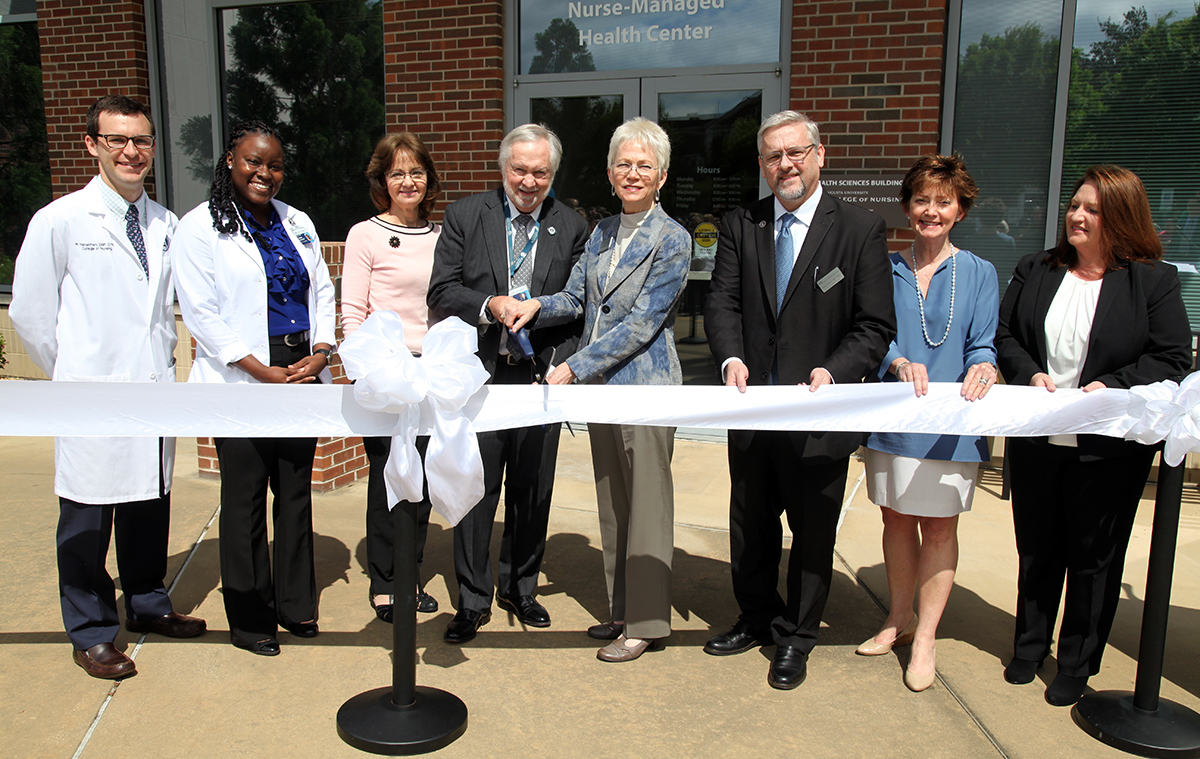 Dean Tanya Sudia, PhD, succeeded Marion at the beginning of 2020 and said she left an outstanding legacy and footprint on the College of Nursing.
"She was a steadfast leader advocating for improved health care throughout our state. Her tireless effort to advance nursing practice has impacted countless students, faculty and colleagues. The CON is able to move forward with our Nurse-Managed Health Center and other key initiatives built upon the firm foundation she provided."
Beginning her journey
Marion was born and raised in the small town of Scotland, Georgia. By her own admission, she had a tough childhood, explaining that her mother died from Hodgkin's disease when she was 11 years old, and she and her siblings were taken in by her mother's family in a tiny town with a population of about 300 people.
There were few teens in town, but they knew and cared deeply for one another, she said in a 2019 interview. She worked hard and was focused on the next stage in life: college.
Her grandmother had wanted her to become a nurse, and between that guidance and Marion's own hard work, she got to do a job that she loved for more than 50 years.
Marion attended the University of South Carolina and earned bachelor's and master's degrees in nursing during a 10-year span. A decade later, she earned her PhD in nursing science from the University of Illinois at Chicago.
She held many jobs during her career, from nursing technician to health nursing specialist and family nurse practitioner. She served for 25 years as an associate professor in Columbia, South Carolina, before spending a decade at the University of Illinois at Chicago as clinical chief for ambulatory care and professor before coming to Augusta in 2004.
She was dean for the College of Nursing starting in 2004 when it was part of the Medical College of Georgia. Among her accomplishments at AU, she spearheaded the Doctor of Nursing Practice program, which, at the time it was created in 2005, was the first in the state. Marion also managed the merger of two universities' schools of nursing.
"This job, as a nursing faculty member, is the best job in the world," she said. "I have enjoyed every day of it. Don't get me wrong. It's hard. There's nothing harder than balancing the art and science of nursing, education, health policy and serious leadership. It takes total commitment. But if you're that kind of person who sees possibilities like I do, the sky is the limit."
Admiration from colleagues
Gretchen Caughman, PhD, who retired in 2021 after 35 years at Augusta University and served as executive vice president for academic affairs and provost, remembers being on the search committee that brought Marion to Augusta in 2004.
Caughman, who was serving as dean of The Graduate School at the time, said she was a very memorable person from the outset.
"First impression and every impression after that, she was a person who you immediately could tell was extremely intelligent, extremely passionate and just had this indomitable spirit," Caughman said. "She's been a dear friend over the years, and we've not always agreed. Back when I was a dean, as was she, her programs in nursing for graduate programs were administratively under The Graduate School, and we went head-to-head sometimes because she had a vision. It was aggressive, and it was groundbreaking.
"I was kind of like, let's think about all the possible repercussions first, but she wanted to get somewhere, and she was going to go there, and we are so much better off because of that — Augusta University and all of its graduate nursing programs. She's just been a force of nature but always with the very best intentions at heart."
Judi Wilson, EdD, dean of the College of Education and Human Development, first met Marion almost seven years ago when she was an associate dean, and she got to know her through committee work. Their relationship grew as time went on and strengthened when Wilson's twin sons were accepted to the College of Nursing. Wilson remembers reaching out to her afterward and telling her how excited the family was about their next steps in life.
"She was so kind and mentored me through that process of having males in the profession, which is a predominantly female profession — she was extremely excited to have two more males in that profession," Wilson recalled. "She reached out to the boys and developed a relationship and just took an interest in them and, even up until probably a month ago, we were still corresponding, but she always asked about the boys."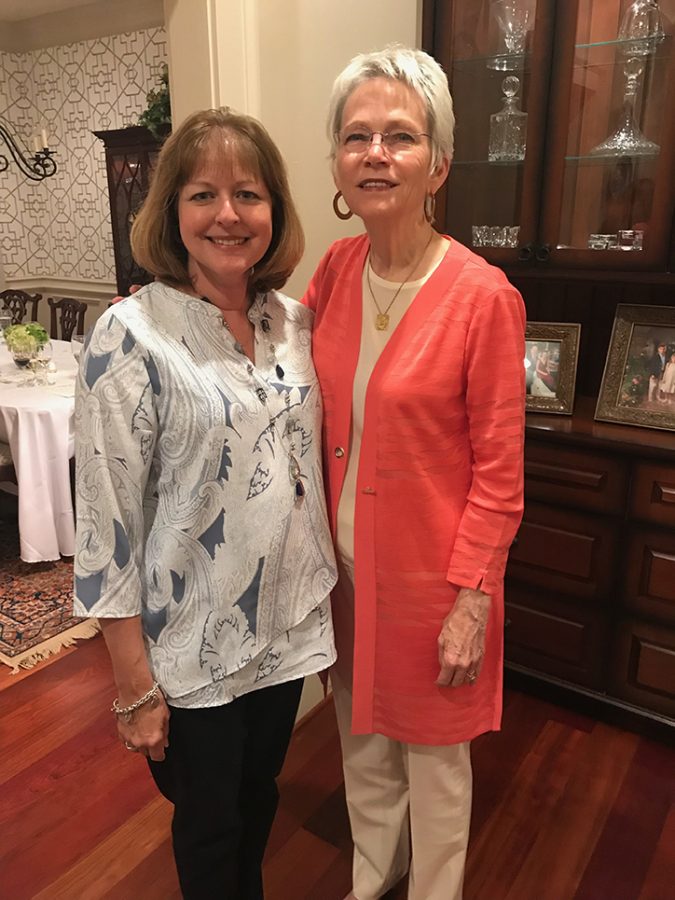 When Wilson moved into the interim dean role five years ago, she said Marion was the first person that she reached out to ask her questions about to what to expect in her new role. She also went to her for advice when she decided to apply for dean; Wilson said she mentored her through that process, as well.
"She was just someone that I deeply respected and admired. She's a consummate professional in everything that she says or does— she is going to interact professionally; she cares deeply about our students. And that's something that really resonated with me."
Pam Cromer, DNP, first met Marion in 1993 in Columbia when she was on faculty as she returned to college to become a family nurse practitioner. One of her first interactions came when Cromer was assigned to present a student seminar discussion, and she called to let her know that her partner was sick and to offer an extension on the work.
Cromer remembers at the time, South Carolina had just obtained prescriptive authority, and the seminar was critical and complex.
"I was afraid and intimidated, but she supported my efforts as I learned the new terminologies and introduced them to our class, which set me on course for the rest of my career in nursing," Cromer said.
During her time in Columbia, Cromer watched Marion from afar. One particular memory centered around professional conferences at the "Capital City Club," where she would be among the faculty "dressed to the nines with her long blond stylish hair, flipped on the ends in the latest fashion," which was eye-catching, Cromer said.
"The venue and the etiquette provided the role model she displayed repeatedly when, much later in 2006, she became my dean at the Medical College of Georgia College of Nursing," said Cromer, who noted Marion was there for her through her mother's long and terminal illness, visiting her at the hospital and traveling to Greenwood, South Carolina, for the funeral, as well as meeting with her afterward to celebrate the woman who was so important to her.
"Hired to open the interdisciplinary practice and research clinicals, she told me I had to return to school for my DNP and offered me a faculty position where I remain today, as a full professor and director of the Costa Layman International Farm Outreach Programs. In operations for 18 years, this venue has afforded me tremendous opportunity for professional advancement, organizational leadership, student teachings and community engagements, all of which she constantly drove to the faculty. I accredit and owe so much to Lucy for her inspiration to me. She indeed has been the 'wind behind my wings.'"
Debbie Layman, co-chair of Augusta University Foundation and nursing alumna, knew Marion for 20 years, meeting on what they both described as a "one-time engagement." Marion and her husband Phil took a trip to the Layman nursery in Trenton, South Carolina. This one-time courtesy trip spawned the community outreach efforts between the College of Nursing, other AU colleges and departments and Costa (formerly Costa Layman) Farms that has surpassed its 18-year mark with the health fair in the summer and the 17-year mark with the women's clinic in the fall.
"Lucy expected as much from herself as she did from the rest of us. Lucy put a very high value on taking care of the underserved, and her motto of 'Ever Onward' will always resonate to push us to do more and do it better each time," Layman said.
Distinguished Professor Emeritus at the University of South Carolina Stephanie Burgess, PhD, knew Marion for almost 40 years. They met when Burgess was a graduate student in the nurse practitioner program in 1982. She said Marion inspired her to become involved politically and to assume leadership roles in our professional organizations.
"Her most memorable comment that I treasure is that 'if you're not at the table, you're on the menu,'" Burgess said.
Burgess became politically involved when she was asked to serve on a committee with Marion in 1985 to challenge the South Carolina attorney general on an opinion he issued that was considered negative toward nursing.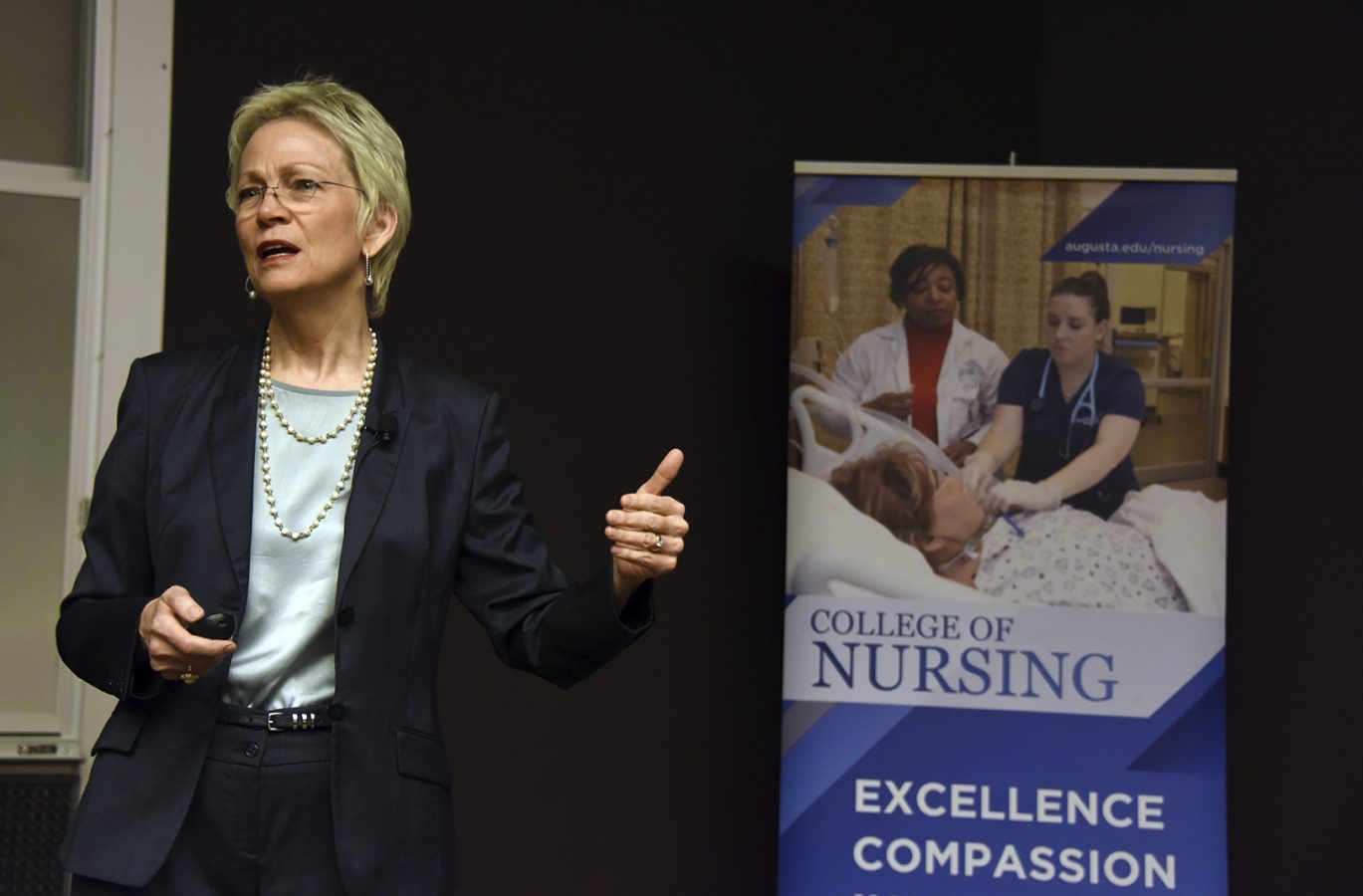 "We met several times with the attorney general's office and other interested parties and resolved the issue. She taught me to have courage and vision. In her words, 'let's kick ass,'" Burgess said. "In fact, after the issue was resolved, I sat next to the attorney general at a conference. He apologized for issuing such a ridiculous negative opinion about nursing and said he would never do that again and would consult with the leadership in nursing moving forward on nursing issues. That process taught me a valuable lesson: It's important to speak up and step up to the plate.
"I will miss Lucy immensely; she was a remarkable mentor to me and an incredible leader in nursing. I have deep respect and admiration for her. The world has lost a great one," Burgess said.
Marion, committed to advancing the profession of nursing, remained active on committee and initiatives until as late as last year. Joan Stanley, PhD, chief academic officer for American Association of Colleges of Nursing, worked on a number of initiatives beginning decades ago.
"She was a forward or future thinker. She pushed everyone to think not about what was but what it could and should be. She was a tremendous advocate within nursing, both interdisciplinary circles for nurse practitioner practice and for all nursing."
Marion achieved a lot during her tenure at AU, including the creation of the Nurse Scientist Incubator for novice investigators, as well as opening the Nurse-Managed Health Center located in the university's Health Sciences Building. It is the only clinic of its kind in the state to reside in an academic setting.
The center offers same-day and walk-in appointments for primary care services related to acute and chronic disease management, annual wellness exams and sports physicals. Patients can also take advantage of in-center lab services, including tests for blood sugar, influenza A/B, strep, urinalysis and urine pregnancy.
Marion supported the creation of the Greater Augusta Healthcare Network (GAHN), which was established in 2007 to address the tremendous need for quality, affordable health care in Augusta and the surrounding communities.
With initial funding from the Healthcare Georgia Foundation, the College of Nursing spearheaded the GAHN initiative in collaboration with key community health care stakeholders with the goal of creating a seamless health care system for residents.
She stayed active after retirement and was the recipient of the 2021 Outstanding Service to NONPF Award, which was presented to her by the National Organization of Nurse Practitioners Faculties. The award is given to an individual who contributes to the advancement of NONPF's mission. Marion was a member of the NONPF for almost 30 years.
In early 2022, she was among 10 inductees in the inaugural Georgia Nursing Hall of Fame cohort. The hall of fame was created by the Georgia Nurses Association to recognize exemplary nurses dedicated to nursing in the state.
Marion co-chaired the National Task Force on Quality Nurse Practitioner Education, which was facilitated by the National Organization of Nurse Practitioner Faculties and the AACN.
"The 2022 National Standards for Nurse Practitioner Education are a testament to her thinking and advocacy for quality nurse practitioner education," Stanley said. The two-year task force published the sixth edition of standards in April 2022.
Caughman said Marion had national and international recognition as a force in nursing for being an innovator and a trailblazer. Caughman noted that even in retirement, Marion continued to mentor PhD students.
Despite all that she accomplished, Wilson wasn't sure whether Marion would ever fully understand the depth of the impact she had on individuals and collectively at AU. Layman noted in her 2019 address at the College of Nursing scholarship brunch that more than 30 scholarships had been endowed during Marion's deanship, including two of her own.
"She was a difference maker for me. You know, I think about Who Wants to be a Millionaire? and the lifeline you can call. … She was one of those people that I would call, and she would make time for me. And that meant a lot because I knew she was incredibly busy," Wilson said. "There were so many things competing for her attention, but she always made you feel like you were a priority; she always made time for you.
"She's a deeply loved person and loved for so many different ways and reasons. I'm just honored and privileged to have walked alongside with her these past few years, and I'm just so grateful for the legacy that she has left."
In lieu of flowers, memorial contributions may be made to the Lucy Edythe White Marion Scholarship at Augusta University, per her obituary.