Augusta University College of Nursing Professor and Dean Emerita Dr. Lucy Marion was among 10 inductees in the inaugural Georgia Nursing Hall of Fame cohort.
The Hall was created by the Georgia Nurses Association to recognize exemplary nurses dedicated to nursing in the state.
Marion, along with Candice Saunders, Connie Buchanan, Lucy Rogers, Joyce Barlow, Mary E. Walker, Joyce McMurrain, Mary N. Long, Tim Porter-O'Grady and Lisa Eichelberger, was inducted Feb. 10 in Atlanta. Inductees must have a minimum of 15 years of nursing experience, have made positive impacts on nursing and health care in the state of Georgia, been instrumental to the improvement of their community, completed philanthropic and civic involvement and worked to elevate the status of nurses in the state of Georgia.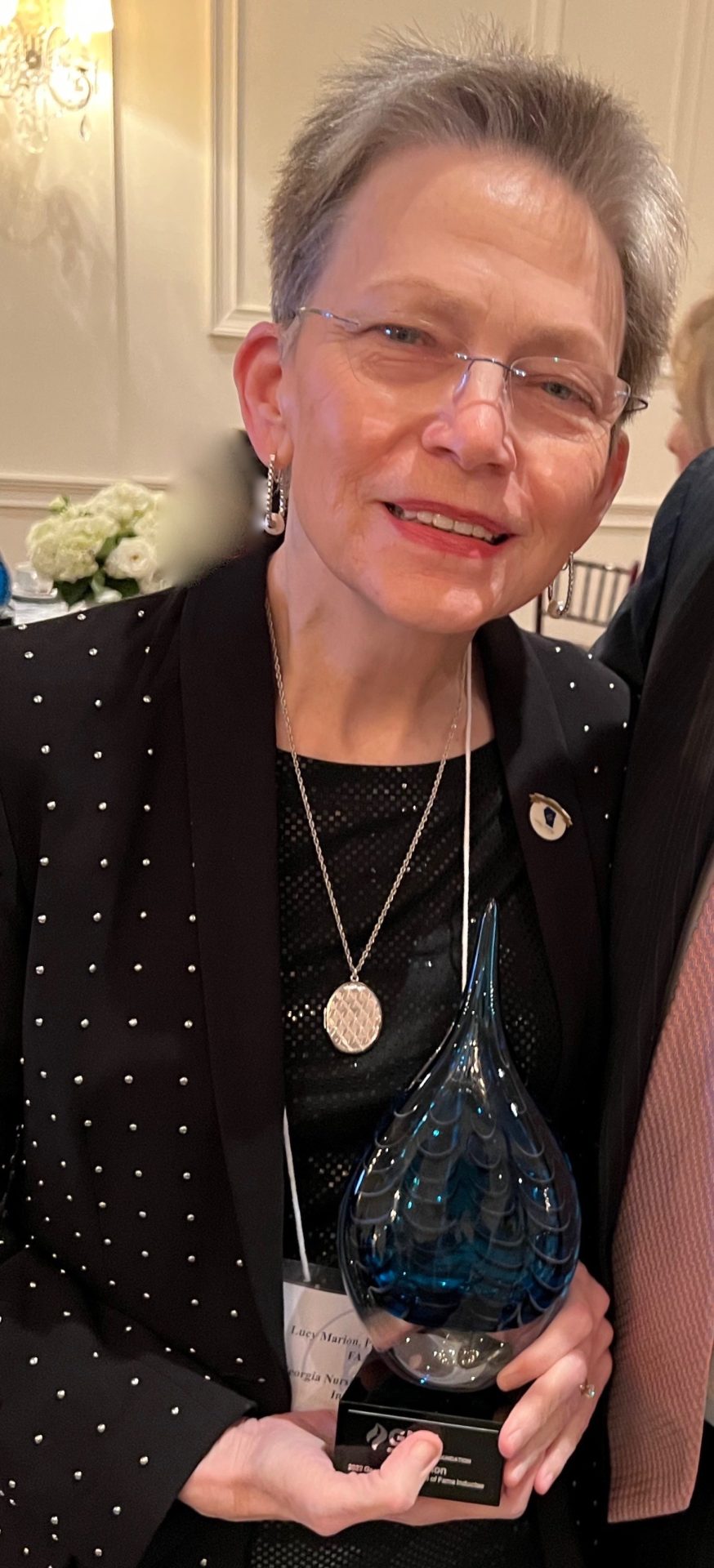 "To be honored as inaugural Hall of Fame member is beyond my wildest dream, and I thank the selection committee and GNA overall," Marion said of the honor. "Sincerest thanks to Augusta University College of Nursing academic and community teams, Georgia Nurses Association, Georgia Nursing Leadership Coalition teams, United Advanced Practice Registered Nurses, and Georgia legislators."
Marion served as dean and professor of the College of Nursing for over 15 years, including overseeing the merger of two universities' schools of nursing.
"I plan to relinquish most national activities and focus on improving and innovating nursing education and decreasing health disparities here," Marion said back in 2004, when she joined what was then the Medical College of Georgia's School of Nursing.
"The myriad of opportunities motivated and sustained my drive to make a difference. Usually gathering people from different backgrounds, we collaborated, shaped, executed and sometimes ditched ideas from my lifelong vision of health care for all, built on quality nursing care. I loved teamwork and rarely accomplished anything on my own."
During her tenure, Marion led the creation of the Nurse Scientist Incubator for novice investigators, the first Doctorate of Nursing Practice and Clinical Nurse Leader programs in Georgia and the first APRN nurse-managed clinic on campus. She actualized the existing nursing faculty practice plan and founded the Greater Augusta HealthCare Network to expand primary care for vulnerable people. She continued NIH-funded behavior change research to prevent diabetes among African American church parishioners.
She served as chair of the Academic Advisory Committee on Nursing for the University System of Georgia and the USG Georgia Nursing Education Task Force. The result of the two committees was a 50% increase in RN graduates in Georgia. Marion also served as an advisor to the Georgia Board for Health Care Workforce for the rural APRN Loan Repayment Program.
Marion  partnered with Augusta University Medical Center nurse executives to advance patient care through innovative, evidence-based, interprofessional and collaborative nursing practices. She continues to prioritize advocacy for access to quality, affordable health care for all Georgians. She is current co-facilitator of the latest national task force to produce the sixth edition of Criteria for Evaluation of Nurse Practitioner Programs.
Marion has not slowed down during her retirement as she currently serves on the Georgia Nursing Leadership Coalition steering committee and chairs the GNLC Advanced Practice Registered Nurse Task Force as well as the Data Advisory Committee.