Augusta University College of Nursing Dean Tanya Sudia has been elected as a Distinguished Fellow of the National Academies of Practice in Nursing. Sudia received the distinctive NAP medallion at the Class of 2022 fellows induction ceremony during the NAP annual meeting and forum March 3-5 in San Diego.
NAP is a nonprofit organization founded to advise governments on health care. Notable practitioners and scholars are elected by their peers to join NAP, which is the only interprofessional group of health care practitioners and scholars devoted to quality health care for all. NAP professionals advance health care by promoting collaboration and advocating policies that are in the best interest of individuals and communities.
When NAP was established in 1981, the first academy was Psychology. Soon after additional interdisciplinary academies were added: Dentistry, Medicine, Nursing, Optometry, Osteopathic Medicine, Pharmacy, Social Work and Veterinary Medicine. In 2014, Audiology, Occupational Therapy, Physical Therapy and Speech-Language Pathology were added; and in 2021, Athletic Training was added.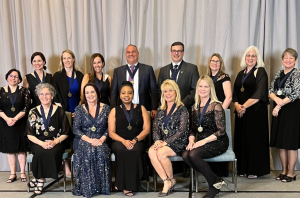 NAP Distinguished Fellows require nomination by a colleague; application, review and recommendation by the academy of their profession; and approval by the NAP Council. Election as a fellow is for life and includes the allowed use of the FNAP credentials.
Nominated by Neil MacKinnon, provost and executive vice president for academic affairs at Augusta University, Sudia joins NAP as a Distinguished Scholar Fellow as acknowledgement of her achievements and leadership in the nursing profession.
Sudia is recognized for her sustained contributions to interprofessional research, scholarship and leadership.
Prior to joining Augusta University as dean, she served as associate dean for research at Baylor University and a variety of positions at Emory University, including nursing faculty, faculty fellow in the interdisciplinary Ethics Center, IRB director and interim IACUC director.
Sudia's research funding spans private and NIH funding. Her international contributions are diverse, with presentations in Brisbane and Melbourne, Australia. A presentation in Hong Kong earned her Best Oral Presentation Award. She co-led a study abroad experience in Hong Kong for nursing and traditional Chinese medicine.
Sudia's international collaborative work also involves an interprofessional team in Bengaluru, India, where she co-led a United States Agency for International Development and American Schools and Hospitals Abroad-funded project establishing a women and children's health and research center, including a pediatric palliative care unit and program.
"I am humbled by Provost MacKinnon's nomination and honored to be inducted as a Distinguished Scholar Fellow," Sudia said.