Dip Metress enters his 16th season as Augusta University men's basketball coach when the Jaguars tip off at 5 p.m. Friday in Wilson, N.C.
His squad is coming off a remarkable season which saw them win 15 games in a row en route to the Peach Belt Conference regular season and tournament championships. This year the Jags enter the season ranked No. 13 in the National Association of Basketball Coaches preseason poll, they are picked to win the conference again and senior Rafael Monteiro was selected to the PBC All-Conference Preseason Team.
With the amount of expectations that surrounds this year's team, Metress says he's trying to keep his team focused on one game at a time while preparing them for the rigors of conference play.
"We did not play well in our last two scrimmages and there is a target on you whenever you're coming off a title; you get preseason recognition," said Metress, who is 338-128 at AU and is two wins away from 900 for his career. "And whenever you have a number in front of your name, the other team looks at you differently. The most insignificant things are halftime scores and preseason rankings … you have to play out the whole season and the whole game. It is a challenge, but it's a good problem to have."
Metress noted his team has seen a different mentality in their scrimmages from the other team that some of his young players didn't see last year.
"The guys that played last year are realizing it now because they see the emotions from some of the other teams that they didn't see when they had their first scrimmage last year. So I think we've got to learn to adjust that quickly," he said.
The program's ability to win consistently has helped foster a winning attitude with the level of players that have come through it.
"A guy told me a long time ago, win the odd ones — win your first game, the third game, the fifth game, the seventh game and you're 4-3. I didn't quite know what he meant by that 20 years ago," Metress said. "I read a few years ago Gonzaga basketball, every time they get to .500, they have a little celebration. You know, for us, we have 28 regular season games, if you get that 15th win, the worst you can finish is 15-14. Now, our goals are always higher than that. But it's very hard to keep winning. In order to be great, you have to be good first. You can't skip steps in this process. And we've been fortunate enough to never kind of completely drop off the landmark."
While he's had some really good players over the years, Metress is excited about the core group of players he has this year and how they are continuing to develop their games.
"I joke about it all the time, it's not about the X's and O's, it's about the Johnnys and the Joes. You've got to have good players. I don't care how good of a coach you are, part of it is getting good players and developing good players," Metress said.
Some of the buzz surrounding the team is focused on 7-foot sophomore center Tyshaun Crawford, who transferred in from Georgia Southern.
"He's had an impact already, and I see no reason why he shouldn't be our third leading scorer in his first year," Metress said. "If he's better than that, then I'm in good shape. He still has some conditioning issues, but he is progressing. It's a work in progress, but he's an impact guy and he should be a three-year starter if he can keep everything focused on the right way."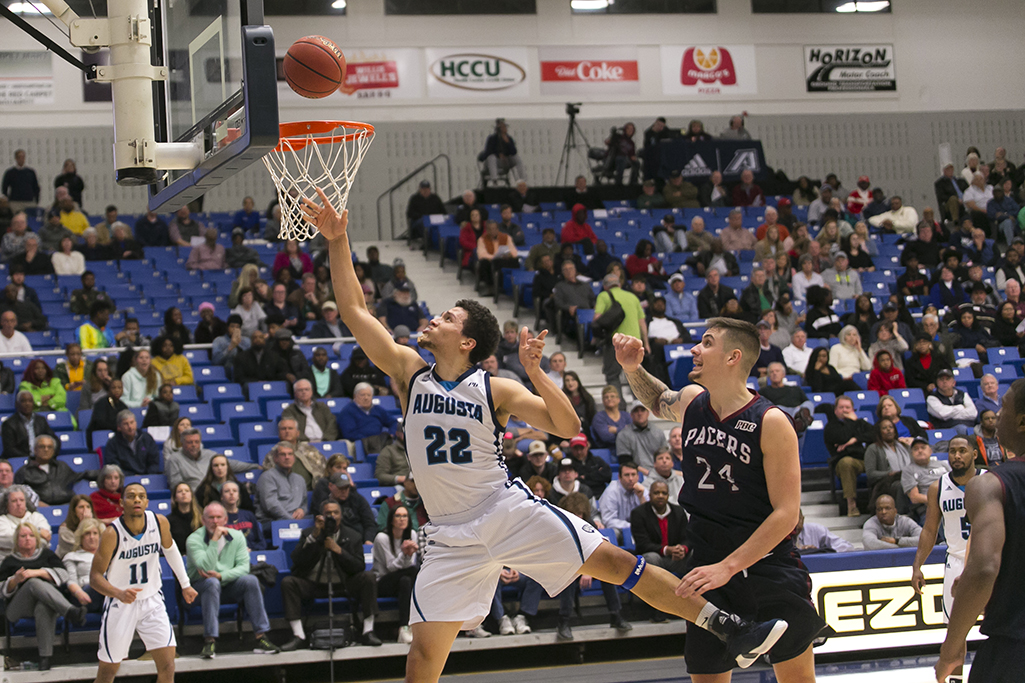 Metress acknowledges the overall dynamic of the team is different. Monteiro is the lone senior on the team. He will take over the leadership the team lost in Deane Williams, who was an All-region selection as well as the PBC Defensive Player of the Year and conference co-player of the year last season. Metress is confident in his forward's ability to lead by example.
"I have nothing to worry about with Rafa because of his work ethic and his personal makeup, but we are going to have to rely a lot on guys that are new or returning that have only played 30 games in their career. They're are starters and closers right now. As all Braves fans know, if you don't have a good closer you're going to struggle and we've got good players, but we got to find the one or two other guys that are going to close the game out for us."
Metress wants to work on the little things in the first eight games of the season to make sure his team is in the right frame of mind toward the end of conference play.
"We were 22-1 last year when we outrebounded the opponent," he said. "We have to understand that we had to hang our hat on defense and rebounding and not try to outscore people last year. We have to keep focused on the important things."
Three keys to the season
Defense, rebounding, transition defense: Metress said with the way the team has changed from the end of last year, they have to be able to get defensive stops and rebounds. "But one of our keys is the ability to play transition defense … because of the nature of our team this year."
Key Dates
"Anytime you play, they're important," Metress said. "Our goal is always going to be the same — win the regular season title. That's our first goal."
The Jaguars will play four of their first six games on the road, beginning with Mount Olive and Barton on Friday, Nov. 8 and Saturday, Nov. 9.
Their home opener will be against Catawba at 7:30 p.m. Tuesday, Nov. 19, and the City Classic against Paine College is Saturday, Dec. 7.
AU's defense of the Peach Belt Conference regular-season title begins Georgia Southwestern on Thursday, Dec. 19.
"The main thing for us is to continue to get better during the year," Metress said. "And the only way they indicate if you're going to be significant late, you have to you have to win games in November.
Players to watch
Monteiro, senior, 6-4, forward: Was named second team All-Conference, Peach Belt Conference All-Tournament Team and NCAA Southeast Region All-Tournament Team last year. He ranked second on the team with 15 points and 5.9 rebounds per game.
Troy Cracknell, junior, 6-4, guard: Metress says he has "really stepped up in his role." He played in all 34 games off the bench and averaged 6.5 ppg and 2.1 rpg. He led the team with an 86.5 free throw percentage.
The entire sophomore class: Crawford, Tyree Myers, Miguel Arnold, Darren Lucas-White, Robert Barlund, Abram Gladney, Jack Johnson. "Our entire sophomore class will be significant; early in the year they're going to have to be our guys we lean on just because of their experience."
Click here to view the men's basketball schedule.