Third-year women's basketball coach Millette Green is calling this year their brick season.
"The first two years we were laying the foundation and this is my second recruiting class," she said. "The way that we are building, you can say that we're young, but I don't coach them like they're freshmen and sophomores … We set goals for ourselves.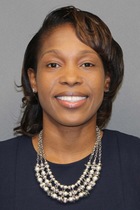 "So every game, we plan to leave it out on the floor," Green added. "You should never question our energy, effort, attitude, body language and toughness, those things that I told them I can't coach on a daily basis."
Green won four games in her first year and seven games last year. She has included her team in the process entering this season.
"I want them to be vested, too. I had a goal for this team and I asked them, what are their goals?" she said. "Our goal is to be in a top eight (conference team) and last year, we were in a position where we were fighting for the last spot despite our record because we came on late after struggling early."
Green will start the season without her two seniors, Cameryn Wilson and Moneisha Goldsborough. Wilson is sitting out for a semester and Goldsborough is coming back from injury. But Green has been able to depend on them to be vocal leaders to her young team.
With both of those players out, "the younger kids have been able to develop a little bit more than usual early on," Green said. "But they've been through it for four years. They know what college basketball is like. Just having a pulse in a locker room re-emphasizes some of the things that we value as a program."
Aside from Wilson and Goldsborough, the team is young. The Jaguars have two juniors, including transfer Jalea Gray from Savannah State University, five sophomores and five freshmen. The early scrimmages have helped the young players continue to adjust the upbeat tempo of the game while exposing them to the type of athletes they will be competing against.
"I told my returning players, you have to step up and lead," Green said. "You've been through the program for a year, so you know what my expectations are and I expect you to show the newcomers what is expected of them."
While she understands there's a learning curve, Green is trying to balance when to push her current squad and when to pull back as they continue to mature as players.
The Jaguars will play five of their first eight games on the road and Green, who says every game has a purpose, is focused not only on the squad goals but also, hopefully, learning how to win on the road.
Green also mentioned when she went out recruiting, she was focused on the needs of the team, which included their lack of height. They enter the season with eight players listed at 5-foot-10 or taller, topped by 6-4 forward/center Stella Logbognon.
Green realizes the Jaguars' program has struggled, with the exception of two seasons since the 2008-09 season. She said foundation is the key to rebuilding a program.
"I do think I laid the foundation last year with the five players returned from that first year," Green said. "I knew we needed to get better defensively and with rebounding. Those are some of the things I tried to address in the recruiting process. Also, getting them to understand what I want, do it right over and over again and we preach habits.
"I'm now starting to see where the younger kids are seeing the big picture," she added. "I see the progression, and as a coach, you're never 100% happy, but I see them doing a lot of things right. We still have to work on some minor details to continue to improve as a team. And I told them, I don't expect them to be perfect in October and November. We need to be at our peak in February and March. That's when we need clicking on every cylinder."
Three keys to the season
Defense, rebounding and making shots. Making some stops on defense is one thing Green emphasizes during practice and games as well as rebounding. "We might have won a few more games last year, if we would have rebounded better. We were negative 10 on the boards and it's hard to win games when you don't rebound."
As far as making shots, Green wants her team to focus on the higher percentage shots, which "starts with our defense, being able to force turnovers, get deflections and turn it into points."
Key dates
"Every game because I expect my players to put out a certain product nightly," Green said.
While she is focusing on getting her team ready for conference play with the first eight non-conference games, the first home game against Queens (N.C.) is Saturday, Nov. 16.
The City Classic against Paine College is Saturday, Dec. 7, at Christenberry Fieldhouse before the conference kicks off two weeks later against Georgia Southwestern.
Players to watch
Asia Harrison, sophomore, 5-7, guard: Named Peach Belt Conference Freshman of the Year last year after starting 25 games and playing in all 28. She averaged 8.9 points, 2.3 rebounds and 1.8 assists per game.
Kiera Howard, sophomore, 5-5, guard: Played in 28 games and made seven starts last year while averaging 8.1 ppg, 2.9 rpg, and 1.7 apg. She was second on the team in blocks and third in assists and steals.
Zairya West, junior, 5-5, guard: She played two seasons at Norfolk State, appearing in 42 games before transferring. She averaged just under seven minutes a game last year.
Kennedi Manning, freshman, 6-1, forward: Green said she has been a surprise early in preseason training and practice. At Arabia Mountain High School in Lithonia, Georgia, she amassed 1,000 points and was awarded Best Overall Player of the Year last season.
View the 2019-20 women's basketball schedule.