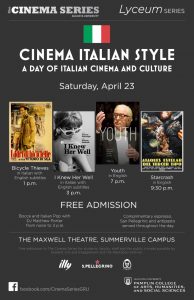 Cinema Series brings Italy to the Summerville Campus
Cinema Italian Style, the final Cinema Series event of the academic year, takes place this Saturday, April 23.
Billed as a day of Italian cinema and designed like a film festival, the screenings start at 1 p.m., but people are encouraged to arrive at Summerville's Maxwell Theatre at noon to enjoy complimentary antipasto served by the Bee's Knees, San Pellegrino sparkling water and espresso from illy coffees – all while art students paint live and DJ Matthew Porter spins vintage Italian pop from the portico.
Topping off the Italian theme: bocce ball on the lawn.
"I'm encouraging people to bring a picnic blanket and hang out in the shade or in the sun and relax and have a little nibble before the movie and enjoy the beautiful day," said Assistant Professor Matthew Buzzell, who co-chairs the Cinema Series.
The screenings start at 1 p.m. with Vittorio De Sica's Bicycle Thieves, which Buzzell calls the definitive Italian neo-realism film. Set just after WWII, it is a moving film about a father and a son searching the streets of Rome for a stolen bicycle.
"Most academics and film historians have this film on their list of greatest films ever made," Buzzell said.
Following Bicycle Thieves at 3 p.m. will be I Knew Her Well, a movie about a country girl who goes to Rome to follow her dreams of working in the film industry. Directed by Antonio Pietrangeli and staring Stefania Sandrelli, the 1965 film had never been released in the U.S. until earlier this year.
"It's a great window in which we can see the boom of post-war Italy," Buzzell said, adding the soundtrack is also something special.
Youth, Academy Award winner Paolo Sorrentino's new film starring Michael Caine and Harvey Keitel, will screen at 7 p.m. Though largely in English, Buzzell said the film is very Italian in its style and will move the audience with its contemplative tone.
Finishing the day is Starcrash, widely known as the Italian Star Wars.
According to Buzzell, director Luigi Cozzi was hired in the 1970s to make a knock-off of the recently released American sci-fi film, but the George Lucas movie had yet to be released in Europe, and there was no VHS at the time. So Cozzi had to build his film from the only things he had: movie stills and a novelization. Buzzell calls the result a "beautiful, candy-coated, dreamy, sweet and somewhat sentimental space opera."
With audience numbers for the Cinema Series growing, Buzzell said he is anxious to end the year with such a strong offering while showcasing the campus with the outdoor activities associated with the films.
"I'm hoping it's going to be a nice opportunity for people to enjoy not just the Cinema Series, but the campus as well," he said.