The Blue Route shuttle will feature ride-on-demand service for stops at Christenberry Fieldhouse and the Georgia Cyber Center beginning Thursday, Oct. 1.
Those traveling to Christenberry Fieldhouse or the Georgia Cyber Center may board at any Blue Route shuttle stop and inform the driver where they need to go. The shuttle will make all the normal stops on the way to the requested location.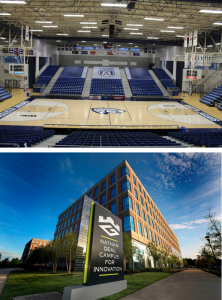 Those needing a pickup from Christenberry or the cyber center will use the Passio Go app to "Request a Ride." This new feature in the app operates through geofencing to facilitate on-demand rider pickups. Simply select the Blue Route and slide or swipe to request a pickup. A signal will be sent to the closest Blue Route shuttle, which will divert to the pickup request. The route view will then display the shuttle location so the rider can estimate its approach.
Be sure to update your Passio GO app this week to deploy this latest technology (you will likely have to delete the app and reinstall the latest version). If you don't have the app, you may download it from Google or the Apple app store Store.
"Request a Ride" only applies to the Blue Route and is only available for Christenberry and the cyber center.
From Oct. 1-16, four Blue Route shuttles will make continuous loops to CFH and GCC locations – with and without an on-demand request – to ensure that student riders are picked up and informed about the shift to ride-on-demand during this transition in services. Also, the Orange Route will continue providing service to the Georgia Cyber Center through the end of the fall semester.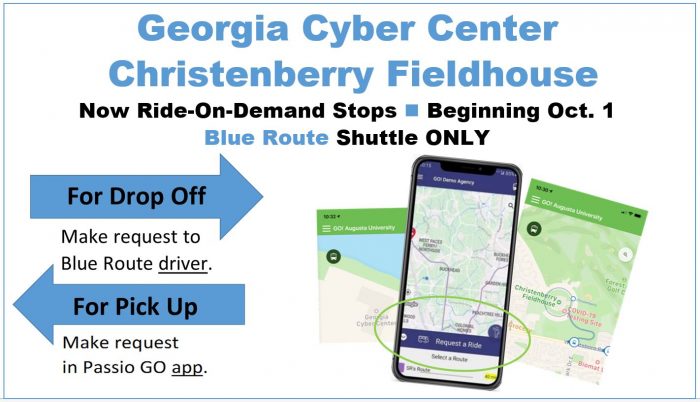 Signs are being posted at both locations to explain how Request a Ride works. In addition, information on the route changes will be shared with multiple student groups.
Messages have already begun in the Passio GO app.
Riders using the new ride-on-demand feature are asked to provide feedback via email.
Visit the Parking and Transportation or JagExpress Shuttle services pages on Augusta University homepage for more information, and watch for updates on Jagwire.