The award-winning pediatric imaging suite at the Children's Hospital of Georgia will have its Grand Opening from 5-7 p.m. on Tuesday, Oct. 20, and everyone is invited.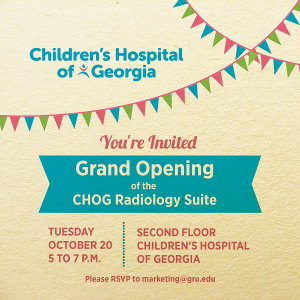 The new suite, which earned a Patient-Centric Imaging Award from Health Imaging magazine, is located on the second floor of the Children's Hospital and has several innovative elements to help alleviate the anxiety often associated with radiology tests.
Colorful patient lounges give children and their families comfortable, soothing places to wait, while the lounge in the main waiting area includes an interactive video wall where approximately 80 different, engaging scenarios can be set in motion by the children themselves.
Perhaps the most innovative idea is the Philips Kitten Scanner, a simulated CT scanner that allows children and their families to learn about the test by sending toys through the simulated scanner.
The more you understand, the less intimidating things can be.
The Kitten Scanner, as well as the rest of the imaging suite, is a direct result of GRHealth's partnership with Philips Healthcare.
The changes go deeper than atmosphere and comfort, however. The new suite also allows for increased efficiency, and the new equipment uses low-dose radiation techniques to limit every child's potential for radiation exposure.
"Working together with the Philips team and our patient advisors has given us an end product that I'm very proud of," said Layne Mitchell, administrative director, general radiology. "Radiology can be a scary place. I feel that we've replaced the 'scary' with 'soothing,' and I'm excited to share that with our patients."