Chelsea Paulding, a graduate student in public health from Columbus, Georgia, was crowned Miss Augusta University 2022 on Oct. 1. She is the successor to Maisy Welsh, who reigned for two years due to the COVID-19 pandemic.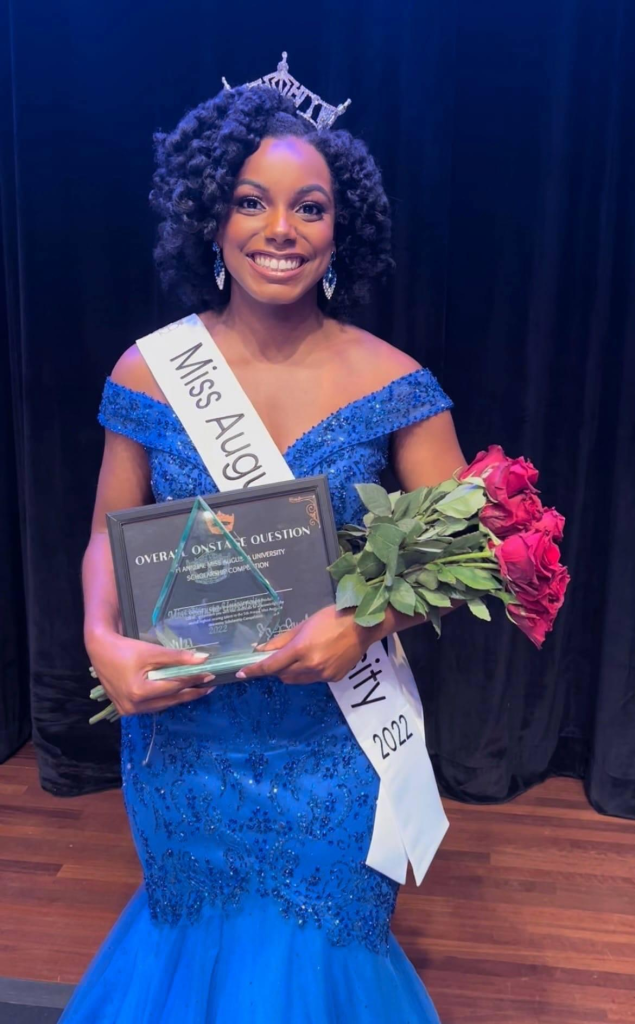 Paulding competed in Miss Augusta University to get herself more involved on campus, but also to improve exposure for graduate students in student life.
"I really just wanted to command my presence on the Augusta University campus and get more involved. From going to being so involved in my undergrad and then coming down here and not really knowing too much or knowing my way around, I wanted to make my impact just as I did in my undergrad," she said.
"And I wanted to show that graduate students can get more involved within their campus just like undergraduate students."
Paulding is a second-year student in the Master of Public Health program in the College of Allied Health Sciences and is pursuing a concentration in health management. Paulding will graduate with her MPH in May 2022, after completing her capstone project on Mental Health First Aid.
She is the vice president of the Health Promotion Student Association and a member of the MPH Student Affairs Committee.
In addition to pursuing her graduate degree, she is the founder of a support community called "Sis, You Got This."
She launched SYGT on International Women's Day in March 2020 to promote women's physical and mental health, spread women's empowerment and enrich the female community.
However, the COVID-19 pandemic struck a few days after her launch, moving her efforts to a strictly virtual environment.
"I'm all about women's empowerment, encouraging other women to do what they love to do, and making sure they have that sisterhood behind them," she said.
SYGT organizes donation drives for women's shelters, shares mental health resources and workouts and hosts "sisterly chats" every month to check in with members.
The SYGT community is open to everyone — even men. In fact, Paulding encourages men to get involved in her organization so they can learn more about the "female perspective."
Paulding is passionate about health and has dedicated her life and career aspirations to it.
"I've always been big into health, whether it's mental health, physical health or health care in general. I felt like public health hit all the bases of where I wanted to go in my career. I'm really big on women's health, hence my nonprofit, but I think public health is general enough to where I can dip my toe into every little thing, whether it's health education, health policy or nonprofit work," she said.
"I think public health just gives a broad range to where I'll never get bored. And with the pandemic, it really awakened a lot of people's eyes to what public health is, so I believe the importance of it is at a wider scale. I'm interested to see how it will grow in the next few years."
Her career aspiration is to be a public health advisor for the CDC, as the headquarters are here in her home state of Georgia, and the organization has enormous national reach.
For Paulding, her main goals as Miss Augusta University are to create visibility for the graduate student community, increase student involvement on campus and promote her social impact initiative of domestic violence awareness.
"A successful reign to me would be to make my impact and let the campus know that as a graduate student, I can be involved as well, and really put out my social impact initiative and let people know how they can get involved," she said.
Paulding can begin promoting domestic violence awareness right away, as October is Domestic Violence Awareness Month. She has already begun getting involved.
She participated in the Domestic Violence Walk on Oct. 10 in downtown North Augusta, and also volunteered at a SafeHomes tabling event on the Summerville Campus on Oct. 12. She will continue volunteering with SafeHomes throughout the month, including at its emergency shelter.
Paulding is an alumna of the University of West Georgia, where she obtained her bachelor's degree in social and behavioral health with a minor in women's studies, and a certificate in social diversity and social services.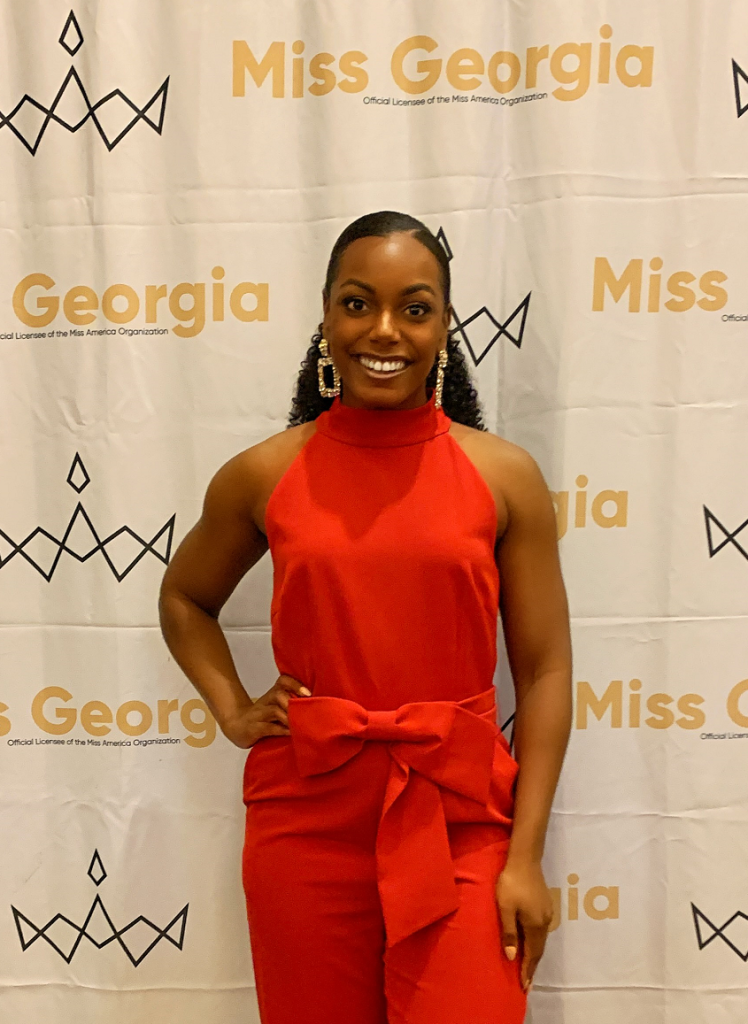 Paulding will represent Augusta University at the Miss Georgia Scholarship Competition in June 2022, a pageant she's already familiar with. She competed for Miss Georgia in summer 2021 as the reigning Miss West Georgia.
After her reign, she hopes that Miss Augusta University is an even more visible figure on campus with stronger connections to faculty, staff and students.
"I am truly excited to start this journey as Miss Augusta University and aspire to inspire others to achieve their goals, present their passions and be their authentic self through any endeavor they strive to achieve," she said.
"Being Miss Augusta University is not just wearing a shiny crown, but more importantly, implementing the work to better the campus, improve the community and be an example of what the university stands for. I am ready to get to work and represent Jaguar Nation!" 
Tune in to the latest episode of In the Wild to hear Chelsea relive her crowning and discuss her plans as Miss AU.
In the Wild is available on all major podcast listening platforms.