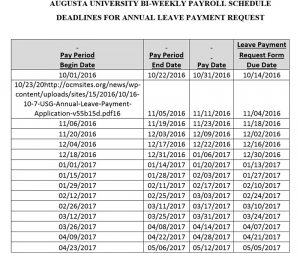 The University System of Georgia (USG) is offering university employees the opportunity to "cash out" up to 48 hours of their annual leave and unscheduled holiday leave to help with the transition to nonexempt status, which occurs on Oct. 23.
If you're interested in this offer, fill out the Vacation Cash Out Request Form and follow the directions included with it. The form has deadlines for applying for each pay period. The deadline for the Oct. 31 paycheck is Oct. 14.
Please note:
This is a one-time-only option limited to affected employees, which may be exercised up through June 9, 2017.
This is a voluntary option.
Employees with fewer than 48 hours will be allowed to use their full available annual leave balance.
Employees will not be able to buy back hours at a later date.
Employees electing this option will receive the vacation and/or unscheduled holiday along with their regular pay for hours worked.