Dr. Kim Capehart, associate professor in the Department of General Dentistry in The Dental College of Georgia, has been appointed chair of the department, effective July 15. Capehart has served as interim chair since September 2019.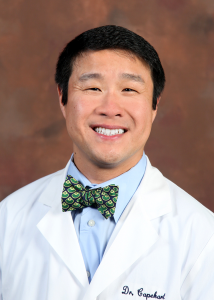 As department chair, Capehart will oversee pre-doctoral education programs, research, scholarship, faculty development, intramural faculty practice and administrative leadership for senior student patient experiences in the DCG.
Dean Carol Lefebvre is confident in Capehart's appointment.
"Dr. Capehart has proven since he became the interim chair in 2019 that he is a capable, creative leader who is effective in identifying market niches in which the DCG can grow, all while building collaborative coalitions among peers and attending to students' education and professional development. We are thrilled to finally be able to name him department chair," Lefebvre said.
Capehart has plans for expansion and development, including improving the graduation rate and establishing a footprint in a new market. He has developed a program called Assiduous Seniors that allows advanced students to gain more training in specialized areas for future residencies, while making room for other students to have more time in the senior dental clinics for patient care.
Capehart notes that the Department of General Dentistry does not currently have an advanced education program, and that may be an opportunity for growth. Also, he is putting his master's and doctorate degrees in business administration to work, uniting with DCG colleagues to develop a graduate-level Certificate of Practice Management. Less than six such programs are available in the U.S. If offered as a virtual program, Capehart predicts interested practitioners nationwide.
Closer to home, he hopes to mentor and develop faculty in his department, increase faculty and staff retention, foster diversity and inclusion and build a bigger and better department. He calls upon his ability to speak two different languages — "friend and chair," as he describes them — to navigate tough scenarios.
Capehart was also recently promoted to associate professor. He serves as chair of the DCG Student Affairs Committee, faculty advisor for the American Student Dental Association chapter, president of the Eastern District Dental Society of the Georgia Dental Association, test constructor for the Integrated National Board Dental Examination, site visitor for the Commission on Dental Accreditation and a journal reviewer for five different journals. He was the 2018 recipient of the Judson C. Hickey Outstanding Faculty Award.
Capehart is a graduate of Marshall University with a Bachelor of Science in Biology and of West Virginia University with a Doctor of Dental Surgery. He has also completed a Master of Business Administration and Management from Regis University and a Doctorate of Business Administration from the University of Phoenix.