"The accomplishments of a college lie in the lives of the students it has served."
Dr. William A. Bloodworth Jr.
Hundreds of friends, family members and former colleagues of the late Augusta State University President Emeritus William A. Bloodworth Jr. filled the Maxwell Performing Arts Theatre at Augusta University on Monday, Sept. 12 to celebrate his life and legacy.
"As you can see by today's crowd, our entire campus and community are mourning the loss of such a respected and beloved leader," said Augusta University President Brooks A. Keel, PhD. "Dr. Bloodworth never forgot a name, never forgot a face. He was truly a campus icon and he was widely admired for his teaching and leadership skills, but also beloved for his humility and his humanity."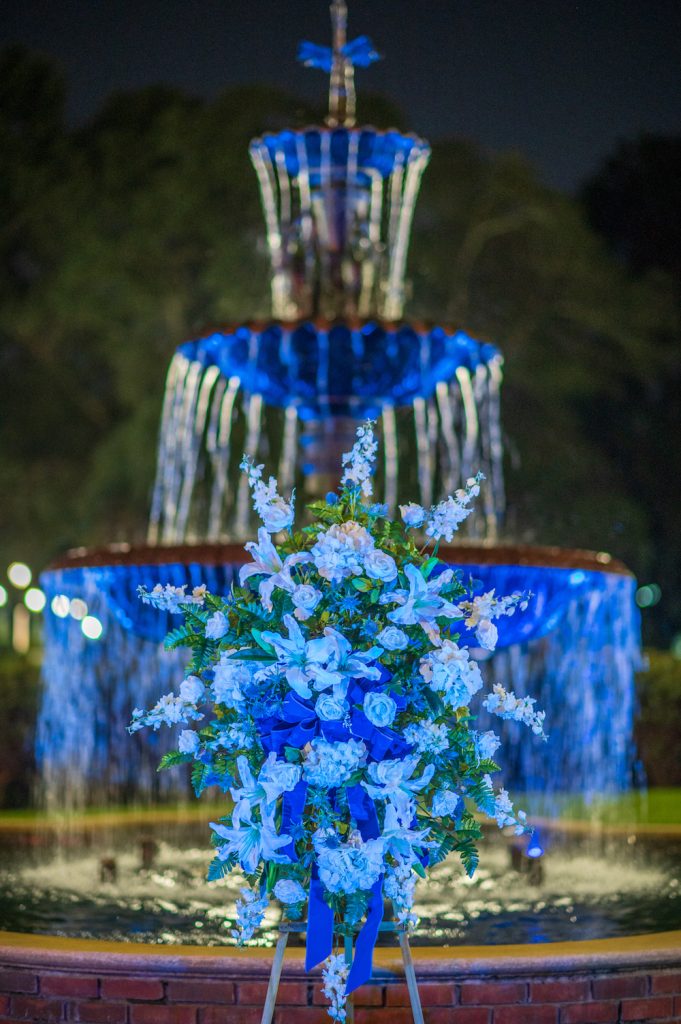 Bloodworth, who oversaw Augusta College's transition to Augusta State University and served 18 years as president starting in 1993, passed away Monday, Aug. 29 at age 79.
"Alongside a nearly 50-year teaching career, Dr. Bloodworth was crucial to our institution's growth," Keel said, adding that Bloodworth changed the face of Augusta State University by promoting and overseeing $103 million of new construction and renovations on the Summerville Campus. "He oversaw Augusta College's transition to a state university and was vital in introducing new programs, accreditations and online class offerings to grow educational opportunities and support student success."
Students were his greatest love and he was devoted to Augusta State University, Keel said.
"I think this quote best summarizes Dr. Bloodworth's commitment to our students and to his legacy, 'There's no greater joy than knowing that you have played a role in changing lives,' he said. 'That's the power of education,'" Keel said.
Bloodworth the leader
Dr. Joyce Jones, former vice president for student affairs at Augusta University, said she met with Bloodworth at least twice a week for the 15 years she worked at Augusta State University.
"From the moment that I met Dr. Bloodworth in 1998, he was down to earth," she said, adding he treated everyone with the same respect and dignity. "My first week on the job, he called me and invited me to visit his church, First Baptist. He insisted on picking me up and we drove to church together."
Jones acknowledged she didn't know what to expect as she walked into First Baptist Church of Augusta with Bloodworth.
"I have to admit, I was a little uncomfortable going into this big, all-white Southern Baptist Church," she said, laughing. "But Dr. Bloodworth assured me that they would welcome me with open arms. I had a wonderful time. After the service, everyone came up to us and they welcomed me to Augusta and gave me hugs and invited us to lunch.
"As I looked at the welcoming church members, it was clear to me that these people all love Bill Bloodworth. And, so, they were accepting of me, of course," she added. "This was just the beginning of my introduction to the 'Bill Bloodworth Augusta Community Cheering Squad.'"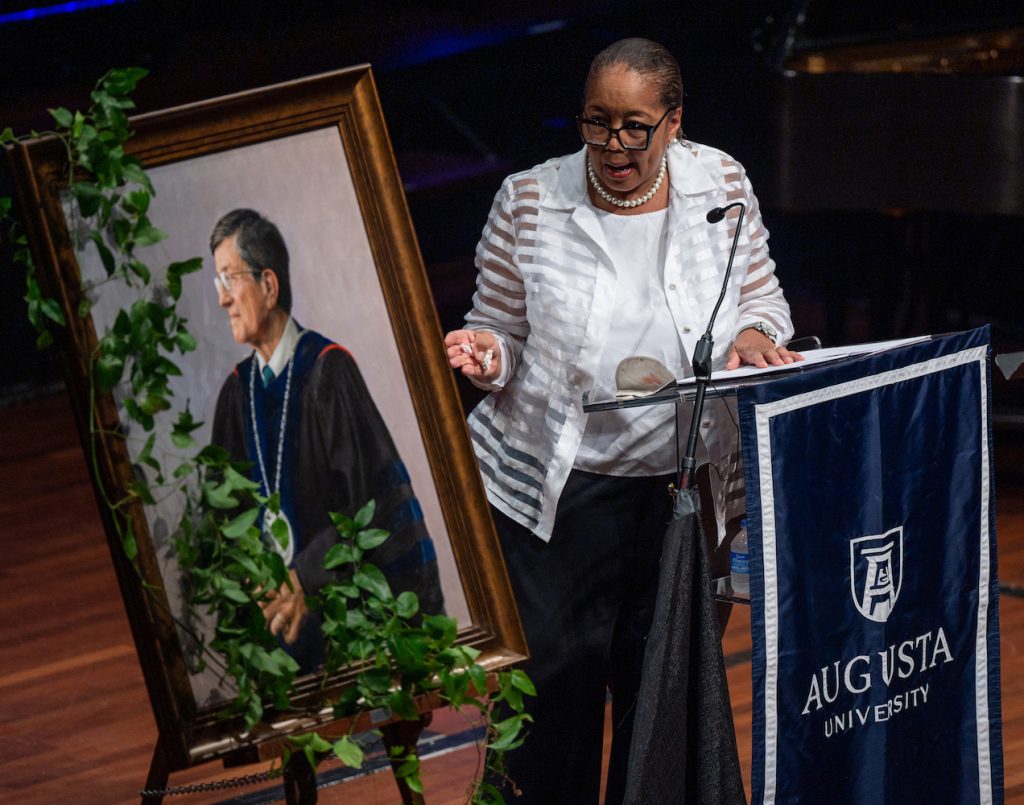 Bloodworth was a hands-on president, who never thought twice about getting involved, she said. Whether it was frying hamburgers for the faculty and students or cooking pancakes during exam week, Jones said Bloodworth was always eager to help.
"The first year that we opened University Village, there was a fire. Someone was cooking fried chicken at midnight. Who cooks fried chicken at midnight?" Jones asked, laughing. "The student fell asleep and the whole apartment caught on fire."
A team from university facilities and risk management met the Augusta Fire Department at the scene, she said.
"We proceeded to find places for the displaced students to spend the night and agreed that we would look at the damage report in the morning," Jones said. "I called Bill Bloodworth and told him all was well and everyone was accounted for and safe. I hung up and I turned to talk to a fireman for maybe 10 minutes and I turned back to my right and I bumped right into Bill Bloodworth."
Jones said she doesn't know how Bloodworth got to the scene so quickly.
"He said, 'Joyce, I had to see for myself,'" Jones said. "He walked around and talked to students at two o'clock in the morning."
One of the students from University Village turned and asked her who was the man walking around with the ASU T-shirt and jeans.
"I said, 'That's your university president taking care of you and your roommates,'" Jones said, smiling.  "He was never uncomfortable in any situation that I observed with people from all walks of life. He walked in and was immediately connected to everyone."
Bloodworth the father
Bloodworth's grown children, Paul and Nicole Bloodworth, spoke to the audience gathered at the Maxwell Theatre about the strength and kindness of their father.
"Having lived in Augusta since Dad started at Augusta College, I can truly say I have never had one person complain or say a negative word about my father," Paul Bloodworth said. "I often tell people that my father and I never had a fight. Truthfully, I'm pretty certain, he never said a cross word to me in my 46 years… Dad would never lose his cool with me, even if I was at my wit's end with whatever I was struggling with at that moment."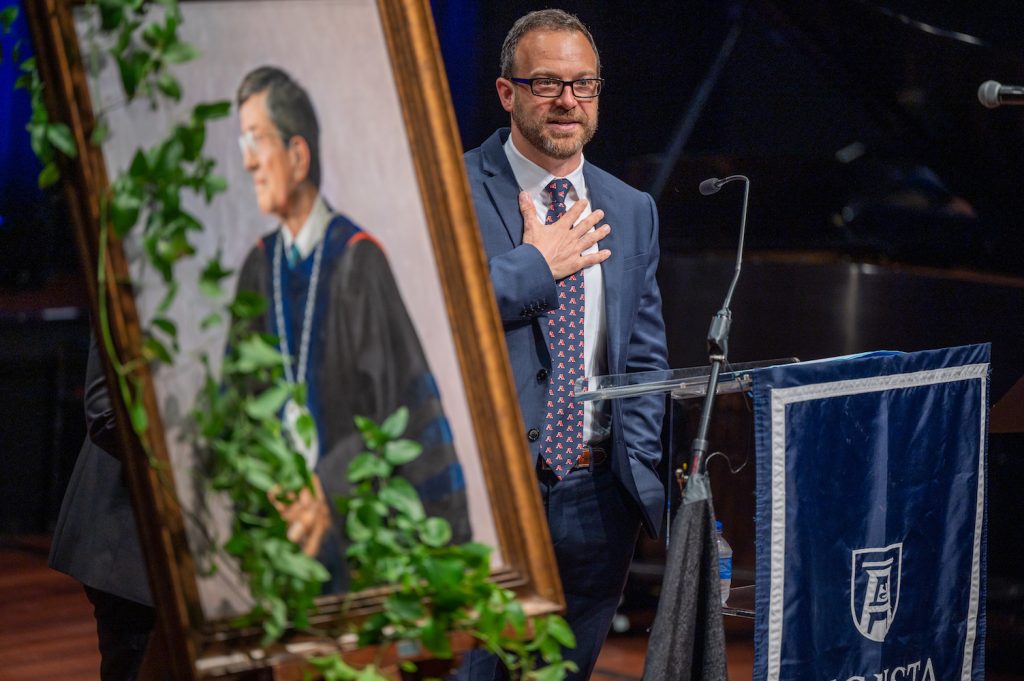 He was a true "family man," who simply loved spending time with their mother, Julia, his children and his three grandchildren, Palmer, Sara Jane and Molly, he said.
"Because he had so much determination, he was such a fighter, when I took Dad to the hospital on Tuesday, Aug. 23, I wasn't expecting that he was in his final days. But I will forever treasure those days with him," Paul Bloodworth said. "I was able to tell him what a wonderful father he was, and what a wonderful father he always has been."
Over the years, Paul Bloodworth said some Augustans have told him that he has similar mannerisms as his dad.
"Those compliments, they take on a whole new meaning today," he said. "I can't think of a nicer compliment than being compared to my dad."
Nicole Bloodworth said her father was always "being the best man he could be."
She recalled when she was 14 years old and her father tried to get her outside to help him with some yard work. She joked that she was a "brooding" teenager and didn't want to help.
"He tried to convince me that I should want to do this just to spend time with him," Nicole Bloodworth said, adding her father never stopped doing whatever he could to help the family. "Dad once jacked up the entire back of my house and rebuilt the foundation underneath. And, while Dad was amazingly competent, and even enjoyed such projects where he got to use his hands, mostly it was all just in service of being able to spend more time with the ones that he loved.
"Dad fought so hard and for so long against his cancer because I really think that he just didn't want to stop being with us."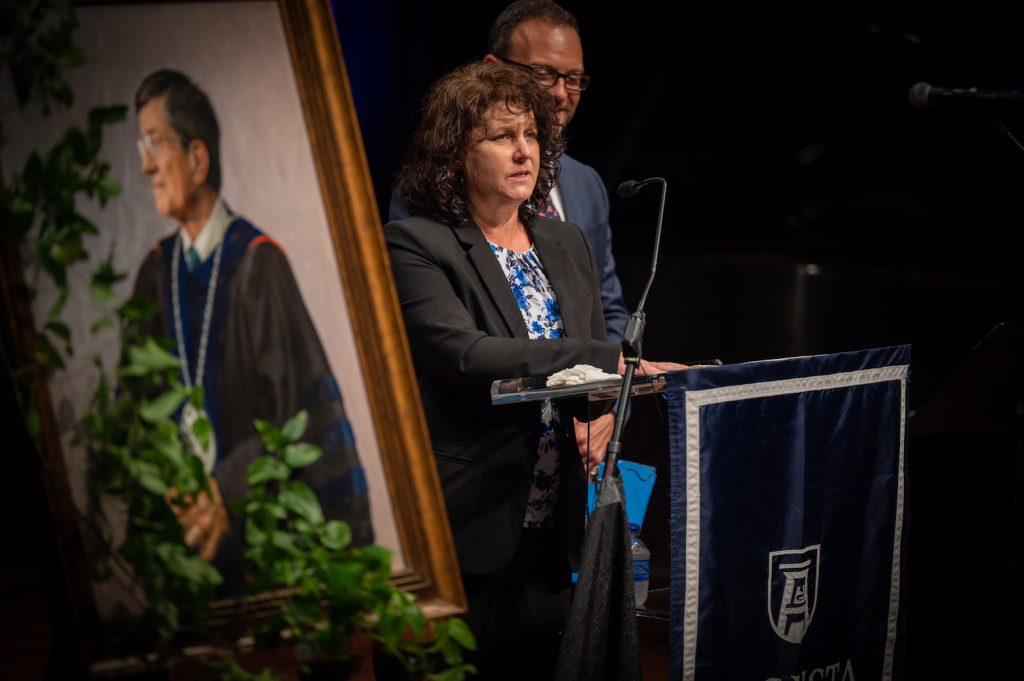 Nicole Bloodworth wished everyone in the audience had a dad like her father.
"I hope you were all lucky enough to be raised by the best guy ever. But there will never be a better best dad ever than our best dad ever. He always, always made us feel loved, safe and so very special," she said. "So, I hope we can all remember what it feels like to shine in love of Bill Bloodworth and that we can hold onto that for the road ahead, because it's going to be a little bumpy for a while. Dad will be deeply, deeply missed and always loved."
Bloodworth the friend
Dr. Jim Garvey, professor emeritus of English and journalism at Augusta University, joked that Bloodworth would have been uncomfortable hearing such praise from all of his friends and family.
"Let's acknowledge at the outset that Bill would have hated what we're doing here today," he said, laughing. "He'd be squirming uncomfortably in his seat as he heard himself remembered and praised.
"He would have suffered it all with a smile. But he would have suffered," Garvey added. "But Bill, in a way, this is not for you. It is for us. We loved you. We will miss you. And we had to come together to celebrate."
After all, Bloodworth embraced and celebrated the entire community ever since moving to Augusta in 1993, he said.
"He loved it here. He loved the town, the community and the college that had grown out of it," Garvey said. "He did everything he could to learn about its history, to meet its leaders and its ordinary citizens, to understand the school systems, its racial realities, its gifts and its shortcomings. He took all these in."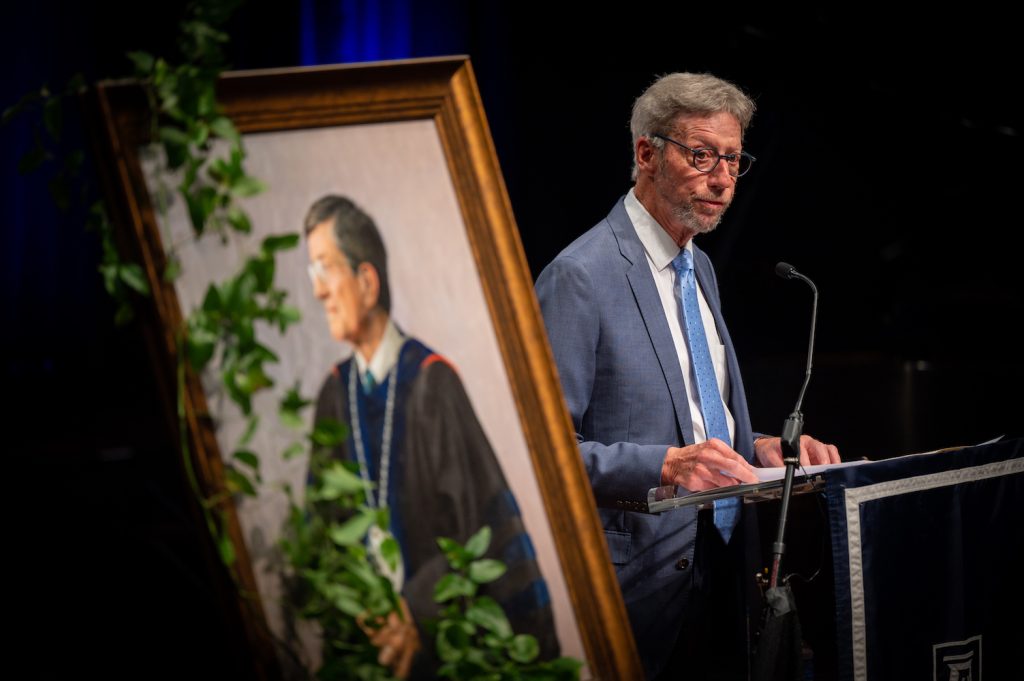 And Bloodworth truly cared about each person he encountered, Garvey said.
"When he greeted you by name, he made you feel important to him, because you were. That's why he worked so hard to know you," he said. "And in the process, he planted around him a garden of love and delight."
"For those of us who work here, it was as close to a garden of love and delight as we had ever known," Garvey added. "Our boss knew our name, our family, our dreams and goals. And, behind the scenes, he did all he could to help us succeed."
Clint Bryant, the former athletic director at Augusta University, said Bloodworth understood there is a "sacred trust" in being a leader and helping to mold character and instill productive principles within an institution.
"You must make it clear that you're working together. Those under your supervision are not working for you, but with you," Bryant said, adding Bloodworth represented that kind of leadership style. "You all have a common goal."
During Bryant's retirement ceremony earlier this year, Bloodworth gave him the book True: The Four Seasons of Jackie Robinson by Kostya Kennedy.
Inside the book, Bloodworth wrote a message to Bryant that he shared with the audience.
"Dear Clint, This is a good book. And about more than just baseball. Jackie Robinson and his wife, Rachel, are important figures in the history of civil rights. And I have great respect for you. My years as president at Augusta College and Augusta State University were all the better and richer because I had you to work with and learn from," Bryant read.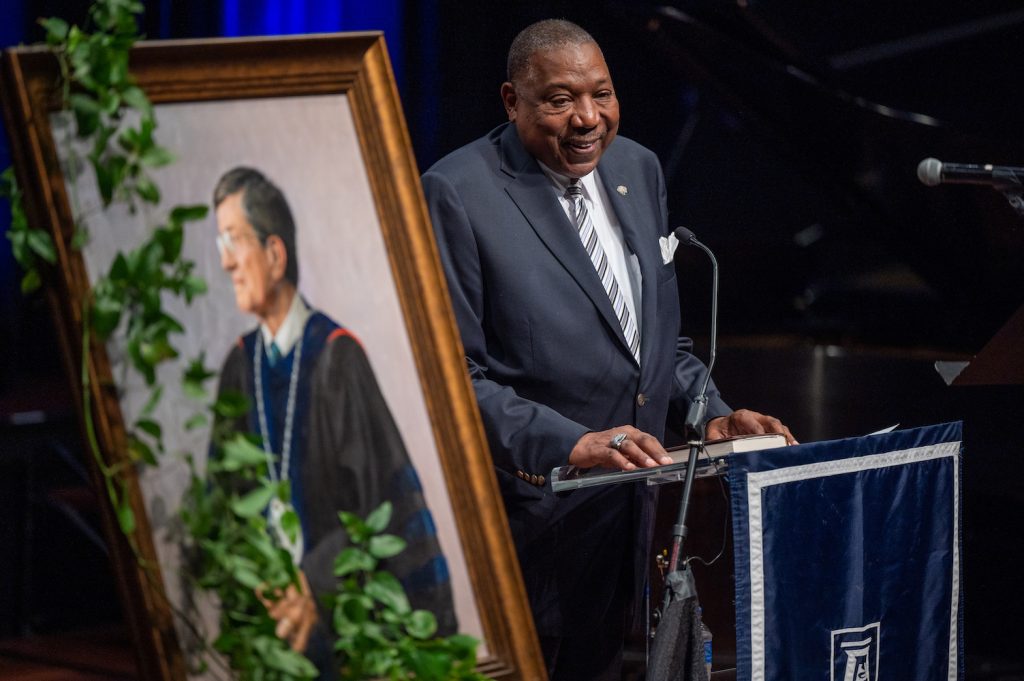 Bloodworth understood people and was a man of "high principal and integrity," Bryant said.
"Bill was about diversity and inclusion before they were buzzwords. Bill walked the walk," Bryant said, adding he especially reached out to those who were marginalized in some way. "He made everybody feel important. And for that, we all can be very, very grateful."
Bryant asked everyone in the audience at the Maxwell Theatre to embrace the "spirit of Bill Bloodworth."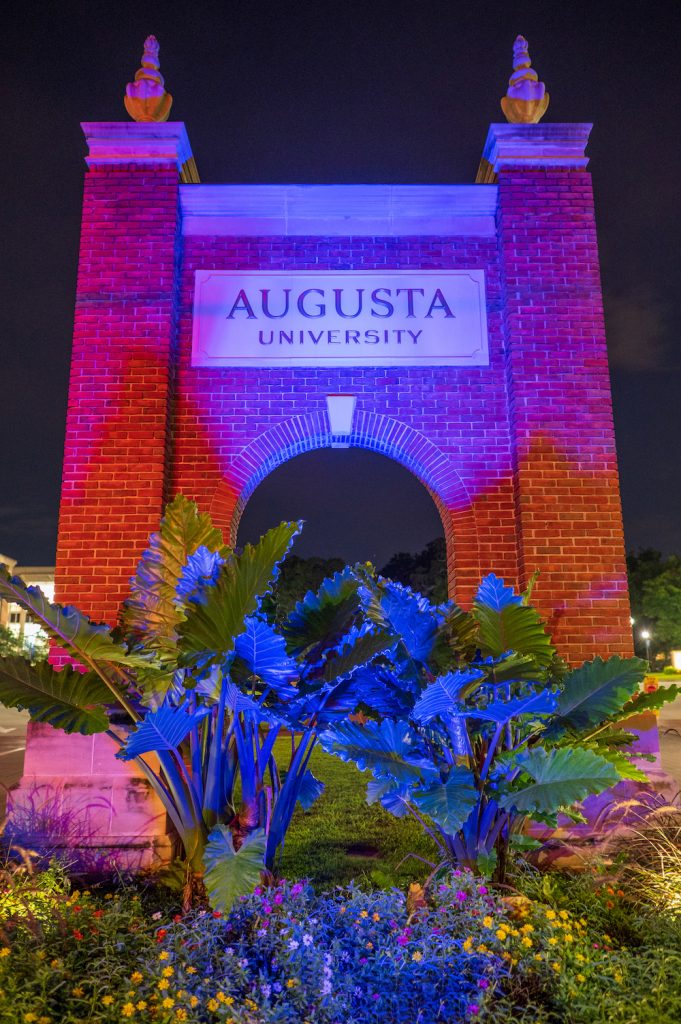 "We are all one," Bryant said. "And Bill Bloodworth helped us to realize that."
Survivors include Bloodworth's wife of 57 years, Julia Rankin Bloodworth; son Paul Bloodworth (Catherine); daughter Nicole Bloodworth (Dana Meyers); grandchildren Palmer, Sara Jane and Molly; and Bloodworth's beloved King Charles spaniel, Ollie.
Donations may be made to support the William A. Bloodworth Jr. Endowment either online or mailed to the Augusta University Foundation, 1120 15th St., AD-1104, Augusta, Georgia 30912.