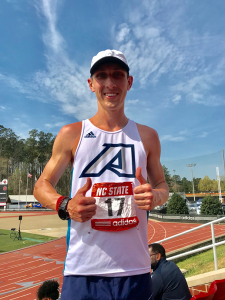 Augusta University ROTC Scholarship Cadet Hunter Kimball broke the Augusta University 10K race school record at the NCAA Raleigh Relays hosted by North Carolina State University.
"I've been surrounded by people who motivate me to do my best all the time. This is not only a major accomplishment for me but also for everyone who supports me," Kimball said. "I couldn't be happier that I am making them proud."
The former school record was 31 minutes and 16 seconds, Hunter completed the race in 30 minutes and 53 seconds.
"We at the Augusta University Army ROTC are extremely proud of the dedication, hard work and leadership personified by our Cadet Hunter Kimball," said LTC Danielle Rodondi, AU ROTC department chair of Military Science. "Congratulations to CDT Hunter Kimball, his family and his coaches on this amazing achievement setting the new Augusta University 10K school record."
Kimball has the support of the Augusta University ROTC, as well as the Department of Military Science staff.
"I want to say thank you to LTC Danielle Rodondi, Army ROTC and all my Augusta University professors who believed in me to achieve my goals," Kimball said.
For more information on the ROTC program at Augusta University, contact the Department of Military Science or Captain Pete Ahching.