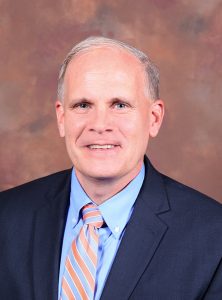 Richard Burrell, interim pharmacy director at Augusta University Medical Center, has been named the permanent administrative director of pharmacy services.
In this position, he is responsible for the operation and management of the medical center's pharmacy department and ensuring services provided match professional standards.
Burrell joined the medical center in 1990 and held a number of progressive appointments before being named interim pharmacy director in 2017.
In addition to his work in pharmacy services, Burrell serves on several medical center committees including the Clinical Information Advisory Committee and the Joint Commission Preparedness Team.
With over 30 years of experience, Burrell's expertise is in pharmacy informatics and automation with particular emphasis on Computerized Prescriber Order Entry development. He conducted his ASHP Administrative Residency at the Medical College of Georgia and earned his bachelor's and master's degrees from the University of South Carolina.
Burrell and his wife, Alisa, live in Aiken and they have two children, Allison and Chad.