Beckman Coulter, Inc., a global leader in the clinical diagnostics industry and an operating company of Danaher Corporation, and Augusta University's medical center, renowned for its top-ranked doctors and pioneering research, signed a 15-year master service agreement at the 68th AACC Annual Scientific Meeting in Philadelphia. The signing formally launches an alliance to create innovative models of care utilizing technology and process improvement methodologies in the laboratory setting, ultimately providing enhanced patient care and significant long-term cost savings  for the medical center.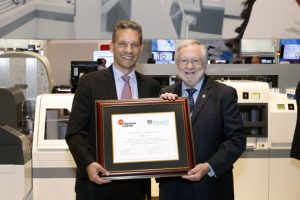 Through this alliance, the medical center will have full access to Danaher Corporation's entire suite of leading diagnostic solutions including Beckman Coulter's laboratory automation, instruments, software, assays and services, as well as, Leica Biosystems, Radiometer and Danaher's other diagnostic offerings. Importantly, the agreement also provides Augusta University's medical center with the benefit of implementing Danaher's proprietary business improvement processes, known as the Danaher Business System (DBS). DBS has been proven to increase productivity and improve financial performance in numerous business settings, providing lasting benefits to quality and efficiency.
"We appreciate partnerships that allow us the opportunity to develop innovative solutions to significant healthcare challenges," said Dr. Brooks Keel, Augusta University President and Health System CEO. "I am optimistic that our alliance with Beckman Coulter will result in a more efficient process for our hospital and a better healthcare experience for our patients."
The changing landscape of healthcare requires creative thinking and solutions from all involved. Arnd Kaldowski, President, Beckman Coulter, Diagnostics Division and Danaher Group Executive expanded upon this by saying, "We can better serve our partners through this full-service, advanced business model that leverages the strength of multiple diagnostic operating companies under Danaher, as well as, DBS, to help them achieve exceptional financial and quality performance."
The medical center's passion and foresight in this full-service model will give their clinicians confidence in timely and standardized results across the system. Specific benefits of the alliance will include:
• Streamlined laboratory operations through robotics and software
• Standardization of instrumentation and middleware
• Reduction of service and maintenance issues
• Elimination of cyclical major capital expense and implementation costs
• Access to innovative tests and diagnostic solutions
• Lasting quality and efficiency benefits through laboratory-wide process improvements
"We look forward to working with the progressive team at Augusta University's medical center. This alliance and business model will help ensure success of their goal 'right patient, right test, right time' by leveraging all we have to offer. It will also help support our goal of continually deepening our understanding of the unique challenges health providers face so we can better serve our customers across the globe," said John Nosenzo, Senior Vice President, Global Customer Operations, Beckman Coulter.
"We are grateful to be partnering with Beckman Coulter; it gives our medical center the opportunity to continue to develop a new model for the healthcare industry that
stresses better outcomes for patients through innovation, new technologies and collaboration," said Shawn Vincent, Augusta University, Interim Chief Operating Officer for the medical center and Enterprise Vice President of Partnerships, International Healthcare and Strategic Affiliations.
Expanding upon this sentiment, Tad Gomez, Vice President of Professional Services at Augusta University's medical center, said, "This strategic alliance we have with Beckman Coulter gives us the tools needed to meet our growing needs as a healthcare system," said Gomez. "I anticipate extraordinary results as this will allow us to improve the service we provide to our patients."