Nonprofits across this country foster civic engagement and leadership, drive economic growth and strengthen communities.
They have the ability to feed, heal, shelter, educate and inspire people around the world.
Knowing the power of nonprofit organizations, Augusta University's Department of Social Sciences is pleased to introduce a new Bachelor of Arts degree in Nonprofit Leadership and Administration.
Students seeking this bachelor's degree will learn key theories and tools in the areas of nonprofit administration, finance, marketing and fundraising; professional writing; social science research; grant writing; and public administration theories and practices, said Dr. William Hatcher, a professor and the interim chair of the Department of Social Sciences.
"The degree is designed to allow students to develop the necessary knowledge to manage and lead sustainable nonprofit organizations," Hatcher said. "The degree will also provide students with the education that will allow them to become professionals in the growing field of nonprofit administration."
According to the U.S. Department of Labor's Bureau of Labor Statistics, the nation's nonprofit sector employs 12.3 million workers, which is 10.2 percent of private sector employment, Hatcher explained.
"In the state of Georgia, the nonprofit sector employs 3.6 million workers, which represents 7.4 percent of the state's private workforce," he said. "The nonprofit sector is the third largest industry in the U.S. economy. Additionally, the degree will serve the Augusta-Richmond County metropolitan area, a community with a large concentration of nonprofit organizations."
This bachelor's degree in Nonprofit Leadership and Administration will be a 124-credit-hour program, including four hours of wellness credits, that will educate and train students to be professionals in nonprofit organizations.
"Through their elective coursework, students will have the opportunity to focus in particular areas of nonprofit administration, such as social services, foreign languages, public administration, arts and advocacy," Hatcher said. "Some of the jobs that graduates may obtain are directors of nonprofit organizations, fundraisers for nonprofits, grant writers for nonprofits and research assistants for nonprofits."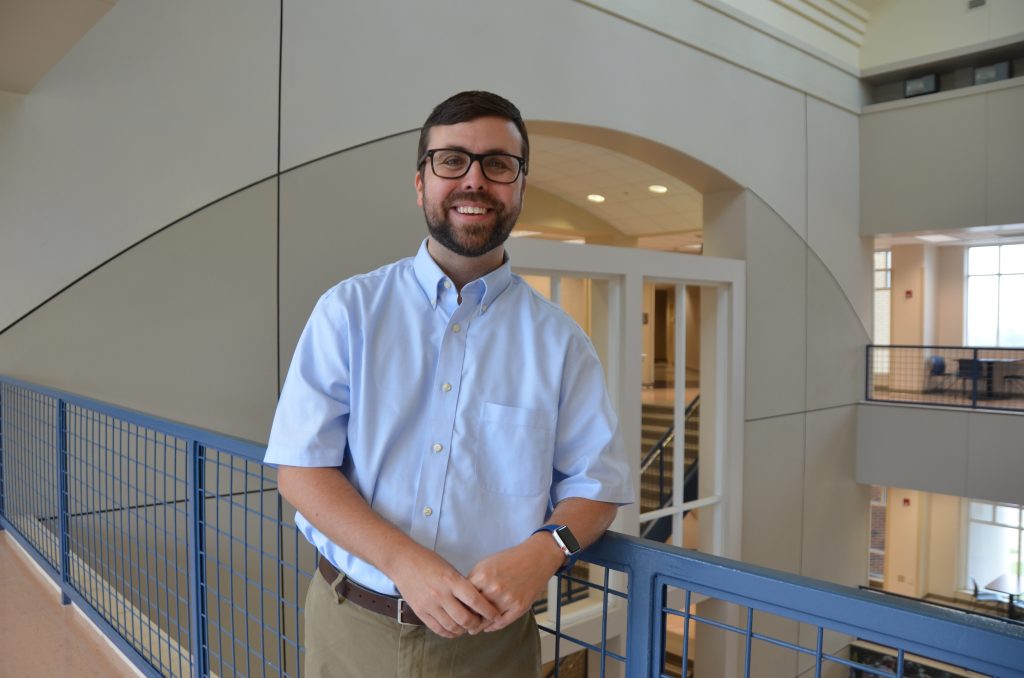 A key to this new bachelor's degree will be the completion of internships with nonprofit organizations, Hatcher said.
"The BA in Nonprofit Leadership and Administration will provide students with opportunities to engage in extensive experiential learning," he said. "These learning opportunities will be led by faculty who are nationally recognized in their areas of study and allow also for students to work with local nonprofits. By having these types of educational partnerships, students will gain expertise but also have the chance to help nonprofits and better the community."
The Department of Social Sciences has a lot to proud of this year.
Earlier this year, U.S. News & World Report ranked Augusta University's Master of Public Administration program as one of the top 150 Best Public Affairs Programs in the nation.
Hatcher is also proud of the fact that this particular degree in Nonprofit Leadership and Administration will be a unique academic program within the state of Georgia and the University System of Georgia (USG).
"All of the USG's research institutions offer nonprofit programming, but most of the programming is at the graduate-level and/or in the form of undergraduate and graduate certificates," Hatcher said. "The University of Georgia offers a Master of Arts in Nonprofit Management and Leadership in the institution's School of Social Work."
Georgia State University offers a number of academic programs through its Nonprofit Studies Program in the Andrew Young School of Public Policy, including a Bachelor of Science in Public Policy with a focus in nonprofit leadership.
GSU also offers a minor, a Master of Public Administration with a nonprofit concentration, a standalone graduate-level certificate and a PhD in public policy with a focus in nonprofit management and leadership. The PhD is offered in partnership with Georgia Tech, Hatcher explained.
"Beyond the research universities, a number of other USG institutions offer coursework in nonprofit administration," Hatcher said. "Georgia Southern University offers a certificate in public and nonprofit management. Georgia College offers a certificate in the area. Lastly, the University of North Georgia offers a nonprofit management certificate as part of their continuing education programs. But the BA in Nonprofit Leadership and Administration undergraduate degree at AU will be a unique curricular offering for USG."
Since the degree was just recently approved by the USG Board of Regents, Hatcher said the department isn't prepared to announce any specific partnerships with area nonprofit organizations, but the development of those partnerships is currently in the works.
"I envision the partnerships that we have with our MPA program and other academic degrees in the Department of Social Sciences being expanded to include speakers, internships, and service-learning projects for the BA in Nonprofit Leadership and Administration," he said.
Once students begin to learn about this new degree, Hatcher thinks that there will be a great deal of interest in the program.
"We're hoping to spread the word over the next few months," he said. "Right now, we have healthy enrollments in our nonprofit courses that we offer as political science classes and in our Certificate in Nonprofit Leadership that can be earned by MPA students."
Since most nonprofits are known for supporting a community and helping those in need, Hatcher thinks this new degree will appeal to a variety of students across the campus.
"We believe the major will attract students who are driven to make a difference and change their communities for the better," he said. "These are students who regularly volunteer in their communities, are interested in current events, want to better their communities, but who are also interested in how organizations function and how organizations are managed and led.
"Also, nonprofits are a big part of the arts in our nation. I can see students who are interested in the arts majoring also in the BA in nonprofit to gain expertise in how to lead arts nonprofits."
Click here for more information about Augusta University's Bachelor of Arts in Nonprofit Leadership and Administration.