The Office of Volunteer Services and Community Engagement has some furry friends that help bring cuddles, love, and compassion to our patients when they need it most.
These highly trained therapy dogs have many other talents as well. We appreciate their service and want to highlight these pups as we look forward to having them return to their volunteer roles this fall at August University Health.
Arlo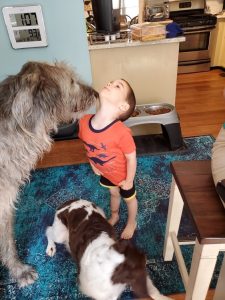 Hi, I'm Arlo!
I love it when my human gives me rawhide bones to snack on.
I've spent a lot of time in rehabilitation for my leg, which I broke in October. It's all healed now! I can chase squirrels, play with dog brother Tucker and the grandchildren when they come to visit.
I really miss seeing all my human friends and children at Augusta University Health. I have been laying around for six long months. I can't wait to get back!
Denali Blue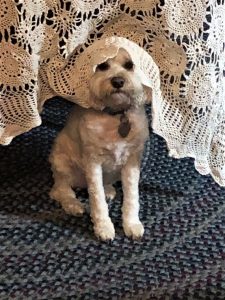 My name is Denali Blue and I love to play Hide and Seek. I think I'm pretty good at it. I love walks and sitting on my human's lap! It's so comfy!
Sometimes my human gives me Nutro Crunchy Treats, the peanut butter flavor, of course. Milo's chicken meatballs also make my mouth water. I can't get enough of them!
I miss everything about volunteering — especially seeing all of my two- and four-legged friends! My human and I were able to do an outside "at the window" visit at Marshall Pines Assisted Living & Memory Care a couple of weeks ago. I think everyone enjoyed looking out windows to see me. I was sad I couldn't get any ear scratches, though.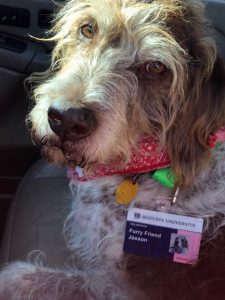 Jackson
Hello! I'm Jackson and I love my Captain America toy!
I love to watch the tall four-legged friends that are near the creek in the evenings. I think I heard my human call them deer one time?
I miss seeing all the new faces and friends when I volunteer.
Mil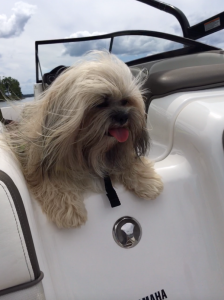 Hey everyone! My name is Mil. I'm 4 years old and love my tiny stuffed elephant toy!
I love to chill with my mom and dad when I'm not volunteering and love boat rides.
I miss seeing all my patients and having my long, golden locks stroked.
PJ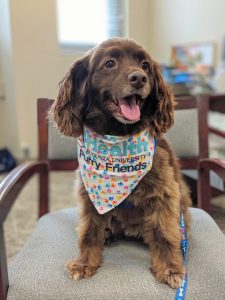 Hi! I'm PJ and I'm 7 years old! I
love when my humans give me carrots and apples to snack on.
When I'm not volunteering, I love to hunt for lizards and squirrels when my human takes me on walks. I also love being dad's copilot from the back seat when we go for drives.
I really miss all the attention from my patients. I truly miss the smiles and conversation!
Sanford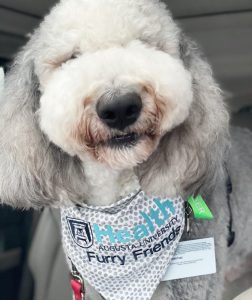 I'm Sanford and I'm 2 years old.
Snack time is only great when cheese and apples are involved.
I have seven human brothers and sisters, plus one furry brother named Ramsey. I love playing with all of them and especially love teaching Ramsey new tricks. Turns out, you can teach an old dog new tricks!
I really miss all the hugs and ear scratches and can't wait to be back volunteering.
Thank you to all of our furry friends for donating their time and allowing our patients to give unlimited ear scratches. We cannot wait for their return!
If you find these furry friends inspiring and would like to find out about other volunteer opportunities, please visit the Volunteer Services & Community Engagement website.