As Dr. Holly Anthony Pinheiro Jr. walked around the Georgia Cyber Center during the new faculty orientation this week, he was clearly excited about his recent decision to become an assistant professor at Augusta University.
In fact, he was introducing himself and making friends at practically every table at the information fair.
"I moved here from the University of Alabama," Pinheiro said, adding he is a new assistant professor in Pamplin College of Arts, Humanities and Social Sciences. "I'm in the Department of History, Anthropology and Philosophy."
Originally from Portsmouth, Virginia, Pinheiro's research interests include African-American Union soldiers, the Civil War and the Jim Crow Era and its effects on African-American Union soldiers.
"I have never been to Augusta, except watching the Masters on television," Pinheiro said, chuckling. "I got my undergrad at the University of Central Florida and my master's and PhD at the University of Iowa. But I came to Augusta University because the faculty and students made it a place that was very intriguing to me. I'm looking forward to classes beginning."
One of the reasons Dr. Hoda Maleki decided to become an assistant professor with the School of Computer and Cyber Sciences at Augusta University was the momentum surrounding research in cybersecurity throughout the Augusta area.
"I just graduated with my PhD in computer science and engineering from the University of Connecticut, and I was looking for a great opportunity to do research and, of course, to teach as well," Maleki said. "Augusta University was a great fit for me."
Before joining the University of Connecticut, Maleki received her master's degree in information and data security at Tehran Polytechnic University in Iran.
Her research interests are broadly in system security and privacy.
Maleki said she was also interested in coming to Augusta University because she was familiar with Dr. Alex Schwarzmann, the dean of the School of Computer and Cyber Sciences.
Schwarzmann, who is a nationally recognized expert in computer technology, came to Augusta University after heading the Computer Science and Engineering department at the University of Connecticut. He also played a key role in the development of the university's Connecticut Cybersecurity Center.
"When I heard about the different programs underway here, I was immediately interested in Augusta University," Maleki said.
The new faculty orientation, held both at the Georgia Cyber Center and the Summerville Campus this week, is meant to provide new professors with all the information and support they need to have a wonderful experience and a successful career at Augusta University, said Dr. Kathy Browder, the associate provost for Faculty Affairs.
"I think new faculty orientation is one of the most important things that we do for faculty because we need to help them get off to a good start," Browder said. "It's one of the few times that they get to meet faculty from other units, from other colleges and from other campuses. It's a great way for them to learn about the unique culture and community that Augusta University has to offer."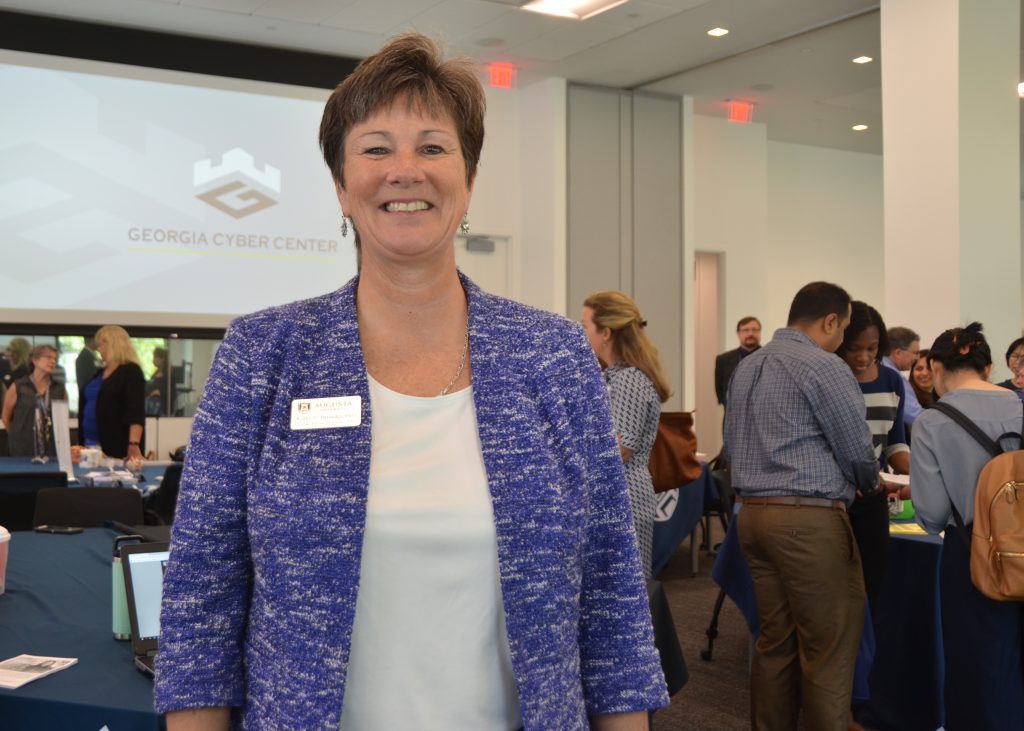 New faculty received a shuttle tour of all four campuses as well as a walking tour of the Georgia Cyber Center, along with several presentations regarding the vision and values of Augusta University.
"We want them to learn more about the people of Augusta University and give them the information they need to get them started in the right direction as they enter their lab, their classroom, and their clinic," Browder said. "We want to lay a strong foundation for their success."
Morgan Rowe, a registered nurse at Augusta University Health, has joined the faculty at the College of Nursing and will be teaching simulation and clinical courses.
"I graduated from Augusta University in 2017 and I will finish my doctorate from here in May, so I'm about nine months away," Rowe said. "I thought it would be great to come back and teach students a few years after I graduated because I had a great experience here as a student."
The students who are accepted to the College of Nursing at Augusta University become a family, Rowe said.
"Once you get in, you are with those people for the next two years," Rowe said, laughing. "You spend the majority of your week with them, so it's a really great network of people and a fun experience. It just takes your life to a whole different level."
Dr. Allison Bridges is another recent graduate who decided to return to her alma mater to teach.
"I went to Augusta University and got my PhD here," she said. "I just graduated in May. Now I am going to be teaching biology in the College of Science and Mathematics. I came back to teach to get some experience because I want to become a full-time professor."
Robyn Verdery, who will be teaching accounting for James M. Hull College of Business, has previously taught at Augusta University, but she is joining this fall as a full-time faculty member.
"I got my graduate degree from Augusta University, and I have lived here all of my life," Verdery said. "When I was a student here, I had a lot of great professors, and I have seen some of the incredible things that this school has done. That's what inspired my interest in teaching when I was a student here."
Even though Kevin Lucas is a new faculty member in the Department of English and Foreign Languages at Pamplin College, he's familiar with the Augusta area.
"I'm coming from Atlanta, so I've definitely been to Augusta before," Lucas said, adding that he is excited about classes beginning next week. "I am looking forward to getting to know the students because when you teach composition classes, you get to see their personal opinions, their reflections and their perspectives on a lot of different topics. I'm excited to meet the students."