During the annual Values Week from Nov. 8-14, Augusta University celebrates its six core values: collegiality, compassion, excellence, inclusivity, integrity and leadership.
Wendi Clanton, a student at The Dental College of Georgia, shares her experiences with integrity, which is reflected in accountability, ethical behavior, honesty and reliability. 
Clanton began her career in education as an elementary school teacher. After she became a parent, she seized the opportunity to start a new chapter in dentistry — a field she has always been interested in. 
"I wanted to be dentist my whole life — from the very first time I went to the dentist as a child," she said. "I played dentist all the time. I used the back of spoons as mirrors, and made my parents and siblings be my patients." 
While changing careers was a difficult transition, she noted how supportive her family was that she was following her dreams.  
"I took the plunge. My first two years were tough. It took some time adjusting," she said. "There were growing pains from being a stay-at-home parent to having 16-hour days as a dental student. It was pretty tough." 
Another supportive outlet she noted was DCG, especially her classmates and the faculty. 
"I absolutely love my classmates. They are the best part of dental school. They have been so supportive and helpful. Also, our senior clinic faculty members are awesome at encouraging us and holding us to a high standard while being compassionate and supportive. I really appreciate that."  
Clanton describes herself as an advocate for everyone in her community, including her fellow classmates. She takes her position as class secretary very seriously.  
"If there is a student who is having an issue, I'm absolutely willing to stick my neck out for them. I want everyone to graduate and be happy and healthy," she said. 
Clanton intends to become a general dentist, which will enable her to serve a larger population of patients in her community. She looks forward to providing care to patients, regardless of their socioeconomic status. 
"I'm excited to learn more. I love when patients come in and I can help them find a solution to whatever their issue is."  
Her excitement also stems from her ability to interact with patients again, as the university community eases out of pandemic restrictions.   
"It was wild," she said. "As sophomore students, we just started to see patients and get our feet wet and then we had to stop everything. We were thrilled when we finally got to see patients again."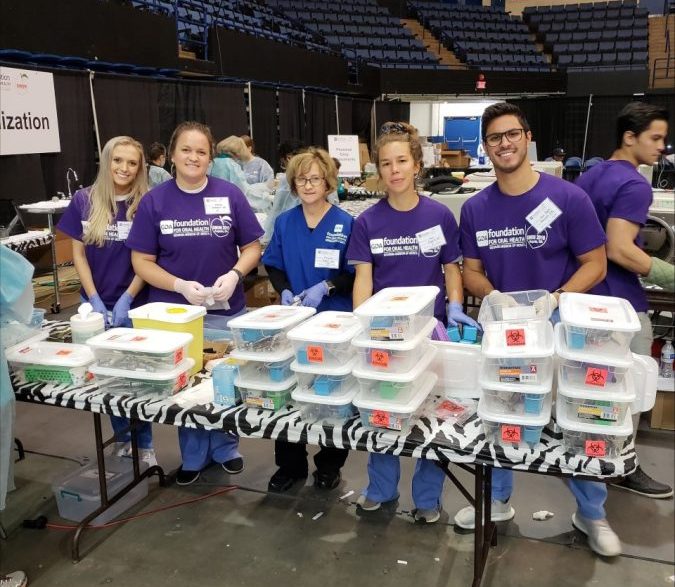 She and her classmates remained optimistic while providing the best care they could, considering their limitations. Serving patients is a favorite part of her dental school journey.  
"I'm very happy doing the patient care," Clanton said. 
When asked about her connection with the value of integrity, she recalled one of her earliest moments in high school, where she defended a younger student against a bully. 
"This older kid tormented a younger child on the bus every day. One day I had finally had enough," she said. "I pushed him off the younger kid, and for the rest of the year, I became his target. But it was worth it — I couldn't sit there and watch that guy bully the younger kid.
"Integrity is having personal standards and beliefs and sticking to them, even when it's not the easiest thing to do," Clanton said. "Every day, you have to be willing to put yourself out there and sometimes it's scary. You have to sometimes call out your friends or family or large groups." 
She plans to continue to be an advocate. 
"I'm a huge proponent of justice. Injustice, of any kind, makes me livid because it means someone is being treated unfairly. I will speak out against anything that is wrong." 
She also mentioned how the university celebrating its values is important on the individual level as well as a larger level. 
"If you're going to have values, it's important to recognize people when they represent them well. I am humbled to have been chosen to represent AU's value of integrity."