Dr. Michael Casdorph, vice president of information technology and chief information officer at Augusta University, has been chosen as the 2021 GeorgiaCIO ORBIE award winner for education, government and the public sector.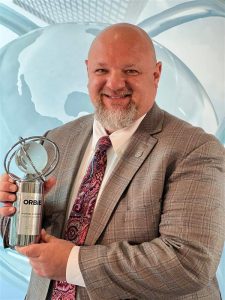 The CIO of the Year ORBIE Awards is the premier technology executive recognition program in the United States. Since its inception in 1998, over 1,800 CIOs have been honored as finalists, and over 400 CIO of the Year winners have received the prestigious ORBIE Award. The ORBIE honors chief information officers who have demonstrated excellence in technology leadership.
Finalists and winners are selected by an independent peer-review process, led by prior ORBIE recipients, based upon:
Leadership and management effectiveness
Business value created by technology innovation
Engagement in industry and community endeavors
Over 170 nominations were received, demonstrating the depth and breadth of technology leaders in Georgia-based organizations. Casdorph was nominated in September.
Casdorph is still elated from being chosen for this prestigious award.
"I was beyond grateful to be nominated back in September, but to be chosen, among so many intelligent and industry-leading technology leaders across the country is such an honor. It would be impossible to achieve these endeavors without a great team of dedicated professionals who are passionate about serving Augusta University," he said.
Augusta University President Brooks A. Keel, PhD, is proud to have Casdorph as a part of his leadership team.
"The work of a CIO is one of the most important jobs here at Augusta University. We are extremely fortunate to have Michael Casdorph in that role and we are grateful for his contributions all year round," he said. "All of Jaguar Nation is proud to celebrate and recognize his accomplishments as a GeorgiaCIO ORBIE winner."
Casdorph earned his master's degree in education from the University of South Carolina and his doctoral degree in educational leadership and administration from Georgia Southern University.