When Shandreka Burrell learned she would be assigned to work in the COVID-19 testing site at Augusta University, at first she refused.
A traveling nurse originally from Baton Rouge, Louisiana, Burrell was recovering from COVID-19 herself, which she contracted two weeks before she got her new assignment.
Burrell is one of about nine staff members who work at the drive-thru site. During the week, most staff at the site are traveling nurses to avoid creating a staffing burden at Augusta University Medical Center.
As of Nov. 30, Augusta University has performed 101,253 tests at its drive-thru sites, bringing the total tests performed at all sites to 113,739 since the first nasal swab tests were performed in March.
"I had every symptom except fever," said Burrell, dressed in a gown, mask, face shield and gloves as she paused from collecting samples from patients Nov. 2 at the drive-thru testing site on 15th Street. "I lost 10 pounds in two weeks. I was tired all the time. Couldn't taste or smell. And they were like, 'Yeah, COVID testing site.' I'm like, 'Absolutely not.'"
When she got here, though, she fell in love with the work. Her experience gives her a connection to patients who may be anxious, scared or simply not feeling well.
"I just enjoy educating people," Burrell said. "A lot of people come in not knowing exactly what they need to know about a test."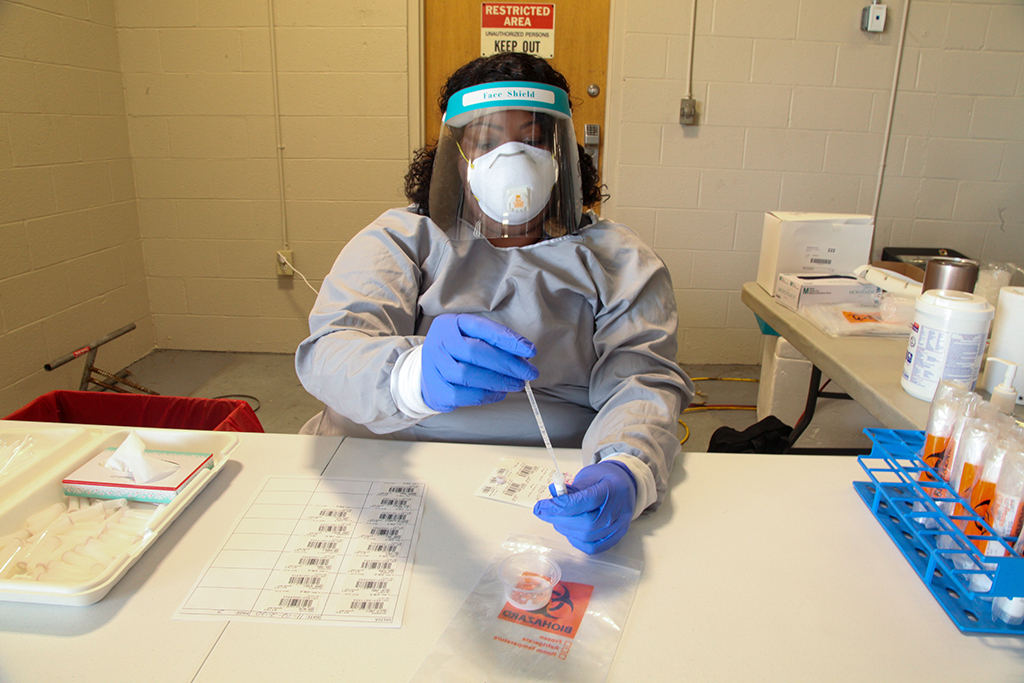 Augusta University Health began offering drive-thru testing in March at Christenberry Fieldhouse. Patients could be pre-screened on the AU Health ExpressCare app and make an appointment to receive testing, which was then processed in one of two AU labs. A second drive-thru site was opened at Patriots Park in Columbia County by the end of March. The sites worked well, but when it became apparent that drive-thru testing would be needed for a while longer, the temporary tents became increasingly difficult for the staff who worked for hours out in the elements.
In July, AU Health converted the former university vehicle services shop into a permanent drive-thru location and closed the two original locations. The new location offered more comfort for the staff and more convenience for patients, as more appointments could be scheduled.
Britney Wilkinson was a pediatric nurse in the float pool who began swabbing patients at Christenberry Fieldhouse when the pandemic began. When Augusta University was tapped by Gov. Brian Kemp to lead Georgia's testing efforts in April, she went to Albany to work at a testing site there, and then to Atlanta before returning to help coordinate testing efforts at the 15th Street site and at Grovetown II.
"In the beginning, when we started testing for COVID, if we saw over 100, or 200, that was a high volume for us," Wilkinson said. "At the beginning of August, we were seeing about 1,000 a day. Currently, our average between the annex and the faculty office and Grovetown is usually averaging around 600 a day."
She said about half the tests performed across all the sites are saliva and half are nasal swabs. In September, Augusta University became one of the few sites in the nation to offer saliva testing for COVID-19.
"You have to qualify for the saliva (testing) as far as the recommendations of not eating and drinking or anything by mouth an hour prior," Wilkinson said. "And then if you can do the saliva, you have to be able to produce the appropriate amount of saliva."
She said coordinating COVID-19 testing has been an eye-opening experience for her.
"It's a lifetime experience to live through a pandemic and I pray this is the only one I get to live through. But just all the moving pieces, and everything kind of ebbs and flows all the time. So it's just kind of having to make sure you're aware, the staff's aware that it could change in a matter of minutes, or we can stay constant for a few days. But in a pandemic, nothing stays the same."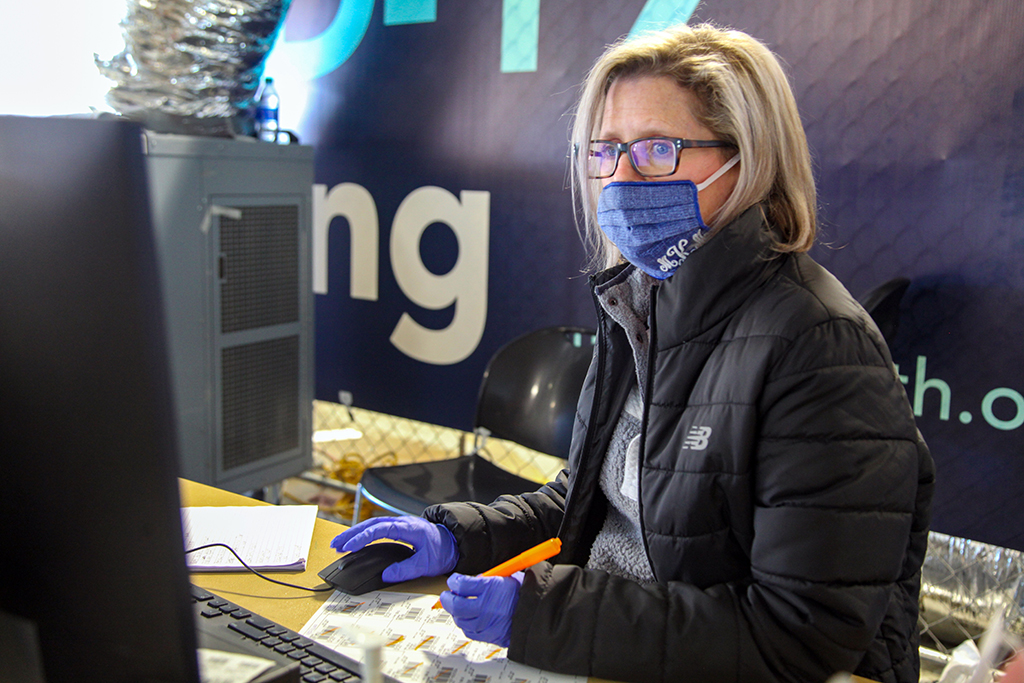 Registered nurse Mary Kennedy said she likes working outdoors and sees her role in COVID-19 response as the chance of a lifetime.
"I've been a nurse for 26 years and never have I ever been involved in something so huge. It's literally impacted everyone on this planet," she said. "So working and being a part of a team that is actively working in our community and actually in another community, helps fulfill one of the reasons I wanted to be a nurse to begin with."