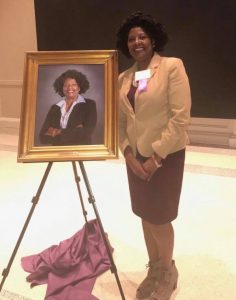 Laverne Lewis Gaskins, senior legal advisor at Augusta University, was recently inducted in the Academy of Richmond County Hall of Fame.
Gaskins was one of nine distinguished alumni recognized for their professional accomplishments and contributions to the community. The Academy of Richmond County is located in Augusta and is the oldest existing public high school in the southeast.
Gaskins' community service includes serving as a former special assistant attorney general and an inaugural general counsel for Valdosta State University. As a Fulbright grant recipient, Gaskins has lectured in Hungary and Canada, and she served as one of the American Bar Association's representatives to the United States. For several years, Gaskins also worked as editor-in-chief of the National Bar Association Magazine.
She currently serves as a board member of several organizations, including the Boys and Girls Clubs of the CSRA, Georgia Appleseed Center for Law and Justice, Georgia Advisory Board for the U.S. Commission on Civil Rights and the Georgia Legal Services Program.
Additionally, she serves as the Augusta regional vice president for Georgia Association of Black Women Attorneys, and she is also a member of the Rotary Club of Augusta and an emeritus member of the Florida State University College of Law alumni board of directors.
She is the recipient of numerous awards and accolades, including the Justice Benham Award for Community Service, the Georgia Association of Black Women Attorneys' Zenith Political Action Award and the State Bar Georgia's Commitment to Equality Award.