In February of this year, Dr. Marc Austin was announced as the inaugural associate provost and dean of Augusta University Online, marking the beginning of Augusta University's newest college.
Over the last two months, Austin has been hard at work laying a foundation for how the next 9-12 months will proceed for AU Online. Already Austin has been gathering information and resources so AU Online can successfully take the next steps, including the release of an evolving resource page that includes answers to frequently asked questions.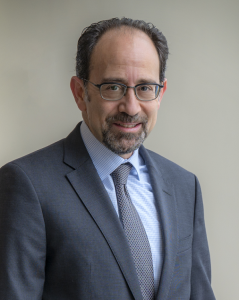 "AU Online will not only be an extension of the university to the region and other parts of the country, but it will represent a model of best practice in online education," Austin said.
"As a result, our expectations are high about the way we proceed in terms of building all the necessary infrastructure. That's really important for an experience like no other — especially in the online environment — because it's more than just great faculty teaching great classes in high-demand topic areas. It's about all the other components of student support that are essential for students to make their way from finding Augusta University Online to learning here to eventually coming back once they've completed their degree. That journey requires a lot of support."
A deliberate process to selecting programs
The official launch of Augusta University Online — when the first students will enroll and begin classes — is still 9-12 months away, ideally, but Austin continues to work on hiring staff while building out a strategic plan for one year, three years, five years and beyond. That plan will include a rubric for selecting what programs go under the AU Online umbrella when they are ready.
Currently, Augusta University offers 20 certificate and degree programs online, but not all will immediately be featured as part of AU Online. It will be a deliberate and considered roll out of what programs move over to ensure the success of those programs, the online college and the university.
"The ideal structure for any online university has three big components to it for a student's success, and ultimately a successful university," Austin said. "The first is an executive for operations — someone who is able to manage all of the support infrastructure that is created and is also related to student success. Student Success also dovetails with the second key role: online enrollment management. That role is a specialized strategist who can help identify and reach out to the 'online' learner, make them aware of AU Online and make good on that promise of what that student experience is all about.
"With the development of a new organization, that third role is around financial management," Austin continued.
"We want to make sure the faculty, advisors and learning specialists all feel supported by this model, so in that construct, we really need to make sure that we have a solid budget where we are able to anticipate and forecast effectively and manage all the business components of a brand-new organization. Through all of this, the Center for Instructional Innovation will play an even more important role in helping our faculty prepare for an innovative new world of online instruction and serve as the AU community's center for best practice dissemination and learning in online pedagogy, as it always has."
Be a part of the process
For now, the current AU Online landing page is a work in progress that will serve as a way for Austin and his staff to share updates about the progress of the college. Included on the page is a frequently asked questions section.
Part of the process of building this new college is listening, and Austin hopes faculty, staff and current and prospective students will lend their voices to the "Ask a Question" section at the bottom of the new page. This will help to not only fill in information, but to also shape what is relevant and important during the build. Austin and his growing staff will be providing additional focus groups, surveys and town halls to engage the AU community in the shape and future of AU Online over the coming months.
About AU Online
Augusta University Online is a new university-wide strategic initiative providing centralized infrastructure and support for marketing, admissions, information technology and student success and enabling high-tech, high-touch experiences for Augusta University's online learners. The university's existing online program portfolio of more than 20 certificates and degrees will eventually transition to Augusta University Online while new online programs are developed.
Austin has spent the past two decades launching new, innovative approaches to online, executive and adult learning programs. His vast knowledge of the business world and organizational transformation makes him excited to launch a strategic initiative focused on growing the university.
Austin has a PhD in international political economy from Columbia University. He is a sought-after business strategist with expertise in higher education development, which helps him meet the needs of the next generation of learners.