In celebration of April as National Volunteer Month, Augusta University held its first ever Bravo Brunch April 25 to recognize volunteers who donate their time, talent and support to the university and its health system.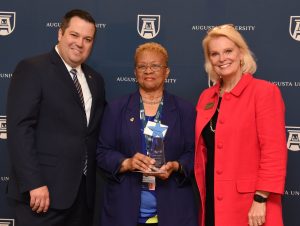 During the program, the university awarded volunteer chaplain Linda Hamilton with the Volunteer of the Year and Aquinas High School Junior Stephanie Hayes was given the VolunTEEN of the Year Award.
With over 1,800 service hours, Hamilton is considered to be one of the most faithful pastoral care volunteers spending numerous hours visiting patients and assisting with medical directives.  She also assists with the university's comprehensive bereavement program by writing and sending notes to families suffering from the loss of a loved one.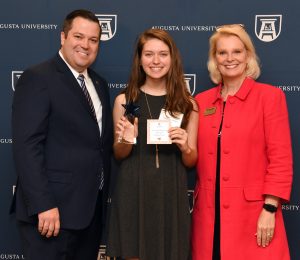 Hayes has been a volunteer for two years and has clocked over 175 hours of service in multiple units including cardiology and shock trauma. Currently, she is the co-chair of the Augusta University VolunTEEN Board and where she has planned several service events including a Ronald McDonald House luncheon and an Easter Egg Hunt for the Hope House.
View a complete list of winners below:
Volunteer of the Year
Linda Hamilton
VolunTEEN of the Year
Stephanie Hayes
Spirit of Service Award
Beverly Majanovic
Herman Killings
Ted and Nancy  Hussey
Mikhil Desai
1000+ Service Hours Milestone Award
Linda Hamilton
Denise Stewart
Seena Hunter
Vonghett Oatis
Ernestine Lockett
There are many volunteer opportunities at Augusta University for adults and teens, including delivering warm blankets to patients, restocking supplies for a nursing unit, office support, or even playing an instrument for patients and guests. Fill out the adult volunteer application to apply.