Initial COVID-19 testing at Augusta University led to presumptive positive results for two people Monday in Augusta, confirmed Augusta University Health CEO Katrina Keefer.
At a press conference Monday, March 16, Keefer, Augusta University President Brooks A. Keel, AU Chief Medical Officer Dr. Phillip Coule and Dr. Jose Vazquez, chief of the Division of Infectious Diseases, discussed the results, as well as preventive measures Augusta University is taking.
FDA validation of preliminary COVID-19 testing by The Georgia Esoteric and Molecular Laboratory (GEM Lab) at the Medical College of Georgia at Augusta University Medical Associates was completed Sunday afternoon. Six samples were tested Sunday evening and of those, four returned presumptive negative and two returned presumptive positive, Keefer said. The two presumptive positive samples were sent to the Centers for Disease Control for further testing and are expected to return with a positive result, hopefully within three to four days, Dr. Coule said.
The individuals, who have not been identified, are currently being isolated in their homes and those who have been in close contact with them have been quarantined. Neither were patients being treated at Augusta University Medical Center, Keefer said.
"Because we were able to leverage the capabilities of the Medical College of Georgia, we were able to preliminary diagnose those individuals much more quickly than if we had relied solely on other available testing options," she said.
To protect patients and visitors, the number of entrances to the hospital have been reduced. Keefer also said she has been in touch with the CEOs of University and Doctors hospitals, who have agreed to work together to keep each other informed and ensure the best care for area residents.
Augusta University is doing its part to "flatten the curve" as recommended by President Donald Trump and Georgia Gov. Brian Kemp, Keel said. In-person instruction has been suspended in almost all cases, and instruction will move online for the remainder of the semester. Most students have gone home. Those who remain do so because of their clinical responsibilities and will have access to food services while they're here.
"Augusta University is still open for business and in an effort to maintain business continuity during this time of enhanced social distancing, many of our staff who are able to perform their duties at home are teleworking," he said. "Others are using flexible scheduling and other creative ways to ensure business continuity while maintaining social distances."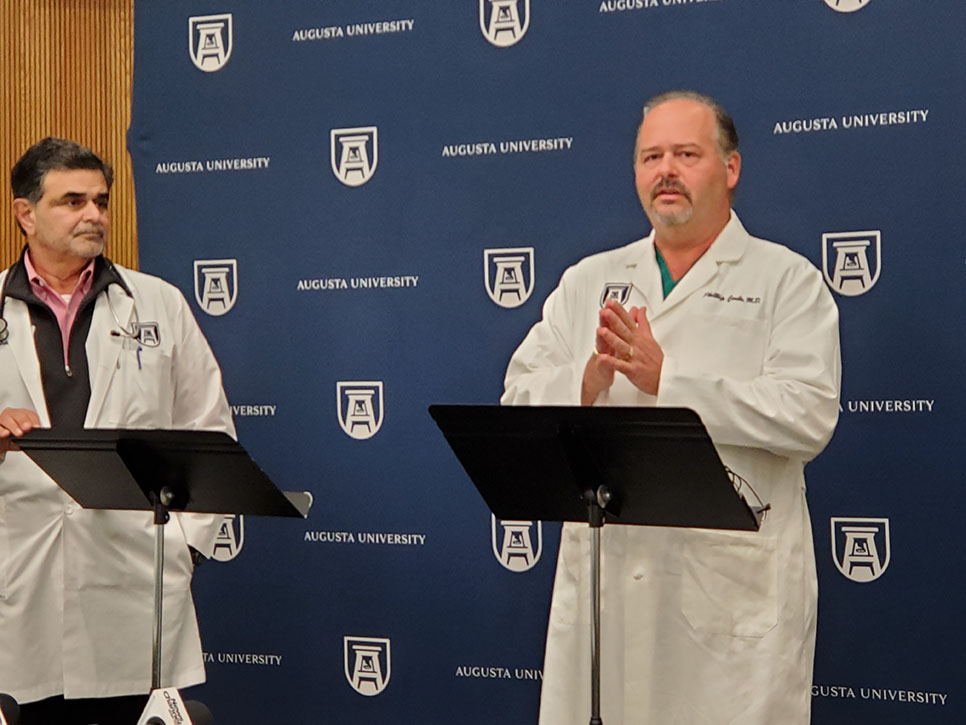 Coule said as long as people maintain distances of three to six feet from each other and practice good hygiene, their risk of contracting the virus is very low. Tools to control the spread, he said, include good cough and sneeze etiquette, washing your hands and social distancing.
"One of the characteristics of this disease that's important for people to understand is that people can have very mild symptoms. But what is a mild symptom for you could be deadly to someone with a compromised immune system," he said. "Therefore, it's important that people not go to work when they are sick, that people limit contact with others."
Testing capability is expected to improve through the end of the week, said Vazquez. Until more testing kits become available, it is difficult to determine exactly what is happening in the community. However, it's important to remember that an increase in positive cases is due to an increase in testing capabilities.
"As we test for this more, we're going to find it more," Vazquez said, reminding people not to panic when they see the numbers rise. "It didn't just arrive. We just became more aware of it."
For additional updates and information on COVID-19, visit our resource page.