In recognition of May as National Trauma Awareness Month, Jagwire will be sharing miraculous stories of survival from the region's only Level 1 Trauma Center at Augusta University Medical Center. Josh Cunningham is the director of security at AU Medical Center.
Motorcycle accidents are not new to Josh Cunningham, director of safety and security for Augusta University Health.
Before joining AU Health, he spent a decade working with Richmond and Columbia county sheriff's departments and as an EMT with the Grovetown Fire Department. Needless to say, he's worked a few accidents.
The one on Jan. 20, 2021, was much different. This time, it was his own Harley-Davidson that lay smashed in the middle of Washington Road.
"I was fortunate to be able to walk to the side of the road to get out of traffic," he said. "And that's when I kind of slid down the pole and noticed a large amount of blood and damage to my left leg."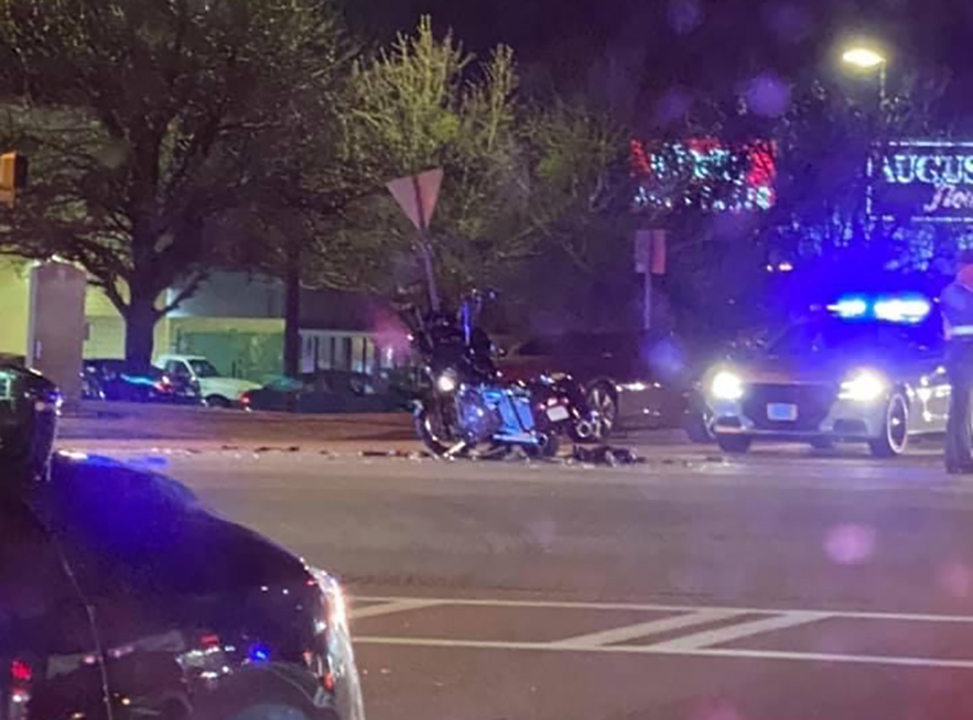 As he drove through the intersection of Washington Road and Bobby Jones Expressway, an SUV sailed through the intersection without braking, hitting Cunningham and his motorcycle almost head on.
"I worked crime suppression, and my last stint was a traffic motorcycle cop. So I've worked accidents. And I remember sitting there on the pole looking at the wreck scene thinking, 'I've worked fatalities that did not look this bad,'" he said.
The ambulance arrived and brought Cunningham to Augusta University Medical Center, the region's only Level 1 trauma center.
He said it was only a little awkward at first as he came through the emergency department, battered and with his clothing cut off, seeing familiar faces of people he knows across various departments. He'd met many of them through work and his wife, Mallory, who is a trauma nurse at AU Health.
"The one thing I can say was (the medical staff) were so respectful and professional when I came in. I was treated like a patient. I got the best care that you can imagine. But it wasn't awkward. They were doing their job, and so that made me feel a little better," he said.
Despite wearing all of his safety gear, including leathers and a helmet, Cunningham sustained extensive damage to the soft tissue around his knees, and serious bruising.
He said the accident has curtailed many of the activities he enjoys with his family, but he is now back at work — though taking it easy.
"It's better than it was, but still — after a long day, I've got to get off of (the leg)," he said.
Cunningham said at home, his wife extended her nursing duties to take care of him, support him and ensure he was ready when he returned to riding. He hasn't let the accident deter him from a hobby he loves. He's already bought a new motorcycle, and he and Mallory even attended Bike Week in Daytona in March.
He feels fortunate compared to what could have happened. Thanks to the care he received in Shock Trauma, he's recovering well. He also credits his recovery to the support that he received to from Augusta University Health as his employer.
"The support that I got from here, both from our senior leadership checking on me to my direct reports, to the staff nurse —everybody when I came in. It was awesome," he said. "I'm so very fortunate. You know, when I was here, the deputy that worked the wreck showed me the video from the traffic lights. It sent chills down my spine. I knew it was bad. I just remember watching that video and I don't know how I made it out."