Augusta University Rehabilitation Services will host a family-friendly event at Clarks Hill Lake on Saturday, June 25.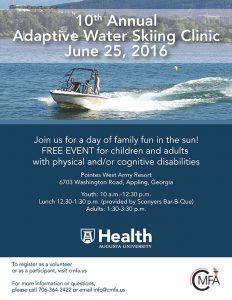 The 10th annual Adaptive Water Skiing Clinic is a free event for both children and adults with physical and/or cognitive disabilities.
The clinic will be held at Pointes West Army Resort, 6703 Washington Road, Appling, Georgia, from 10 a.m.–3:30 p.m.
Rehabilitation Services will work with youth from 10 a.m.–12:30 p.m. and adults from 1:30–3:30 p.m. Lunch will be provided by Sconyers Bar-B-Que.
To register as a volunteer or as a participant, visit cmfa.us. For more information or questions, call 706-364-2422 or email info@cmfa.us.