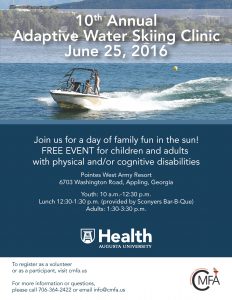 It's an event Isabelle Green looks forward to every year, because it gives her an opportunity to have fun on the water just like other kids. The spirited 9-year-old, who lives with the challenges arthrogryposis, a joint disorder, will participate in the 10th annual Adaptive Water Skiing Clinic on Saturday, June 25 at Pointes West Army Resort on Lake Thurmond.
"Isabelle looks forward to the ski clinic every year," said Tania Green, her mother. "Her favorite event is tubing, but what she enjoys most is being with her friends from children's rehab outside of a hospital setting."
Children born with arthrogryposis have joint contractures, or stiffening; their joints don't move as much as normal and may be stuck in one position. Most contractures happen in the arms and the legs, but they can also affect the jaw and the spine.
"Isabelle deals with multiple contractures in her limbs and has no flexibility in her hands," Green said. "But that doesn't stop her from enjoying her life, including time at the lake."
The event is hosted by Augusta University Health Rehabilitation Services and Walton Foundation for Independence. Children and adults ages with physical or cognitive disabilities have the opportunity to adaptively ski, swim, and take rides on inner tubes and boats at the scenic military retreat on Lake Thurmond located at 6703 Washington Road in Appling.
Children's events are set for 10 a.m., and adult activities begin at 1:30 p.m. with lunch provided in between.
Volunteers with boats are needed. To register as a volunteer or a participant, or for more information on the adaptive ski clinic, please visit cmfa.us, or call 706-364-2422.