Terri Edwards is graduating this month from Augusta University's College of Allied Health Sciences with a bachelor of science in respiratory therapy. However, she will be the first to admit that she had no idea what one was when a professor recommended she apply for the program.
"I knew it was a health care-related profession, but I really didn't know of the specific job duties," Edwards said. "I knew that health care was my passion/purpose, and I think I initially chose pre-nursing as my major because it is a more common and well known profession than respiratory therapy. After doing some research and praying about it, I decided to apply to the program and I fell in love with it.
"I never anticipated the amount of information and physiological concepts that I would learn as it relates to breathing and the cardiopulmonary system, but I learned so much about the RT profession itself. I am going to make it a priority to make sure that the world knows how awesome RTs are and the role they play in health care."
Edwards adds that she had a hard time adjusting to college life. She grew up in Sparta, Georgia, a town "significantly smaller than Augusta."
"I struggled with my identity as a young black woman at a predominantly white university. Also, I found it very challenging getting accustomed to being in a bigger city," she said. "Everybody knows everybody in Sparta, and we try to look out for one another. I had to adjust to being in a bigger city where I initially didn't know many people and understand that people weren't always going to be friendly."
The past few months have been hectic while trying to wrap up her degree. On top of working two jobs and maintaining a GPA over 3.0, she has been studying for her boards and was allotted 36 hours a week for her externship.
"It felt overwhelming at times but my team/support system always helped keep me motivated," Edwards said. "I felt like an employee of the hospital at most times because I was given an assignment and was expected to handle the responsibilities that came with my own assignment. That within itself was a little intimidating at first because I managed some of the most critically ill patients in the hospitals at times. I saw and experienced a lot as an extern.
"Not every day was an easy day; some days I cried, not because I hurt anyone, but because some days were a lot stressful than others. And sometimes it just hurt a lot more when my patients didn't always make it. I had to learn how to pray before and after my externship and to trust God's will."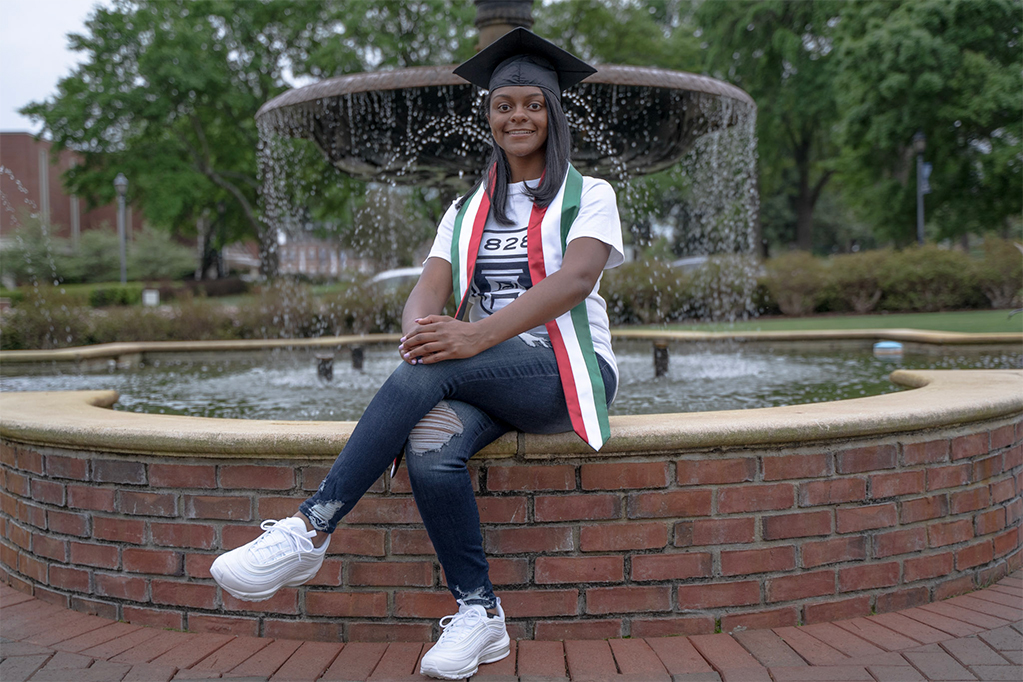 Edwards' career as a registered respiratory therapist will begin at WellStar on the Atlanta Medical Center South campus. She also hopes to one day start her own home health respiratory equipment business.
Edwards has been working as a certified nursing assistant at Brookdale Assisted Living Solutions since 2018, an experience she has truly enjoyed. She volunteered at Regency Hospice in 2016, which was when she was first introduced to Brookdale. It didn't take her long to realize she connected a lot with the residents there.
She took classes such as human growth and development and health psychology that gave her a better understanding of the elderly population.
"I think the way I was raised, which was around my grandmother and grandfather, is what made being a CNA at Brookdale an awesome experience," Edwards said. "It was just like being at my grandparents' house. The things that I helped her and my grandfather do, were the same things I did at Brookdale. I felt as if the residents treated me like their own granddaughter and we had so many great times together."
Edwards also said she utilized a lot of skills that she learned from the respiratory therapy program at Augusta University while working at Brookdale, including assessment and troubleshooting.
She's also planning to apply to the MSN-CNL program at AU and work as a nurse/CNL. After that, she plans to return to school one last time and pursue the profession she's "always dreamed of pursuing, as a nurse practitioner."
Upon graduation, she looks back on her time at AU fondly and has many people to thank for her success, including Drs. Debra Saul, Debra Kasel and assistant professor Christopher Truelove.
"I have to give a lot of thanks to Dr. Debra Saul, who was the amazing anatomy and physiology professor who encouraged me to look into respiratory therapy. I am so grateful for her and the role she played in directing me toward the profession," Edwards said.
Saul said she admires a student who doesn't give up because they know they can truly make an impact.
"I remember Terri as a very conscientious, dedicated and hardworking student who sincerely desired to help others," Saul said. "She studied hard, was curious, asked questions during and after class, and helped her classmates in lab. Based on discussions with her about her personal and volunteer experiences, I could tell that she had a genuine desire to serve in the health care field and that she truly wanted to make a difference in the lives of others."
Edwards also has much praise for Kasel, who "was an amazing professor."
"She always kept me motivated and gave me tough love," Edwards said. "She really taught me a lot and gave me a lot of constructive criticism that helped mold me into the awesome future RT I am destined to be. She is a great mentor and leader and I am so blessed to have met her along my journey."