The art scene in and around Augusta is as vibrant as ever. Just about everywhere you look, you'll see new pieces of art, and Augusta University students are helping to contribute.
This summer, Augusta University's Pamplin College of Arts, Humanities, and Social Sciences offered its first Selected Topics: Mural art class.
The cohort of 10 Augusta University students worked toward an end project that included three large pieces of art that are now on the walls at Copeland Elementary School and Belair K-8 School in Augusta.
Cyndy Epps, instructor for the class, said one of the goals was to take the students outside their normal art bubble of working independently. The projects for the schools were collaborative and Epps tried to utilize each student's strengths to reach the end result.
"When I'm doing collaborative work, I like to ask who my lettering person is? Who is the person designing the mermaids and animals? What are you invested in?" said Epps. "Just getting an understanding of each individual student's strength and bringing them all together."
It was, at times, challenging for the students. Shannon Yates will be a senior and admits when it comes to art, she's very independent.
"I'm not really a collaborative person because of my strict parameters for myself," said Yates. "But I really enjoyed the process of picking people's brains and trying to get a better understanding of how it would look in a more professional setting."
The class and its collaborative nature also allowed for students to gain the respect of their peers. Emily Rahn, a senior, thought it was a pretty cool aspect of the two projects.
"I loved how everyone in this class was able to just be respectful of each other and how we combined and we were like, 'Oh, I love this idea; oh, I love that idea,'" said Rahn.
A great example of having students work to their strengths was the large falcon used at Belair K-8 School. Three students were tasked with making it come to life.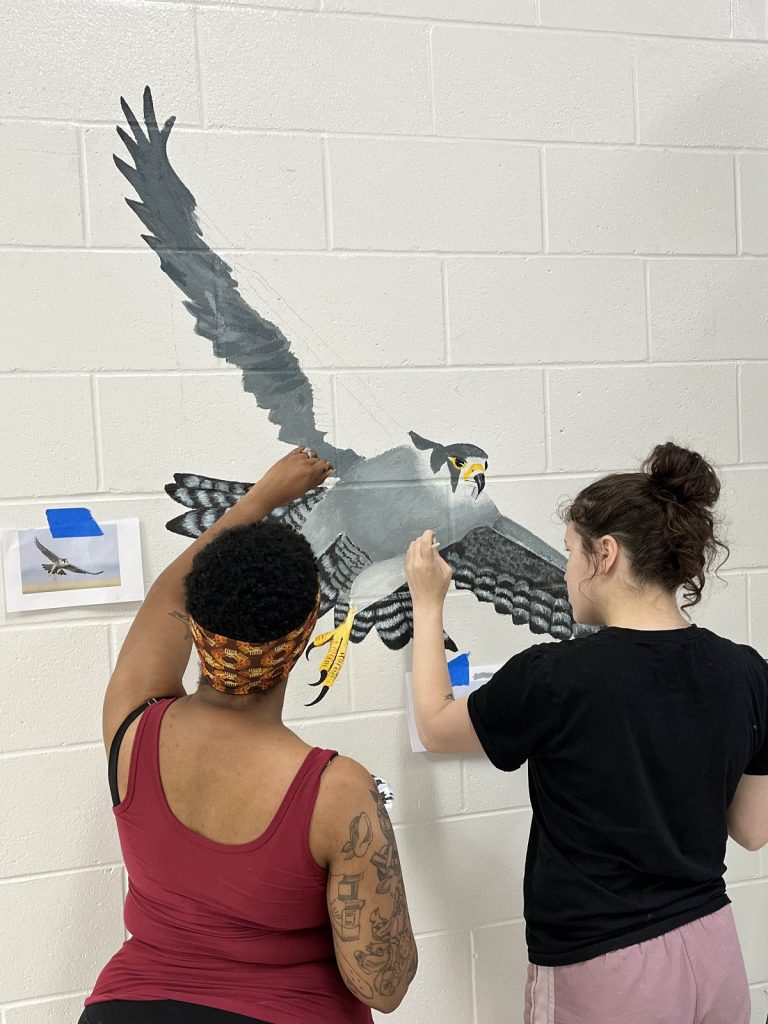 Epps put two of her more experienced artists with one who has the goal of being able to do more detailed work. She said it was a bit of a gamble to have them together but it certainly paid off.
"I approached the two more advanced painters and asked them to work with the third student, helping her understand how to create the details so they could all complete the work together.
"They were like, 'We learned the skills from you and are happy to work with her.' They really worked that out together and made it cohesive so you can't even tell it was completed by three artists. They just did a fantastic job," Epps said.
While both projects were similar, they also posed their own challenges. The Belair K-8 School project was much larger than the one at Copeland Elementary School. The art students actually mocked up the end design beforehand on paper and then used it as a stencil on the hallway wall at the school.
Rohn said she was a little nervous about the size of the ladders they needed to finish the project.
"That was a huge wall. Me and Professor Epps were starting to tape everything out and she's like, 'OK, get on the ladder,' and I started getting up and I was like, oh, I'm not scared of heights, but this ladder is kind of tall, so it was a little intimidating," said Rahn.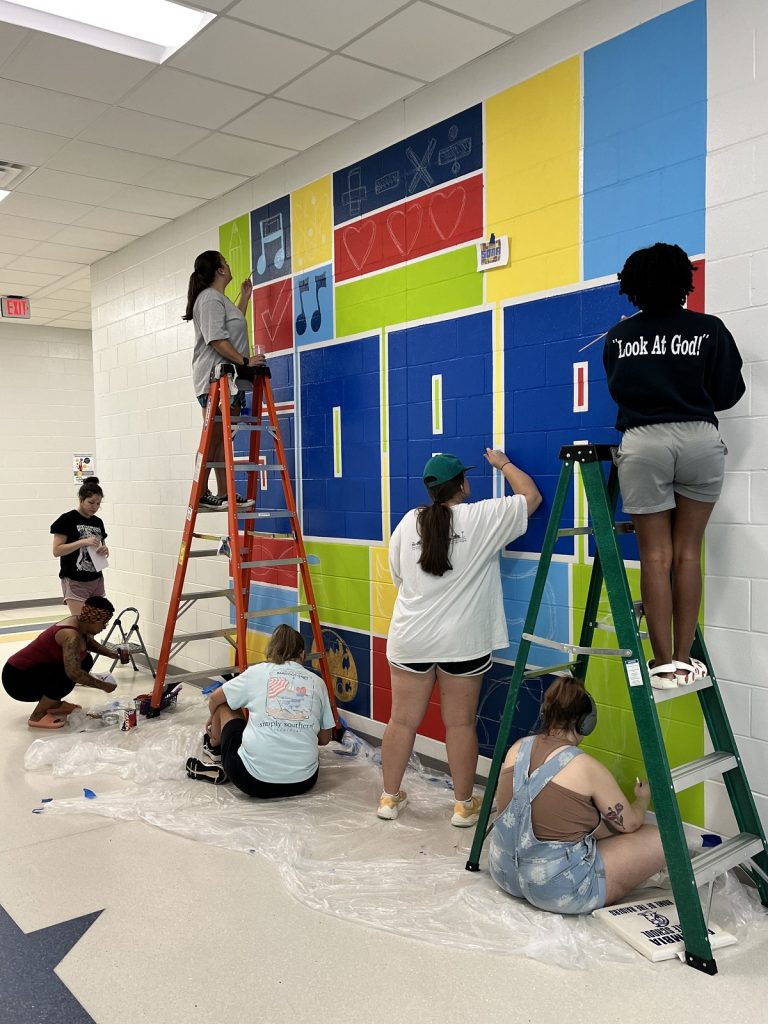 For Yates, this course was outside her norm. She's had Epps for other classes, but this was the first time she took an actual painting class. Getting the chance to have some of her vision in an elementary school put a smile on her face.
"Kids growing up, they don't really see many murals on walls. It was just the white walls, so it's nice to know that you can see art that can inspire you growing up," Yates said.
Since this was the first time the class was offered, Epps found it beneficial for it to take place during the summer. The students had the class twice a week and spent about seven hours in the studio working on projects, allowing them all the setup time needed as well as cleanup at the end of the day. They were able to be totally immersed in the project instead of working on it over shorter blocks of time, Epps said.
It also allowed Epps to give the students the full experience of being a large-scale artist.
"I had the opportunity to build their confidence, answer questions, teach them some skills, understand some of the practical things, even going in and trying to price a mural out. Now they have an idea of how important access is, and how different it is when you're working on something that's right at your eye level as opposed to something that requires a 10-foot ladder," said Epps.