Entering his senior year at Augusta University, Jerod Carrier had no expectations of a Spring Commencement and was fully prepared to have a virtual ceremony.
Carrier said considering everything we have gone through as a nation this past year, it was promising and hopeful to have that moment. So when May 13 came and the Class of 2021 was able to celebrate, he was elated.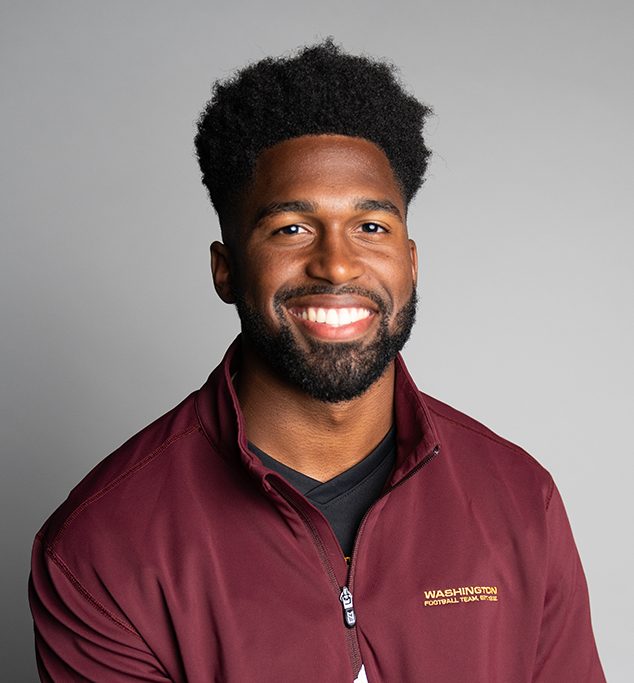 "I was extremely blessed to not only walk, but have my family there to see it," said Carrier, who graduated from the James M. Hull College of Business with a bachelor's degree in business administration with a concentration in digital marketing. "I've had a lot of friends who didn't have that opportunity, and I actually had to watch one of my best friend's graduation on Zoom the day before, so I'm very grateful."
With his diploma in hand, Carrier is now in Washington, D.C., working with the NFL's Washington Football Team as a communications and public relations assistant. One of his previous internships included a 2019 stint with the Carolina Panthers, which was then coached by current Washington head coach, Ron Rivera.
"Completing my communications internship (in Operations) with Dr. Karla Leeper during my senior year was a tremendous experience that helped ready me for this position," said Carrier, who started working with Washington on June 1. "Working under a great mentor and building my communication skills helped a lot. Of course, playing basketball for the school and having that athletic background, along with the acquired skills of time management and player relations, contributed just as much."
Carrier played 28 games during his time with the men's basketball team. He said having an athletic background helped ease his way into the workforce, including his experience with the Panthers.
Carrier said his duties with Carolina included helping the assistant director of that department with the day-to-day tasks during training camp. He also helped facilitate media coverage of the team externally, as well as internal communications needs.
"I really appreciated that time with Carolina because it allowed me to get a well-rounded experience working with players and coaches but also have involvement with outside media outlets and recognize their collaboration with the league," he said.
During the time Carrier was applying to multiple teams for the same position, he was contemplating pursuing a Master in Business Administration. And while getting his MBA is still a goal, he said accepting this position was his first priority, especially since he was "able to get my No. 1 option in Washington."
As for his new job, he said he just wants to be as useful and helpful as possible to the department moving forward.
"Being new to a team and work space is always a challenge but I welcome it," Carrier said. "Being a true asset, along with developing relationships with my colleagues, is my main goal and I'm looking forward to it."