Augusta University and AU Health provided a $2.24 billion boost to the state economy in fiscal year 2021, according to a new report from the University System of Georgia.
The AU/UGA Medical Partnership's Athens Campus contributes $26.5 million to the economy, as well as 276 jobs, while the Albany (Southwest Campus), Savannah and Brunswick (Southeast Campus), and Rome and Dalton (Northwest Campus) clinical campuses add roughly $4.8 million in economic boost, along with 52 jobs.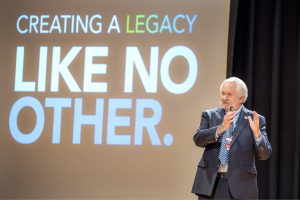 "Augusta University and AU Health are proud to provide employment and economic growth, not only in the Augusta region, but also throughout Georgia," said Augusta University President
Brooks A. Keel
, PhD. "We are grateful for all our students, faculty and staff who help us fulfill our mission as the state's sole public academic medical center, and we are looking forward to continuing this trend well into the future."
The total enrollment at Augusta University for fall 2021 was more than 9,600. Augusta University's enrollment has increased more than 15% since fall 2015 and is averaging an annual increase of 2.4%, Keel said.
"Augusta University was one of only five universities in the University System of Georgia that experienced enrollment growth in 2021," Keel said, adding the growth at Augusta University was primarily in graduate and professional student enrollment. "Only five institutions had an increase in enrollment of the 26 campuses in the entire state of Georgia, and Augusta University was one of them."
The USG's annual economic report showed an overall impact of $19.3 billion, with 152,629 full- and part-time jobs across Georgia directly or indirectly generated by the system. Augusta University and AU Health are responsible for more than 21,000 of those jobs.
The $19.3 billion total economic impact for fiscal year 2021, up from $18.6 billion in fiscal year 2020, included $13.1 billion in initial spending by students and by USG's 26 public colleges and universities on personnel and operating expenses. The remaining $6.2 billion is the multiplier impact of those funds in a local community.
"USG institutions and the system as a whole are key contributors to our state and are an economic engine for communities in every region of Georgia," USG Chancellor Sonny Perdue said. "That economic impact continues to climb, and we are grateful to Gov. Brian Kemp and the General Assembly for their support of the university system and public higher education as we focus on increasing prosperity for the state and all Georgians."
The full economic impact report is available on USG's website.