Fire engines, a large aerial firetruck and other emergency rigs will illuminate Harper Street outside Augusta University Medical Center and Children's Hospital of Georgia just before daybreak on Tuesday, April 28, as first responders get fully involved with a salute to local health care heroes.
Firefighters and emergency medical technicians (EMTs) representing the Augusta Fire Department will demonstrate their support to workers on the frontlines of the COVID-19 battle with applause, cheers and flashing lights during the early morning shift change at Augusta University Health.
AU Health employees are invited to watch this special demonstration between 6:30-7:15 a.m. Tuesday.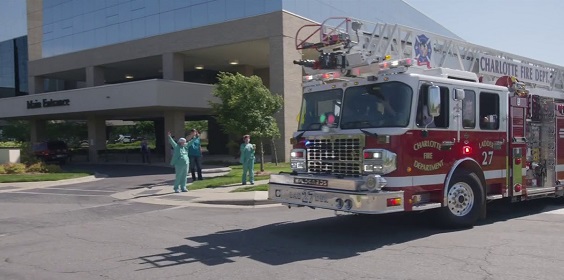 First responders will salute University Hospital employees during the evening shift change at 6:30 p.m. Tuesday and will honor health care workers at Doctors Hospital at 6:30 a.m. Thursday, April 30, according to a news release from the Augusta Fire Department.
"We work hand-in-hand with all three hospitals in Augusta," said Fire Chief/EMA Director Christopher E. James in the release. "They support us and the work our firefighters/EMTs perform, and we'd like to return the favor, especially during this major health crisis."
Free Paceline T-shirts, one per person, will be available to health care employees while supplies last. They can be picked up at the entrance of the Children's hospital.
For more information, contact Augusta Fire/EMA PIO Jason DeHart at 706-821-2489.
Contact Denise Parrish at Augusta University at 706-831-3148 for interviews with hospital staff at AU Health.