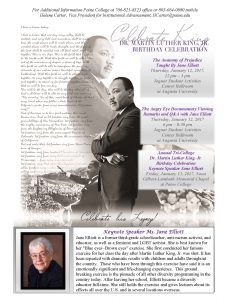 Diversity educator and anti-racism activist Jane Elliot will deliver the keynote address at the 2017 Tri-College Dr. Martin Luther King, Jr. Birthday Celebration.
The annual event takes place this year at noon on Friday, Jan. 13, at the Gilbert-Lambuth Memorial Chapel at Paine College.
A former third-grade teacher and current feminist and LGBT activist, Elliot is perhaps best known for her development of the "Blue eyes-Brown eyes" exercise – a thought experiment designed to help students explore the negativity produced by racism and class discrimination.
The "Blue eyes" method separates students based upon arbitrary traits – the most common being the color of participants' eyes – before exposing them to pseudo-scientific criticisms, culturally biased IQ tests and outright discrimination. After participating, students gain a newfound appreciation for the feelings of those discriminated against.
Elliot first conducted the "Blue eyes" exercise the day after Martin Luther King, Jr.'s assassination.
In addition to delivering the keynote, Elliot will also teach a lecture titled, "The Anatomy of Prejudice," on Thursday, Jan. 12, from 12-3 p.m at the Jaguar Student Activities Center (JSAC) Ballroom. Later in the day, Elliot will also hold a Q&A session following the 6 p.m. public viewing of "The Angry Eye," also at the JSAC Ballroom. The documentary showcases interviews with young participants as they process and come to terms with the emotional aftermath of repeated and aggressive discrimination.
The Tri-College Dr. Martin Luther King, Jr. Birthday Celebration is an annual event hosted by Augusta University, Paine College and Augusta Technical College to celebrate the life and legacy of Dr. Martin Luther King, Jr.
For more information, contact Paine College Vice President for Institutional Advancement Helene Carter at 706-821-8323 or HCarter@paine.edu.