Augusta University is proudly celebrating National Volunteer Week 2020 by recognizing volunteers in a variety of virtual ways this year. "Thank you" videos, volunteer testimonial highlights and social media coverage are just a few ways volunteers are being celebrated.
Augusta University volunteers make a world of difference to our entire institution, including patients, students, and employees. Following an extensive call for nominations, the AU Office of Volunteer Services and Community Engagement is excited to announce this year's nominees for the 2020 Volunteer of the Year award.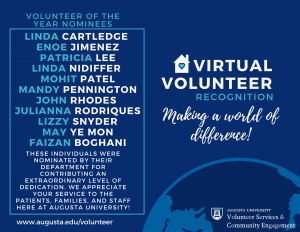 These amazing volunteers have gone above and beyond the call of duty in their roles and their nominations reflect the impact they have made on our institution.
Martin Luther King Jr. once said, "Life's most persistent and urgent question is, what are you doing for others?" These nominees, like all of our volunteer stars, stand out every day for their generosity of spirit and dedication to giving.
This year's nominees include: Linda Cartledge, Enoe Jimenez, Patricia Lee, Linda Nidiffer, Mohit Patel, Mandy Pennington, John Rhodes, Julianna Rodrigues, Lizzy Snyder, May Ye Mon and Faizan Boghani. Together, these 11 volunteers have contributed more than 750 service hours to their departments.
Sharing their stories
One of our nominees, Patricia Lee, known to most as Pat, volunteers as a patient/family advisor. After recovering from a car accident that left her with memory loss and depression, she began searching for ways to give back. Pat says the care she received, especially through the dental clinic, inspired her to volunteer after a friend and fellow volunteer recommended Augusta University.
Linda Nidiffer, a volunteer in the infusion cancer center, says she loves bringing smiles and laughter to the patients she serves. One thing she's learned as a volunteer: "First and foremost that patients are people, and most people have a sense of humor, even when they are not feeling their best."
These are just a couple of the hundreds of volunteer inspiration stories we are proud to be a part of and we are appreciative for each and every volunteer who makes service a priority every day.
If you would like to help make a difference by volunteering, contact the Office of Volunteer Services and Engagement at 706-721-3596 or visit them online to see what opportunities are available.