2015-2016 Faculty Development Fellow Awardees
Drs. Molly Quinn and Charlotte Chatto will be joining the Office of Faculty Development and Teaching Excellence as Faculty Development Fellow for the 2015-2016 academic year. The Fellows will assist with faculty development projects through the OFDTE and develop new projects to serve faculty needs in their college or throughout the university.

Molly Quinn, PhD, an Associate Professor in the Department of Teacher Education is a founding member of the International Institute for Critical Pedagogy and Transformative Leadership, and vice president of American Association for the Advancement of Curriculum Studies. She is author of Going Out, Not Knowing Whither: Education, the Upward Journey and the Faith of Reason; A Peace and Pedagogy Primer; and Theorizing Justice, Justly Theorizing, in Education (forthcoming book).  Much of her scholarship engages 'spiritual' and philosophical criticism toward embracing a vision of education that cultivates wholeness, beauty, compassion, and social action.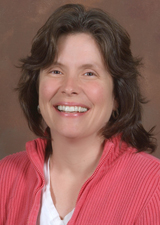 Charlotte Chatto, an Assistant Professor in the Department of Physical Therapy, has specialized in the care of patients with neurological diseases and injuries. She currently is one of the Physical Therapists in GRU's ALS clinic and Christ Community Clinic in Augusta, Georgia, as well as with Global Therapy Group in Haiti. She is currently funded through a grant from the National Parkinson's Foundation CSRA Parkinson's Support Group to investigate the effectiveness of a home-based LSVT-BIG protocol on the function of patients with mid-stage Parkinson's Disease and with the use of a novel Kinect-based motion capture system. One of her passions is teaching entry-level physical therapy students, with focus on ways to drive the neuroplasticity in patients recovering from neurological injury or disease to improve their quality of life. As an EII Teaching Scholars Fellow she created an educational app to teach basic neuroanatomy (Build-a-Brain Explorer) with GRU Educational Design and Development (EDD) team. With the EDD team and with funding from Affordable Learning Georgia, she is developing a no-cost iBook/ebook for physical therapy students.