As our nation approaches the 65th anniversary of the landmark case Brown v. Board of Education that ended racial segregation in public schools, Augusta University has partnered with the Lucy Craft Laney Museum to shed light on the advancements made in Augusta's educational system following integration.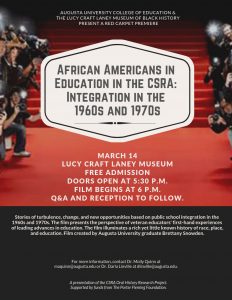 On March 14, the university will premiere the documentary "African Americans in Education in the CSRA: Integration in the 1960s and 1970s," which features first-hand accounts of veteran educators from the Augusta area. The free event will be held at the museum with doors opening at 5:30 p.m. and the film beginning at 6 p.m. with a reception to follow.
The film was created by university alumna Brettany Snowden who says she was inspired to tell the stories of local African-American teachers after learning of their experiences during the Jim Crow era.
"I remember reading through many of these teacher's interviews and feeling this urge to tell what education was like from the African-American's perspective," says Snowden. "I thought it was amazing how much Lucy Craft Laney did to provide education for African-American children in the 1880s as well as Paine College in producing educators in the CSRA from its inception. I was so honored to be a part of this project, because it was an eye-opening experience and I hope it will be the same for the audience."
Augusta University Education professors Molly Quinn and Darla Linville are helping to coordinate the event, and they say the film illuminates the Augusta area's rich yet little known history of race and education.
"This project began in 2016 with numerous educators being interviewed for this film," said Quinn. "Many of the educators that helped shape a better environment for learning during that pivotal time in history graduated from Paine College, and that is a legacy that must preserved for generations to come."
Linville shared similar sentiments.
"The past can be hard to talk about, but we must share these compelling stories so we can understand how our institutions came to be shaped the way they are today," said Linville. "Without understanding past inequities, we blame people for what they don't have today, even though they were denied access.  Understanding the past gives us a clearer path to what needs to be done to address the inequities."
This event is presented by the university's Central Savannah River Oral History  Project and supported by funds from The Porter Fleming Foundation. For more information, contact Dr. Quinn or Dr. Linville.