When Kristen Hagaman Lirette found out she had won the 2019 Layman Family Allied Health Endowed Scholarship, she was surprised because she felt a more qualified student would have been selected.
As it turns out, Dr. Margaret Blagg and the rest of the Department of Physical Therapy felt there was no one more deserving.
"I was thrilled for Kristen but not the least bit surprised. She is extremely deserving of this award," Blagg said. "Kristen was always a very driven student, working hard and seeking outside help when needed. When content was challenging, she didn't just 'try to get by.' She found study strategies that worked for her and pushed harder."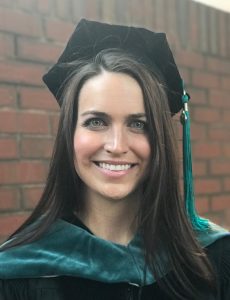 Hagaman Lirette is currently studying to take her board exams in July. She graduated from Mercer University before attending graduate school at Augusta University. She earned a doctorate of physical therapy, and during her time here, volunteered at the Costa Layman Health Fair providing health screenings and referrals for farm workers at Costa Layman Farms.
Hagaman Lirette, who is originally from Bradenton, Florida, said she assisted with health screenings and teaching proper body mechanics at the health fair.
"I had an enjoyable experience and was very impressed with the organization of it."
The scholarship, which is one of several established by Medical College of Georgia School of Nursing alumna Debbie Layman, is awarded annually to an undergraduate or graduate student enrolled in the College of Allied Health Sciences in either the Respiratory Therapy, Occupational Therapy or Physical Therapy programs. Hagaman Lirette applied for the scholarship in March after receiving an email from her program's department chair, informing her that she was their nominee.
"Kristen worked hard for her academic achievements but still made time to give back in many ways," said Kevin Brueilly, professor and chair of the Department of Physical Therapy. "After discussion of her nomination and the others, it was clear that Kristen was the most deserving of the department's nomination."
Alumna says service 'strengthens all'
Anne Munson had previous experiences in volunteer work before she helped with the Costa Layman Health Fair in 2018.
Munson, who graduated in December 2018 after completing the Master of Science in Nursing program with a concentration in Clinical Nurse Leader at Augusta University, will again participate in this year's health fair and plans to continue to do so in years to come.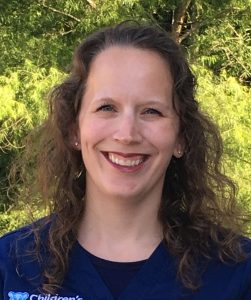 "Overall, volunteering at the Costa Layman health fair and women's clinic was a positive experience," said the 2017 Marion, Cromer, Layman Clinical Nurse Leader Scholarship winner. "I wish that every CNL student had the opportunity to volunteer at these events."
Munson has been working to find more volunteer translators for this year's events.
"From speaking with three different volunteer interpreters from last year, I know that all three enjoyed serving at the events and look forward to helping again this year and in the future," Munson said.  "Service, in general, and specifically within one's own region, is beneficial to not only the recipient but to the volunteer. It improves character, builds relationships, and strengthens all involved. Debbie Layman serves as an amazing example of giving back to one's own community as she does in countless ways."
Learning leads to special connection
Hagaman Lirette grew up in a city with a large Latino population and played in several Hispanic soccer leagues and pick up soccer games where she was typically the only woman. She then received a scholarship to play at IMG Academy, which is an international soccer academy that draws players from all over the world, with a large majority from Latin and South America.
"I was one of the few American players and as such, Spanish was the primary language," she said. "I learned a lot about the language, customs, music and culture during my time at IMG. One of my hobbies has been trying to improve my fluency, but have unfortunately lost most of what I learned during college and graduate school. I hope one day to pick it back up because I would really love to travel."
Hagaman Lirette said the physical therapy program at AU is rigorous with two years of didactic work and the final year filled with clinical rotations with a licensed PT. But through it all, she had plenty of support, from her professors and classmates to her husband, Michael, whom she married in December.
"Drs. Colleen Hergott, Charlotte Chatto and Blagg were some of my biggest influences," said Hagaman Lirette, who will work at Augusta VA in the spinal cord injury unit after her boards. "They proved to be great role models for excellence in their fields … they all had an open-door policy and provided frequent advice and guidance, particularly when I was deciding on clinical rotations and ultimately choosing a career path."
Blagg said Hagaman Lirette's work ethic stood out because she knows what she wants and really pushes hard to meet her goals.
"I remember working on a particular skill with Kristen that she was having a little trouble with and she used every bit of time that I could give her until she got it," Blagg said. "She also does things for others that need to be done because she wants to, not because she expects recognition."
The College of Nursing at Augusta University is calling on the university's health care professionals to participate in the 14th annual Costa Layman Health Fair on Friday, June 28, in Trenton, South Carolina. Medical volunteers are needed to assist with exams from 7 a.m. until 1 p.m. at the Costa Layman Nurseries at 73 Greenhouse Road, Trenton, South Carolina. Sign up here.