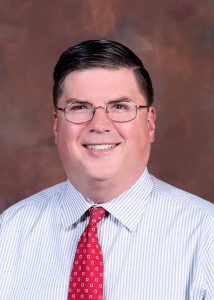 Philip Young has been named the associate vice president of Environmental Health and Safety at Augusta University, effective April 1. Young has served in the interim role since July 2017.
"Young is an internationally recognized expert in radiation health, and we are pleased to have such an accomplished leader oversee the university's Environmental Health and Safety Division," said Jim Rush, Chief Integrity Officer at Augusta University. "With nearly 30 years in nuclear radiology safety, he has a proven track record of successful leadership, and brings a wealth of experience to our institution."
Young joined the division in 2014, where he led the university's Radiation Safety Program through two high-scoring reviews with the Georgia Environmental Protection Division, and developed a training program for the university's Occupational Health and Safety Technicians, which included more than 180 hours of classroom and hands-on instruction.
Prior to coming to Augusta University, Young worked 25 years at Tetra Tech Inc. serving in various capacities, including the Nuclear Business Line Lead in which he managed the company's $20 million nuclear power-related activities across North America.
Young's work with nuclear energy has given him a global platform allowing him the opportunity to share his knowledge at several conferences, such as the International Conference on the Nuclear Option for Countries with Small to Medium Electric Grids hosted in Croatia and the Nuclear Export Controls Workshop held in Washington, DC.
Young is a member of the Health Physics Society and American Nuclear Society. He received his bachelor's degree from Oregon State University, and a master's degree from Georgia Institute of Technology. He has been granted a Certification in Health Physics from the American Board of Health Physics.