For most musicians around the world, the coronavirus pandemic has dramatically impacted their careers and livelihoods for the foreseeable future.
Many major artists have either postponed or outright canceled their concert dates for the remainder of the year, while organizers of most music festivals have no choice but to cancel dates in 2020 and only hope that COVID-19 will no longer be a major threat in 2021.
But for Wycliffe Gordon, world-renowned trombonist and the director of jazz studies at Augusta University, the coronavirus pandemic has given him the opportunity to practice what he preaches to his students about being prepared for life as a musician.
"I always talk to my students and say, 'You have to think about this like a business, and you want to have another stream of income because a career as a musician is unpredictable,'" Gordon said. "This pandemic has hit everyone. For me, my last show was on March 6 playing in a jazz series in Atlanta for Rev. Dwight Andrews, the pastor of First Congregational Church. My next gig was on the West Coast on March 13, but suddenly, boom, the bottom fell out and everything was canceled."
Like most people, Gordon said he expected to be at home for possibly a month until the dangers of COVID-19 subsided.
"Then, one month became two months, then three, four, five and six," Gordon said. "Now, suddenly, I find myself at home more than I've ever been in the past 30 years. Fortunately, I like being home. I've always said I eventually want to stay home and come off the road, but who would have thought this unfortunate pandemic would force everyone to stay home?"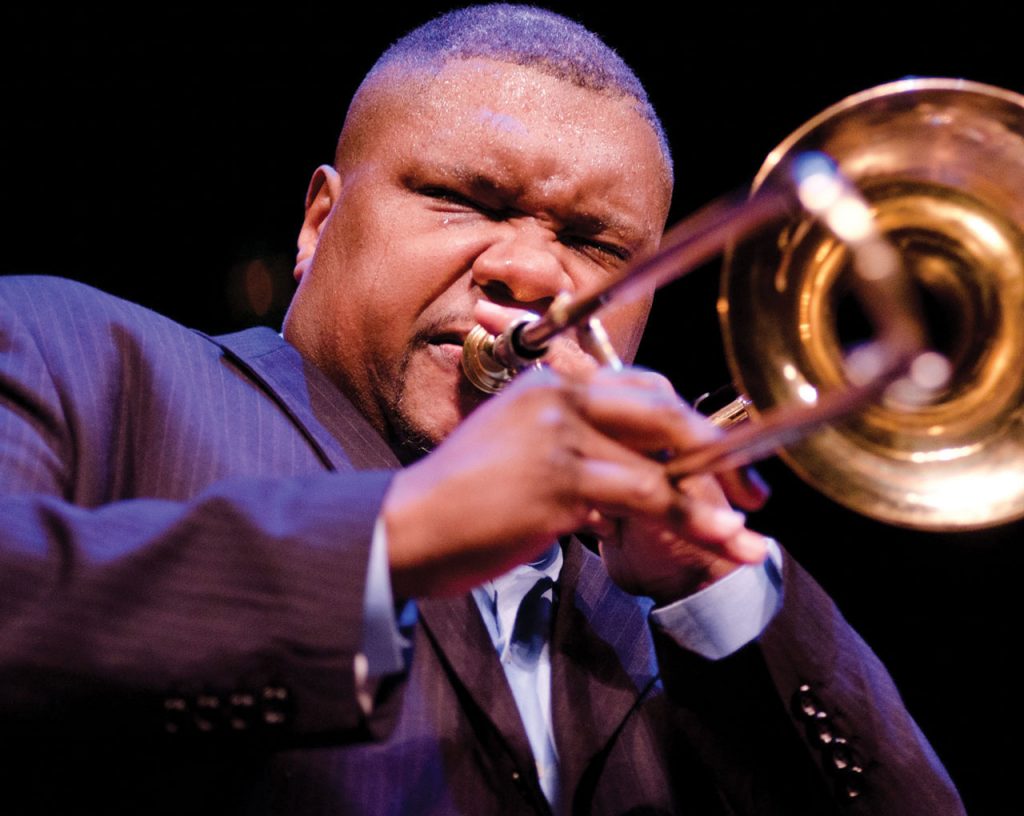 Despite not being able to play in front of live audiences for the past several months, Gordon's worldwide reputation as a stellar musician and composer has continued to thrive.
Earlier this month, Gordon was once again awarded the title of "Best Trombone" in the annual DownBeat Critics Poll for 2020. This is the sixth time Gordon has been named the winner of the DownBeat poll.
In May, Gordon was named "Trombonist of the Year" by the Jazz Journalists Association (JJA) for 2020. It is the 13th time Gordon has received the award from the JJA, which celebrates excellence in music.
"I feel so grateful and truly blessed because it's been such a turbulent year," Gordon said. "I'm always appreciative of the awards, but, honestly, I just do what I love and, in the end, it somehow pays off. But it's just good to know that I'm still seen in a favorable light within the jazz community and with listeners. And, even though in the recent months there hasn't been any activity on any front, I appreciate being recognized."
Playing music during a pandemic
Over the past several months, Gordon has been involved in online classes and camps for students throughout the country. He recently finished the Maryland Summer Jazz Camp and Boston Brass online classes, and the Greater Miami Youth Symphony will be offering an online master class with Gordon on July 31 that will be open to people of all ages and will touch on elements of jazz music in broad strokes.
While Gordon enjoys offering these online classes, using the various video platforms such as Zoom and Microsoft Teams can be a challenge for musicians, he said.
"This entire experience is a testament to real human interaction because, let's face it, it's not the same," Gordon said, referring to playing music via video meetings. "You work with it because you have to, but you can't play together because there's a slight delay. And, even with a millisecond delay, you don't get the true experience of being in the room, playing with someone."
Not being able to improvise and play off the energy of the other musicians is a major drawback, he said.
"Using the video meetings, it's very difficult because you'd rather be making music the natural way in the same room," Gordon said. "But, for now, it's what we've been left with. So, as I say to my students all the time, 'We're jazz musicians and we are riddled with waking up every day trying to solve solutions to musical issues and challenges.' Challenges such as how to approach playing over a particular chord progression, proper articulations or range building exercises. This pandemic is just another challenge."
That's why he always stresses to his students at Augusta University, especially those preparing to graduate, to seriously consider various streams of income.
"Oftentimes, we, as musicians, are consumed with playing in front of audiences on the road," Gordon said. "That was my life for the past 30 years. My oldest son is 32 years old and I started playing professionally shortly after he was born. But as I had more children, I was like, 'Wow. You have to be prepared.' Fortunately, I was playing with the Wynton Marsalis Septet and we were working full time, but it wasn't easy. It wasn't a five-day-a-week job. It was a 275-to-300-days-a-year job that was constantly on the road."
Preparing students for a professional life as a musician
As Gordon continued touring over the past several decades, he began to realize that he wasn't willing to spend so much time away from home.
"I knew at some point that there would come a time where I didn't want to tour that much anymore, so I turned to teaching," Gordon said. "My first teaching job was at Michigan State. I taught there for two years, full time, and one year as an artist in residence. And then I started at Juilliard School of Music, full time."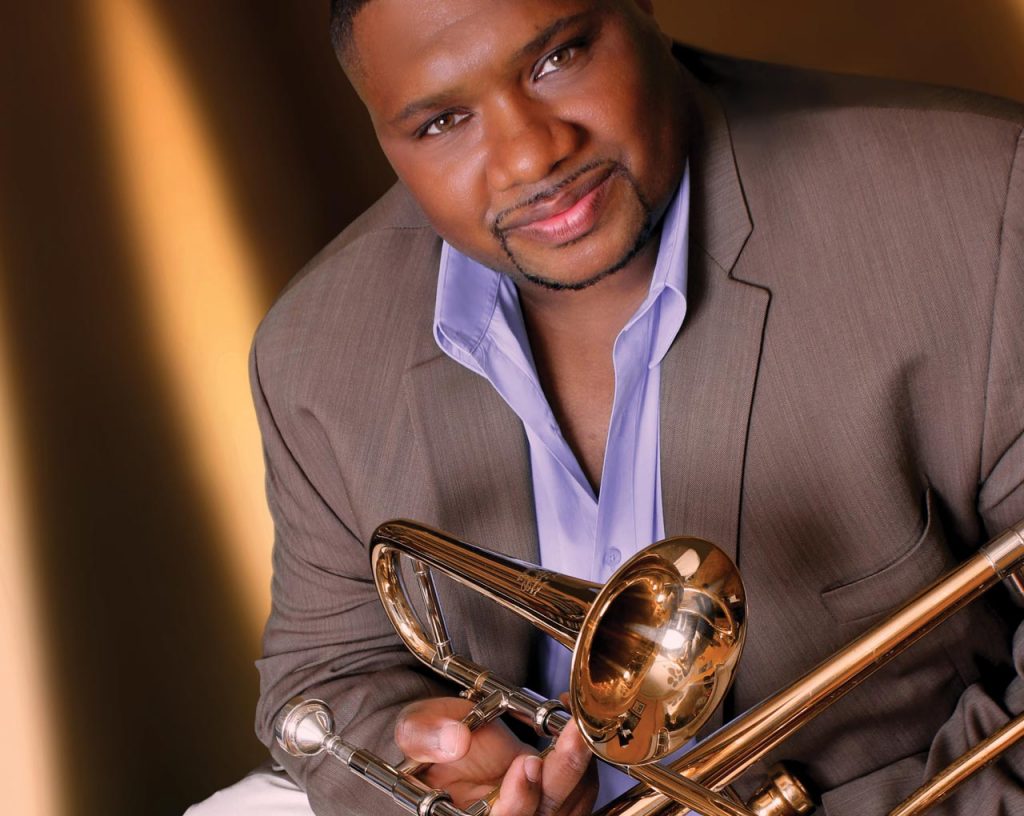 Through teaching music, Gordon began envisioning a new life that didn't require constantly being on the road.
"One of my first questions to my students is, 'Do you want to teach?' And they often say, 'No, I don't want to teach. I want to play,'" Gordon said. "Because there's the stigma that you hear sometimes among our peers and colleagues who say, 'Those who can play, play. Those who can't play, teach.'"
Gordon just chuckled at that notion.
"The truth is, if you really love what you do, you want to share it with someone," he said, adding that, even when musicians are on stage performing, they are still indirectly teaching an audience. "If you're playing anything that anyone wants to hear, whether it's in front of a young child or a young musician, they are going to want to emulate you."
For Gordon, teaching has been not only a financial blessing, but also an opportunity to spend more time with his family.
"Some of my colleagues and fellow musicians will call and say, 'You must have cabin fever. You must be going crazy,'" Gordon said, laughing. "I'm like, 'On the contrary, I'm loving it.' I mean, don't get me wrong. I love playing. I love performing, but I also love teaching and I like being home. And, for a lot of musicians, who their total source of income is purely from playing on the road or playing at clubs, this year has been devastating."
Music can bring the world together
This year, citizens across the country have also begun to face some of the longstanding racism that has run rampant throughout the United States for decades, Gordon said.
While the country has a long road ahead in changing those racist attitudes, music has always had the ability of bringing people together, he said.
"Back in 1989, when the wall stood between East and West Berlin in Germany, I got a chance to play there," Gordon said. "When folks looked at me while I was walking around the square, I felt like they didn't want me to exist. Seriously, if looks could kill, I wouldn't be here today."
It was the first time that Gordon had ever been out of the country and he couldn't help but notice the disdain in some of the German people's eyes.
"But I remember playing the concert that night and the same folks that had a look of disdain at my existence, they were at the concert," Gordon said. "They were singing and dancing. They were smiling and laughing. It really says something about the power of music. It makes people deal with the common denominators that we have in humanity."
Fortunately, Gordon still has been given several opportunities to record music with artists from around the world this year, but his portion of the pieces have been recorded from his home.
"Normally, I would have to fly to New York to do a recording with New York musicians, or be in Sweden with the Swedish musicians, but instead, everyone has been putting together something from their hometown," he said, adding he participated in recording a tune called, "Stay Home," a few months ago when the pandemic first began to spread across the United States. "This group of musicians put the drums down first, then the bass, piano, then horns and vocals. In five minutes, I sat in front of my phone and I put my part down and sent it to them."
Within a few days, the world-touring swing band from Paris called Hot Sugar Band had posted a video on YouTube featuring Gordon playing the song, "Stay Home."
"When I saw it, I was like, 'Wow. This is great. We can still make beautiful music,'" Gordon said. "It was just another way to say, 'This is how we, as musicians, deal with this pandemic. We look for the best.'
"After all, people always say, music makes the world go around," Gordon added. "I just hope that we can come out of this pandemic with more consideration for our fellow humans because everyone around the world has been affected by this virus. It has impacted every single one of us."