Earlier this month, Dr. Ashley Gess, assistant professor of STEAM education in the College of Education at Augusta University, proudly announced the winners of this year's virtual STEAMIFY competition.
"We've had another wonderful year of STEAMIFY and COVID didn't stop us," Gess said during the virtual announcement of the winners on March 6. "We brought STEAMIFY to you virtually so you could participate and you exceeded all of our expectations. Wonderful job to everyone."
STEAMIFY is a design-based and problem-solving competition that gives students in grades 4-8 the opportunity to apply the content they are learning in school in the contexts of either engineering or art.
By doing so, students can construct deep understandings of how this knowledge can be authentically used in their daily lives, Gess explained.
The virtual competition for 2020-21 included submissions involving computer science, engineering, spoken word and visual arts.
Due to the COVID-19 pandemic, the STEAMIFY competition was held virtually and the winners were announced during the Impact Student Learning Conference on March 6.
Of the more than 95 teams competing in STEAMIFY this year, there were two grand prize winners from North Harlem Elementary and Greenbrier Middle schools.
Emily Harrison, a Horizons teacher at North Harlem Elementary in Columbia County, was elated when she learned the school's fifth-grade team made up of students Tristyn Walls, Blair Carpenter, Abbi Blackmon, Natalia Copple, Akashia Page and Reese Stolte was named a grand prize winner in the competition. The team submitted a visual arts project called "Mount New Year," Harrison said.
"The group did a lot of brainstorming in the beginning. They imagined all the different ways that they could tell a story with their art," Harrison said. "They knew from the beginning that they wanted to create some sort of sculpture that would tell the best story of how COVID has really impacted their personal lives as 10-year-olds."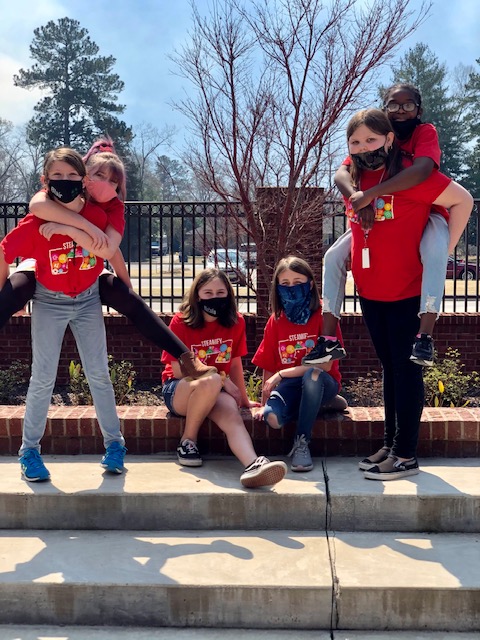 The team agreed to construct two mountains made of paper mache that were approximately four feet tall. In the middle of the mountain range was a river with a waterfall in the background.
"One mountain symbolized a positive mountain, which was depicted by colorful paint," Harrison said. "And the other one was their negative mountain. The story that they wanted to tell was, when COVID first hit, we were faced with the shelter-in-place order and we were quarantined. We had all these new norms. Even going back to school, no one knew what that would look like. There were all these things you could and you couldn't do."
While facing all of these new obstacles, the students decided people had basically two choices.
"You could either stay in a negative mindset where you thought, 'Everything is terrible. Nothing is going on. I can't do anything,'" Harrison said. "Or you could choose to be positive and take the quarantine and COVID and decide, 'I get to spend more time with my family. I can get a new pet. I get to get outside more. I can learn new things. I can embrace what's going on as a learning experience.'
"That's how they showed the two different mountains."
The positive mountain had a longer ladder, while the negative mountain had a shorter ladder, Harrison said.
"On the positive mountain, they had a ladder that was more difficult to climb. Their symbolism with that ladder was saying it's more difficult to stay positive when things get tough," she said. "The negative mountain had a shorter, simpler ladder to climb because it's easy to be in a negative place."
The students also made a bridge in between the mountains, Harrison.
"The bridge allowed you to go from one mountain to the other," she said. "And the idea was you can always change your mindset. If you're in a dark place, you can always turn around and be positive or vice versa."
Harrison said the students concentrated on using creative thinking to express their feelings about COVID.
"I really wanted them to understand what STEAMIFY was asking them to do," she said. "Yes, they were asking you to create an art piece, but they're really asking you to tell a story. So, the students first started with their story. And then once they had their story, it was easy for them to keep building and adding details to the art piece."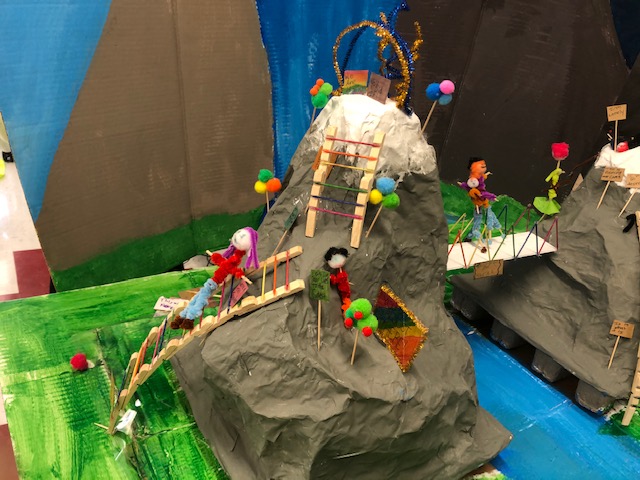 The six girls from North Harlem Middle School team were stunned when they learned they were grand prize winners, Harrison said.
"It felt really nice because it's like our underdogs won," Harrison said, smiling. "To my knowledge, North Harlem hasn't won anything like this before, so I feel like the school has really recognized their accomplishment and the community of Harlem has recognized them, too. They're just so excited, but, honestly, I think that they're still in shock."
David Phillips, coordinator of the Greenbrier Middle School STEM team and a science teacher at the school, said sixth-grade girls Kherington Phillips, Maile Veriato and Mia Riley made up the Greenbrier Middle team that was also a grand prize winner in the STEAMIFY competition.
The team competed in the engineering category with a project called, "We Volunteer as Tribute."
"Their task was to redesign their classroom to maximize connectivity while also social distancing," Phillips said. "Obviously, this task is very relevant to the challenges they face every day. They came up with a very innovative 'lofted classroom' idea that really stood out."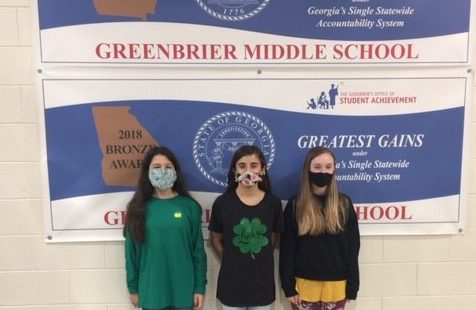 Greenbrier Middle has competed in STEAMIFY each year since the competition's inception and the students were thrilled that Augusta University decided to hold it virtually this year, Phillips said.
"We enter STEAMIFY every year so we were so excited to see the people in charge decide to create a virtual version and keep the tradition alive," he said. "We certainly missed the great in-person events like rocketry and aeronautical engineering, but we can't wait to be part of them in the future."
Greenbrier Middle entered two teams in the engineering category and one in the new computer science category this year, he said.
"The computer science team created an app that can help accurately scan a person's temperature to detect the early signs of a virus," Phillips said. "Not everyone has a thermometer, but almost everyone has a smart phone."
The STEAMIFY competition always poses challenges to students that make them think outside the box, Phillips said.
"The in-person aspects were replaced with learning digital platforms and managing virtual meetings," he said. "But it stayed true to the core values of STEAM, which include being able to collaborate and problem solve, no matter the challenge."
And what could be more challenging than students having to face the COVID-19 pandemic this past year, Phillips said.
"We competed this year in STEAMIFY because a pandemic can't stop the progress," he said. "New challenges are just an opportunity for innovation. Our mission at Greenbrier Middle and the Columbia County school system is to empower and inspire students to succeed in a global society. That means preparing them to face any challenge at any time."
See all of the winners in the 2020 STEAMIFY competition.