Imagine about 1,000 children and teachers from across Georgia and South Carolina jumping off their school buses and racing towards Augusta University's Summerville Campus to participate in a design-based, problem-solving competition called STEAMIFY.
In one year, Dr. Ashley Gess, an assistant professor of STEAM education in the College of Education at Augusta University, and her team of volunteers have drastically increased the number of participants involved in the STEAMIFY competition that will be held on the Summerville Campus on Oct. 26.
"STEAMIFY is about 50% bigger than last year, which is incredible," Gess said. "Last year was our first year for the STEAM competition here at Augusta University and we had more than 600 participants. This year, we have teams from South Carolina, we have homeschool teams, we have Girl Scout teams, we have teams from literally all over Georgia including Atlanta, the northwestern part of the state and the lower western part of the state. They are coming from everywhere."
STEAMIFY is a competition that gives students in grades 4-8 the opportunity to apply the content they are learning in school in the contexts of either engineering or art.
By doing so, they can construct deep understandings of how this knowledge can be authentically used in their daily lives, Gess explained.
For STEAMIFY, students are given the challenge of solving two problems — one long problem before the event and one spontaneous problem during the competition— using critical-thinking skills and creative-problem solving.
For example, in the category of aeronautical engineering, students were given the challenge of designing and building a flying machine that can stay in flight the longest.
The flying machines can be launched in any way, except using fire, and can be made of any materials. However, there can be only mechanical power sources, such as rubber bands, and the device must be able to support itself using lift. No helium is allowed.
In the category of dance, students were given the challenge of designing, creating and performing a dance piece taking the perspective of animals or plants in the affected ecosystem to bring awareness to the changes that technology can cause.
Categories for STEAMIFY cover a variety of subjects from engineering and rocketry to spoken word and visual arts.
"Our community needs something like this because it is a competition for kids, as well as teachers," Gess said. "We want to give the teachers the framework to be able to use design-based STEAM approaches in their classrooms."
Full STEAM ahead
While many teachers are familiar with STEM (science, technology, engineering and mathematics) education, STEAM is slightly different.
According to Gess, STEM is an educational approach that leverages the design process so that students intentionally combine what they are learning in science, math and other subjects into solving a real-world problem using engineering or engineering technologies.
What results is a true interdisciplinary approach to learning, she said.
STEAM is an educational approach that also leverages designing but gives the context of arts as another option for problem resolution, Gess explained.
"And while there are a lot of competitions out there, STEAMIFY is not just a competition," Gess said. "It's thinking about the whole kid and giving them a dynamic experience that they'll remember."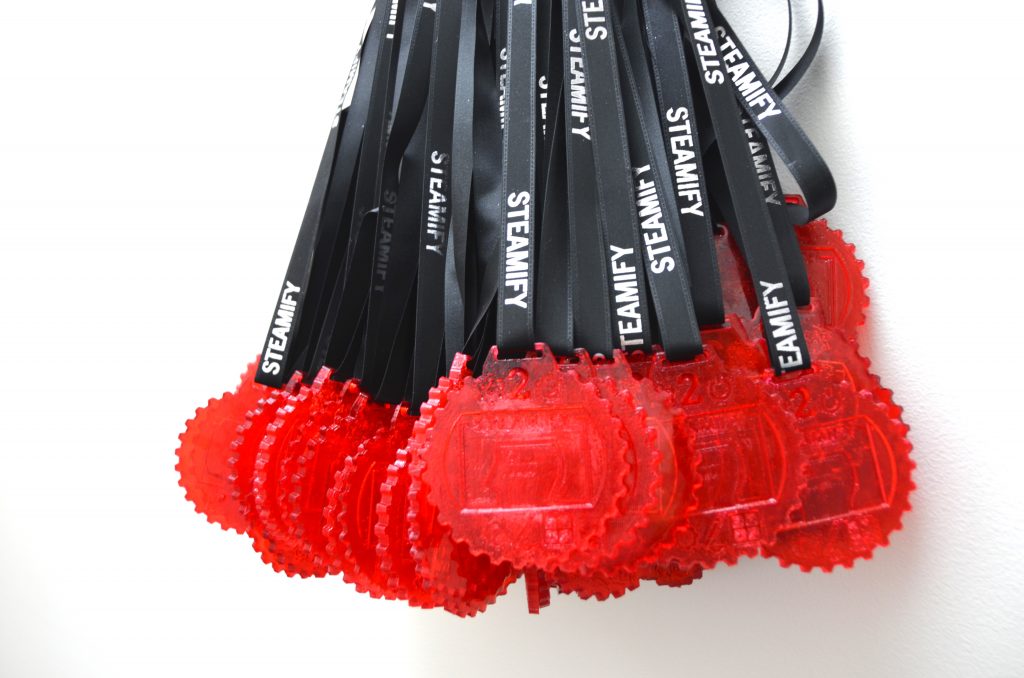 Gess and her team of volunteers and interns have been working for the past several months to prepare for STEAMIFY this weekend.
"The whole day is run by volunteers. It's a team of people," Gess said. "People from all over the community come to judge. We have retired teachers, engineers, artists, dancers and experts judging. And we fund almost the whole event through donations from our sponsors. Nothing is left over."
STEAMIFY is sponsored by local companies and organizations such as Textron, Ingevity, Augusta University's Department of Art and Design and College of Education, Augusta Regional Airport, Augusta Aviation, Piedmont Construction Group, Southern Nuclear, WOWpromos.com, Solvay, John Deere, Queensborough National Bank and Trust, Market House Realty and Phinizy Center for Water Sciences.
WOWpromos.com, the company that made the shirts and bags for all the STEAMIFY participants, was so impressed with the event, it decided to become a sponsor.
"This is the kind of event that's going to really grow year after year," said Greg Kenworthy, the brand expert for WOWpromos.com. "It's an awesome way to reach out and expose young people to all the different opportunities and careers that are out there. I wish there was something like this when I was growing up."
Part of the college experience
Along with participating in the competition, students will have the opportunity to take a walking tour of Augusta University's campus.
"We want them to see around the campus this year a little more than last year, so we are giving them coordinates to go do things around campus during their downtime," Gess said. "For example, one of the places is going to be the fountain out front. We are going to provide them with a penny so they can throw a penny in the fountain and make a wish. It is one of the traditions here on campus.
"We are also going to give them crayons and paper because we want them to go make rubbings of the different plaques that are around campus."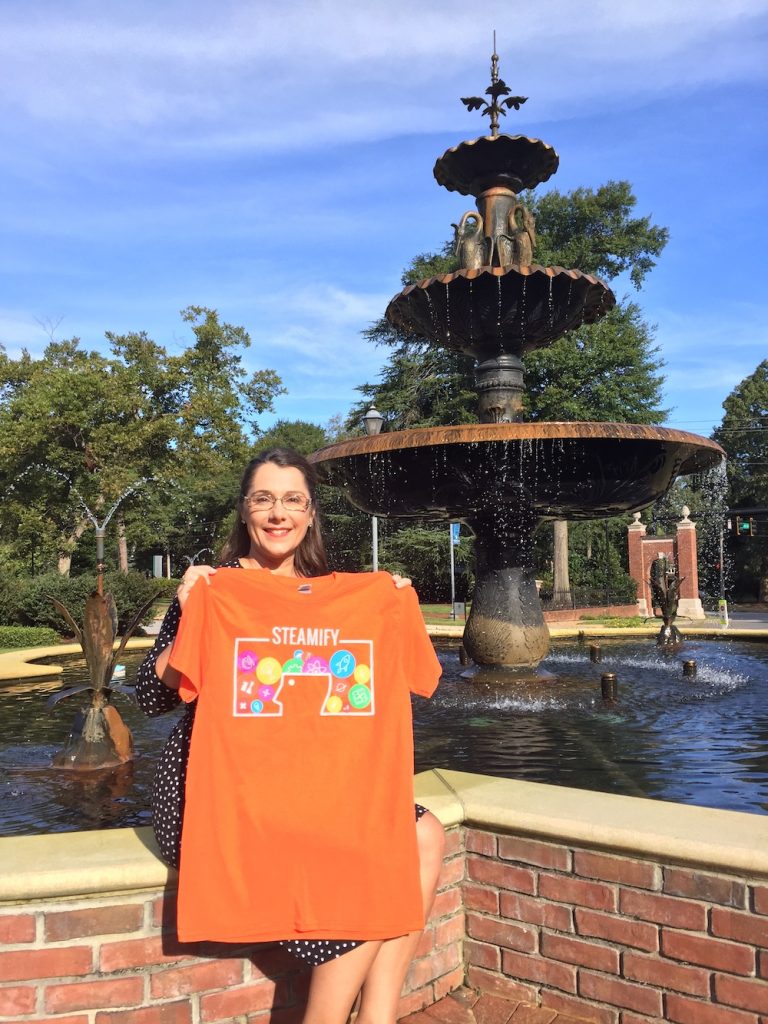 In addition, students will be given the opportunity to compete in the Congressional App Challenge.
Every year, U.S. representatives challenge students in their districts to create and submit original apps to foster an appreciation for computer science and STEM. The winning teams will be publicly recognized and each winning app will be put on display in the U.S. Capitol Building in Washington D.C. for one year.
During the first four years of the competition, about 14,000 students across 48 states have participated in the Congressional App Challenge.
"Our congressman, U.S. Rep. Rick Allen, is promoting the Congressional App Challenge, so I thought, 'What better place for kids to get help working on an app than at STEAMIFY during their downtime,'" Gess said. "So, we have reserved two computer rooms for students to come and work on the app. And Congressman Allen will be here for the opening of STEAMIFY on Saturday morning."
Gess said she can't wait to see the students in their bright orange STEAMIFY shirts running around Augusta University's campus on Saturday, rain or shine.
"We have printed name tags for each of the kids and the coaches participating in STEAMIFY, along with a T-shirt and a bag with bottled water and some stickers," Gess said. "We wanted to give them personalized tags that would say to them, 'We are really happy you're here. These are yours. We have been planning for you.'"
The main message of STEAMIFY is to give all children an opportunity to participate in this exciting event that is redefining the educational experience for students, Gess said.
"We just want to encourage these kids to put their best foot forward," Gess said. "While it's a competition, we want them to know that we are proud of them, regardless."