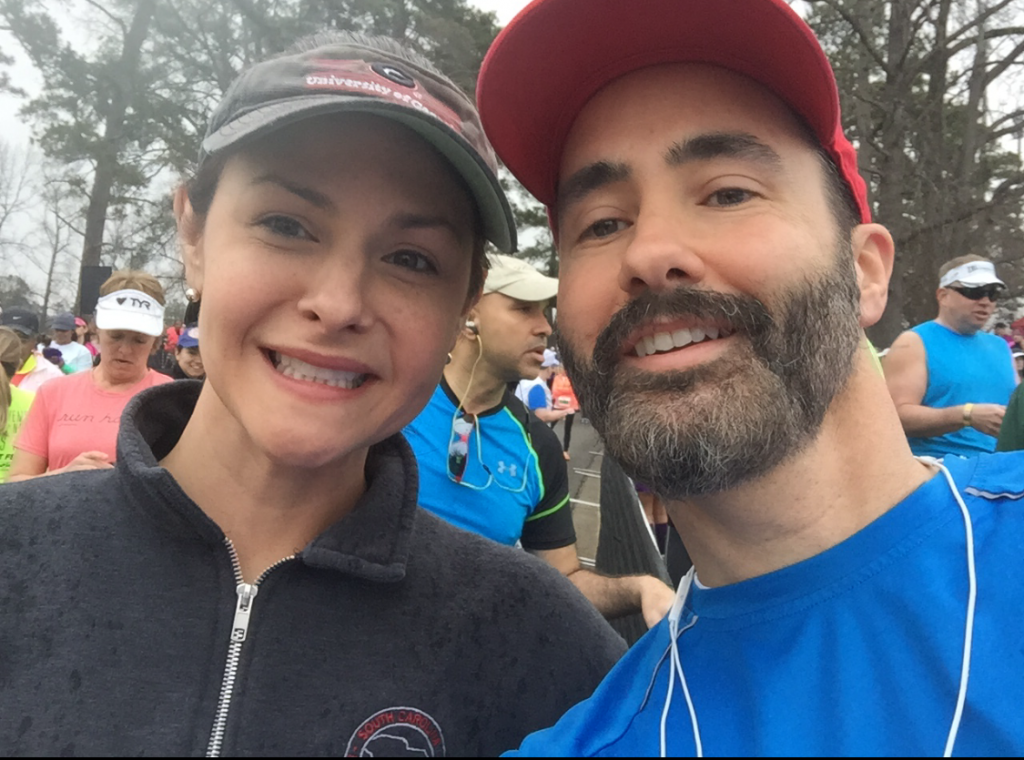 In 2015, we asked you how the phrase "a marathon, not a sprint" applied to your life.
At the time, we were — and still are — in the middle of a tremendous effort to rebrand Augusta University, a process we've all been taking in stride. But we were curious: As we tackle our long-term goal, what were some of yours?
Frank Costello, senior medical technologist at Augusta University's cancer center, told us proudly, and his award-winning entry was too good not to share.
"As a former 'chubby' child, I know how hard work can help transform a person," he said. "I started running about 20 years ago and still enjoy it today."
When Costello first started running two decades ago, however, he said he never thought he'd be able to run a mile, let alone a race and certainly not a marathon.
"Since then, I've run several 5Ks, 10Ks, a few half marathons and one full marathon," he said.
Although Costello said he still struggles with his weight at times, he believes running has helped him maintain a healthy lifestyle for the past 20 years. The decision to begin running strikes runners in different ways. For Pardon Ndhlovu, recent Augusta University graduate and Olympic hopeful, it came at 14, when, living in Zimbabwe, his father encouraged him and his brother to take up a sport. For Marlo Vernon, it came when she realized she wanted to share a healthy lifestyle with her children.
For Frank Costello, though, the call came two decades ago, when he decided he wanted to make a change in his life.
"I began running as a way to lose weight; first on a treadmill, and then around my neighborhood," he said. "Back then, I never thought about being able to run more than a couple of miles."
But, over time, those expectations changed.
Five years ago, he ran his first half marathon. The year after, he ran his first, and he stresses, only full marathon.
This year will be Costello's third time running the Augusta Half Marathon and 10k, an impressive accomplishment in its own right. It's an accomplishment Costello said he owed, in part, to his loving wife.
"I could not have done any of [the races] without the support of my wife," he said. "Training takes up a lot of time, and she has been gracious in picking up the slack with our kids."
Taking care of children and training for a half marathon can, at times, be a full-time job in itself. Still, Costello said, he tries his hardest to find time to spend with his kids. Even when he's running.
"I've taken my 8-year-old son and my 7-year-old daughter on a few of my shorter runs," he said. "But, for the most part, I train alone."
At 43, Costello said he's hoping to finish a little faster than he did last year. He's been training extensively, spending much of his free time on the run.
"To train, I've been running the hills of my neighborhood for my shorter runs," he explained. "On my longer runs, I get up early on Saturday mornings and run at the Greeneway in North Augusta."
He's confident he'll do better than last year, but said he's taking it all in stride.
When asked what challenges might slow him down, he replied cheerfully, "the hills."
"Those Augusta hills are killer!" he said.
Interested in making a half-marathon story of your own? There's still time. While online registration for the Augusta University Half Marathon and 10K ends at 11:59 p.m. Wednesday, Feb. 24, you can register during the expo at the Julian Smith Casino from 3 – 7 p.m. on Friday, Feb. 26, and from 11 a.m. – 4 p.m. on Saturday, Feb. 27.
Visit the half-marathon registration page to get started.