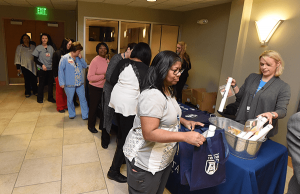 Be the first to see the new health system brand campaign, "Advancing the Power of You" at our three Augusta University Brand Launch Day events.
Food, fun and free items for all, including the chance to win a guitar or poster signed by Guitar Pull artists Jana Kramer, Sam Hunt, Maddie & Tae, Jerrod Niemann, Thomas Rhett and Craig Morgan. Three raffles, three chances to win.
Not only will you get to witness the premiere of the new campaign, you'll get to connect with team members from across all centers.
The events are scheduled for 7 a.m., noon and 7 p.m. at the Lee Auditorium on the Health Sciences Campus.
You won't want to miss it, but if you absolutely have to, you can still watch each event streamed live at Augusta.edu/stream. You won't get your swag, but at least you'll know what everyone's talking about.
And be sure to check Jagwire in the morning to find out who won the Guitar Pull prizes.