by Giovanna Fabbri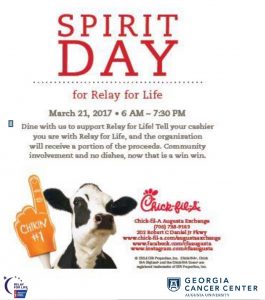 If you like to make a difference and eat good food, don't miss this opportunity.
On March 21, from 6 a.m. – 7:30 p.m., the Chick-fil-A located at 202 Robert C Daniel Jr Parkway will raise funds for the Georgia Cancer Center/Augusta University Relay For Life team.
Relay for Life is a signature fundraiser for the American Cancer Society.
For more than 20 years, Relay for Life has brought together communities and raised money to help the American Cancer Society make a global impact on cancer. This organization is staffed and coordinated by thousands of volunteers in more than 5,200 communities. Each year, more than 5,000 Relay For Life events take place in over 20 countries.
Why is so important to help?
According to the American Cancer Society, one in three women and one in two men in the U.S. will be diagnosed with cancer in their lifetime. Those are alarming numbers, which is why Relay For Life is so important. The money raised helps the American Cancer Society fund groundbreaking research, crucial patient care programs, and education and prevention information.
How to help?
It's easy. Tell your cashier you are with the Relay for Life and a portion of your purchase will be donated towards our team's fundraising efforts. Don't forget, small actions make big impacts, and it's time to take action against cancer.
The entire community looks forward to seeing you next Tuesday!
For more information, please contact Stephanie Cohen or check the Relay for Life website.