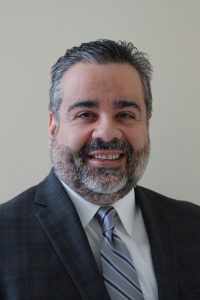 Diego Vazquez, the Assistant Vice Provost in the Office of Sponsored Programs at the University of Massachusetts Medical School, has been named Augusta University's Associate Vice President for Sponsored Programs Administration and Executive Director of the Augusta University Research Institute (AURI). His role becomes effective Jan. 22.
"As one of Georgia's leading research institutions, Mr. Vazquez brings to Augusta University an array of expertise and leadership experience that works perfectly with the vision and mission of our institution," said Dr. Michael Diamond, Senior Vice President for Research for Augusta University.
As the AVP for Sponsored Programs and Executive Director of AURI, Vazquez will work closely with Dr. Diamond and other university leaders to advance opportunities for research, training, teaching and scholarly activities for faculty and staff. He will also provide informational and logistical support while ensuring research efforts are compliant with institutional and federal policies and regulations.
In his role at UMass, Vazquez served as the Medical School Export Control Officer and managed several initiatives including the medical school's strategic and operational sponsored program with awarded funding of more than $288 million.
Prior to joining UMass, Vazquez worked as the director of Health Research Initiatives from 2007 to 2011 at the University of South Florida's College of Medicine Office of Research.
He is a Certified Research Administrator with the Research Administrators Certification Council, and is the former president of the southern section of the Society of Research Administrator's International.
Vazquez earned his bachelor's degree from Providence College, a master's degree from George Mason University, and is currently pursuing a doctoral degree from the University of Florida.